Entertaining out of town guests can be difficult, especially when they don't like sitting on the couch watching Hawaii Five-0 and drinking Tequizas as much as you do. Losers. So crack open a fruit-flavored pale lager of your choice, kick back, and read about the gnarliest spots in MSP for any type of visitor

THE GUEST: YOUR SISTER AND HER THREE-YEAR-OLD KID As you found out last time sis was in town, even though it's animated, Heavy Metal is definitely not a movie for kids... Here're five things you'll all enjoy

Camping at Interstate Park, Along the St. Croix River, btwn MN and WI Totally usurp lil' Jimmy's dad as the man in his life by taking him camping at the MN-side of Interstate Park, which's only about 30min outside of town on the St. Croix River, and about as beginner as a campground can get.
Minnesota Children's Museum, 10 7th St W; St. Paul; 651.225.6000
Chances are you haven't been here since you were a child, if ever, so let us make it known that MCM -- with its science-y play areas like Earth World, wherein you little Jimmy can explore recreations of natural phenomena like streams and caves, and World Works, with wave tables and electricity displays -- is freaking phenomenal. And not just for three-year-olds.

Mickey's Dining Car, 36 7th St W; St. Paul; 651.698.0259
After the MCM, walk down the block for some epically greasy-spoon eats at the 24hr dining car. Super-thick shakes and gluttonously greasy cheeseburgers will satisfy your hunger, and this is one of the few dining institutions in town where the kid will likely get treated better than you.
Sugar Sugar, 3803 Grand Ave S; Kingfield; 612.823.0261
Ever seen what sugar does to a three-year-old? If so, you should probably wait until you're about to take sis and the kid to the airport, and then hit Kingfield's throwback candy shop Sugar Sugar. Get the kid one of those gigantor pinwheel lollipops for the road.

Big Stone Mini Golf, 7100 County Rd 110 W; Mound; 952.472.9292
Put this place on the list of reasons you're glad you've got a three-year-old around. The 20min drive to Mound is worth it for this mini-golf-meets-sculpture-park spectacle that features 18 high-concept art holes, and a bonfire for some post-round s'mores. The first hole is a PAR SIX and the seventh is inside an upside-down Chris-Craft that's been retrofitted with shatter-proof resin stained-glass windows. So even if you don't have a kid coming to town, you should go.


THE GUEST: YOUR GRANDPARENTS
They'd be waaay less judgmental about your apartment if you just never brought them there and did all this instead:

Jax Cafe, 1928 University Ave NE; Northeast; 612.789.7297
Buried on University Ave in the Northernmost recesses of Northeast Mpls, Jax has white shirt/black tie waiters who've been serving up old-school steak and fish since 1932. And it's where my grandparents have been eating grilled veal liver and bone-in steer tenderloin since they first started dating. They've even got Early Bird (330-6p) specials -- perfect for the grandpa looking to be asleep on your recliner by 615p.
Dr. Chocolate's Chocolate Chateau, 579 Selby Ave; St. Paul; 651.379.3675
Old people love chocolate. Which's why you'd do well to take them to a stately Victorian mansion in St. Paul that's now a chocolate store/chocolate gift shop. And on the garden-y patio sits Craft Mobile Kitchen, a food/booze truck that takes up residence Thurs-Sun.

Magical History Segway Tours, Depart from 125 Main St SE, with tours all over the Twin Cities; 952.888.9200
Combining the two other things old people love the most (slow-moving personal transport and insanely detailed history tours), Mill City Museum-based Magical History Tours will take you on a 3-5hr, 7mi journey around what was formerly the Mississippi milling district. The Stone Arch Bridge, the Saw Mill District, the Upper Lock and Dam… It'll be an epic afternoon of history, scenery, and Grandma barely avoiding crashing into pedestrians with her Segway.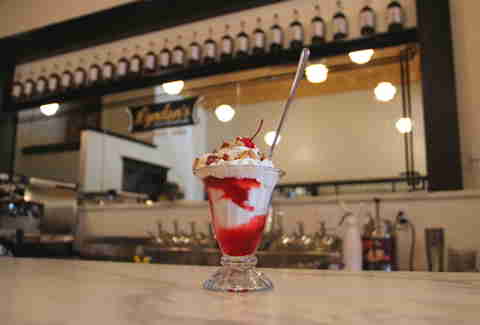 Lynden's Soda Fountain, 490 Hamline Ave S; St. Paul; 651.235.5646
Old folks are fond of doing things that remind them of when they were kids, so help Grandpa turn back the clock by showing him how to wind his old Swatch safely hitting St. Paul's throwback soda jerk-ery Lynden's. Their soda fountain's as old as the old man, the ice cream's made with real cream, and the menu's oozing with traditional goodness like egg creams, banana splits, and tin roof sundaes.

Ingebretsen's, 1601 E Lake St; Longfellow; 612.729.9333
You live in Minny, so it's not really that big a leap of faith to assume that at least one of your stately elder kinfolk has some Scandinavian heritage and would LOVE to hit up Lake St's "Nordic marketplace" that opened in 1921. Be it Scand-y swag like those neat Setesdal cardigans and trinkets galore, or take-away foodstuffs ranging from lefse to Swedish meatballs to Kransekake bars to, gasp, lutefisk, Ingebretsen's has got you.


THE GUEST: YOUR FRAT BUDDY WHO CAN'T DRINK ANYMORE FOR VARIOUS REASONS
Since his last visit was technically the reason he is no longer allowed to drink, you better make it up to him by doing this radical booze-less stuff instead:

Canterbury Park, 1100 Canterbury Rd; Downtown; 952.445.7223
Just because this dude gave up booze doesn't mean he gave up all vices, which's why you need to get him to Canterbury, where you not only can partake in some on- and off-track betting on the ponies, but you and he can pull an all-night binge… at their 34 tables of Texas Hold'Em, Omaha Hi-Lo, and Seven-Card Stud in the poker room.
Drive a Tank, 550 W Cherry St; Kasota; 507.835.5607
Grab a couple cigars to go and head to Kasota, where your buddy will forget all about his former booze-lust as he pilots an FV433 Abbot through a wooded course (and, for some extra $, over a car) and an FV432 Armored Personnel Carrier via periscope through simulated battle. Don't forget to also visit their subterranean shooting range for AK-47 and Uzi target practice. 

Golden Leaf Tobacco Uptown, 907 W Lake St; Uptown; 612.824.1867
Experience vice Miami-style by smoking big ol' stogies in the confines of Golden Leaf Tobacco's new Uptown shop in LynLake. It's replete with a cushy leather smoking room and slick TVs tuned to sports.
Head to Marquette Ave or Mears Park and Food Truck It
It's probably best that, with the exception of Big Thrill Factory, where you'll secretly be drinking beers while he drinks sugar-free Red Bull, you don't take him anywhere boozy. So when it comes to lunching, forgo liquor-filled brick-and-mortar spots and head to where the food trucks be: Marquette Ave in Mpls or Mears Park in St. Paul. You can't go wrong with any of MSP's primo mobile melange.

Big Thrill Factory, 17585 Highway 7 (Country Rd 101); Minnetonka; 952.698.7700
This place could also be on the three-year-old's list, but it's more fun to tackle with a buddy who won't slow you down as you attempt to tackle the indoor/outdoor entertainment megaplex that includes a bowling alley, laser tag, a black-light ropes course, fully-enclosed mega trampolines, and -- shhh, don't tell your bro -- beers.