25 things that Twin Citians love
After a looooooooooooooooonnnnnng Winter of sitting around fireplaces and making bad decisions about whether or not to brave the weather, you'd think the average person from MSP would be sick of this town, but if there's one thing people don't know about the Twin Cities, it's... well, these 18 things... and that you can't possibly get sick of a town with so much stuff to love about it. Like these 25 things...
1. The Vikings
No matter what they do to us (remember the Josh Freeman era... err, game?), we're still addicted to watching those purple bastards come Sunday.
2. Hating the Packers
Sure, Green Bay legend Brett Favre took us to the NFC Championship, but that's no reason not to despise the frickin' cheeseheads.
3. Our lakes
You might've heard MN has 10,000 of them? We rounded down.
4. Complaining about the weather
It's the worst.
5. Bragging about our bad weather
Oh, our weather? It's the WORST.
6. Bicycles
We don't care what unreliable things like experts and statistics (ha!) say about Portland... thanks to the Greenway, our bike share program, etc., we're the best biking city in America.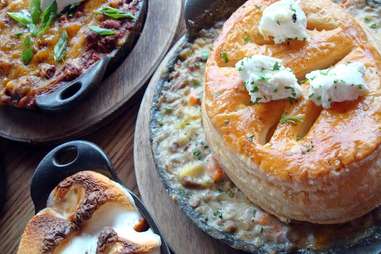 7. The hot dish
It's not a casserole, and it's definitely not just a way for your mom or the lunch lady to get rid of leftovers. Here, it's haute cuisine.
8. Pho
You betcha that arguments about who makes the best version of the Vietnamese stew that people in Wisconsin have never heard of can bring a Minnesotan to fisticuffs.
9. Snowmobiling
Solves the riddle of what to do with that potentially tragic mix of having tons of snow and zero mountains.
10. Drinking beers in shacks on frozen lakes
We hesitate to call this practice (which usually involves little, if any, actual fishing) ice fishing.
11. Comparing our neighborhoods to NYC neighborhoods
Uptown is like Williamsburg. Or, hrmph, maybe Northeast is like Williamsburg and Uptown is like SoHo? Or, wait...
12. Prince
Really, you know how much the rest of the world loves him? Quadruple that.
13. Famous people with ties to Minnesota
Did we mention that Prince is from here?
14. Local music
Bands can make a solid career outta touring without ever leaving the Twin Cities.
15. To claim that their respective Twin City is the best Twin City
They're like a pair of very attractive paternal twins; just different enough to be really self conscious about the other one.
16. The fact that Fargo's actually in North Dakota
It is.
17. Those silly accents
Which *sigh* really are what some people sound like in Minnesota.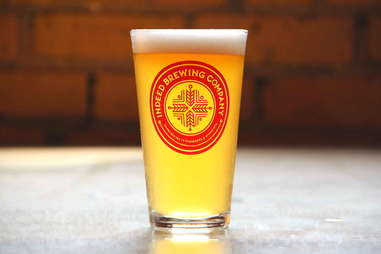 18. Local beer
If a local bar has 30 beers on tap and 25 of them aren't from Minnesota, you probably wound up in Wisconsin without realizing it.
19. Cabins
The call of massive traffic in and out of the metro area for a weekend at a place where you mainly have to do chores and fix things is, apparently, pretty hard to ignore.
20. Hockey...
Did we tell you the one about the 1980 US Olympic hockey team full of Minnesota guys yet?
21. ... And baseball
Even in April, when 50% of the games are postponed due to weather.
22. Food trucks
It's very nearly a certainty that on any given weekday, there are as many food trucks in Downtown Minneapolis as employees.
23. Target
We love that we gave America Walmart's classier cousin... something which isn't nearly as hard as leaving there with JUST the toothpaste you came for.
24. Andrew Zimmern
He may have made his name as a globe-trotting, bug-eating personality and writer at a certain men's lifestyle site, but he started (and still lives!) here.
25. Being outside
Wouldn't YOU want to be at one of these places after spending the last seven months stuck inside?