It's hard to know exactly where to take out-of-towners when they visit the Cities -- especially if they range in age from your 8-year-old cousin to your 80-year-old grandma, and in company from your college drinking buddy to your new long-distance love. Before you start to panic, we have some stellar ideas ranging from can't-miss Minnesota mainstays, to seasonal favorites, to places that might involve a weekend trip -- along with the estimated damage to your wallet for each option. So, sit back, relax, and screenshot this list as your go-to guide (and don't forget out seasonal events roundups, either) if you're looking for things to do that are free, cheap, or unforgettable.
Free-$$$
Downtown Minneapolis
The Guthrie Theater is a great spot for visitors for two reasons: 1. its performances are some of the best in the Midwest, and 2. the "Endless Bridge" that stretches toward the Mississippi offers amazing views of the city. While performances can (rightfully) be spendy, exploring the theater itself is absolutely free. Throw in some references to the French architect Nouvel and your friends or relatives will think you're more cultured than you actually are.
Free-$
Minnehaha
Back in the 1800s, the limestone bluffs and falls were the most photographed site in Minnesota, so it's no surprise that today, they're probably one of the most "Instagrammable," especially for park newbies. Stay at the top and pedal around in a rented surrey cruiser or head to the base, where you can trek along Minnehaha Creek on the trails. Just keep in mind that when you're done it is a somewhat steep 100+ step climb back up.
Free-$
North Loop
If you want to break the ice with out-of-towners you haven't seen in a while, jokes and beers are a good play. And Acme's open-mic night is 100% free every Monday if you don't mind checking out stand-up hopefuls. Whether they slay or bomb, it's always a funny time. Weekends bring some big national names and reasonable prices, and dinner-and-a-show packages are available for groups, too.
$-$$$
Various locations
Between delicious mainstay options in Minneapolis and St. Paul as well as a recent slate of places to eat that includes the likes of Animales, Popol Vuh & Centro, Martina, Esker Grove, Hi-Lo Diner, and Bellecour, there's never been a better time to eat amazing food in the Twin Cities. All of them are excellent.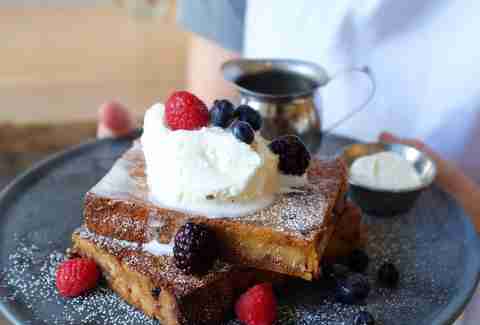 ... Or eat a legendary Twin Cities brunch
$-$$$
Various locations
If brunch is more the thing you or your guests prefer to splurge on, the Twin Cities are great for that, too. Our updated guide to the best brunches in Minneapolis and St. Paul offers everything from your French toast and pancake standards to spots like Hola Arepa or Cook St. Paul -- which put Korean and Latin American twists on the best meal of the week, respectively. No matter what your craving, there's a place for it here.
And definitely drink through our best bars and breweries
$-$$
Various locations
Minnesota is a wonderful, cold place for much of the year. As such, the alcohol blanket is a concept we know all too well. Our best bars in the Twin Cities offer cheap options like Republic and warming fire pit–fueled spots like The Happy Gnome alike. If you're in the mood for a road trip or a brewery tour, check out our guide to the best breweries in the state -- which includes options in town and out of it.
Strike a lakeside lotus pose at The Yoga Garage
Free (donations appreciated)
Uptown
If you have fitness-obsessed friends visiting this summer, hit a workout before happy hour and head outside with The Yoga Garage. Every Wednesday in the summer starting June 13, join hundreds of other outdoor yogis on the east edge of Lake of the Isles for a stretch-and-sweat sesh. No reservations needed -- just bring a mat or beach towel and some bug spray and get ready to "namaste" in this all-levels gentle flow class.
Relive your college days in Dinkytown
Free-$$
Dinkytown
There are competing theories as to how the area surrounding The University of Minnesota got its name, but the fact remains it's a huge part of the city's character. Notable spots to sightsee that go over well with guests include TCF Bank Stadium, Loring Bar & Restaurant (Bob Dylan used to live above the building), and the 14-seat diner Al's Breakfast (which still does not take credit/debit cards, so plan accordingly).
See one of the country's biggest LGBTQ fests at Twin Cities Pride
Free
Loring Park
Minneapolis has one of the largest pride celebrations in the United States, so if you have visitors the weekend of June 22-23, for sure bring them to the festival and parade. Loring Park transforms into a rainbow of colors with hundreds of LGBTQ cause-related booths, food vendors, and four stages of music, and the Ashley Rukes Parade has both family-friendly and skin-baring floats that get the crowd cheering.
Free
Downtown Minneapolis
Open for the season once again, the Mill City Farmers Market is the perfect parent-friendly Saturday-morning activity -- it starts early, sells coffee, is free, and has over 60 vendors selling both produce and one-of-a-kind gifts. Each week, the market also offers chef-led cooking classes, usually around a theme like urban gardening or special diets.
Free-$
Uptown
We all know Minneapolis is consistently ranked as one of the best biking cities in the country, with more than 200 miles of cycling trails and over 1,800 rentable bikes through the Nice Ride system. Plus, hopping out of the car and onto the lime green cruisers is a great way to show guests around. Make sure to hit the Chain of Lakes and cycle around Lake of the Isles, Lake Calhoun (now officially going by its Dakota name, Bde Maka Ska), and Lake Harriet. Doing it in the summer is glorious, but note that Minnesotans also bike in the winter.
Free
Grand Avenue, St. Paul
In the Twin Cities, the start of summer is kinda-sorta marked by our first 80-degree scorcher, but it's definitely official by Grand Old Day, which brings everyone together the weekend after Memorial Day at a block party with a parade, music, food, and fun. This year's event is on June 2.
Get lost at the Mall of America -- still the largest in the country
Free
Bloomington
Make fun of it all you want (and we do,) but the MOA has more than 500 stores that attract tourists and locals alike. Where else can you find five roller coasters, two Caribous, a giant LEGO robot, and a Chapel of Love all under one roof? The people-watching alone is reason enough to go, and the more people you bring with you, the more likely it is someone will remember where the car is parked.
Explore the best of our arts district at Art-A-Whirl
Free-$
Northeast
One of the city's coolest neighborhoods, Northeast is also home to a vibrant creative scene. The best chance to show this off to visitors is during Art-A-Whirl, the largest "open studio tour" in the country, May 18-20. Walk around cool buildings like Solar Arts and Northrup King where you can meet artists and view and shop their work, and then grab a beer at adjacent taprooms like Indeed. If you miss the Art-A-Whirl weekend, Northeast Minneapolis is still a stunning neighborhood to walk through and explore on its own.
Get creative at the Northern Spark arts festival
Free
Downtown Minneapolis
When the sun sets on The Commons June 14-15, Northern Spark will rise once again. The once-overnight public arts festival now has an earlier curfew (2am) after major storms rained on its parade over the past few years, but expect the same cool, crowdsourced, creative stuff. It's kind of hard to explain Northern Spark to a newbie, so we suggest just grabbing some caffeine and checking it out.
Soak up the summer air on any of our best rooftop bars
$
Uptown
Probably the best thing Uptown has going is the abundance of rooftops in the summer months. Stella's, Uptown Tavern & Rooftop, and Libertine are probably your go-to's for great views and brews -- just keep in mind how amped the bro scene can get. Tell anyone coming to "BYOC" -- bring your own Chubbies -- and they'll fit right in.
$
Downtown Minneapolis
This British pub is known as much for lawn bowling -- which is basically bocce ball -- as their fish and chips, so grab a group and hit the green! The summer pastime has gotten so popular that there is (seriously) an estimated 10-year wait to join the Lawn Bowling League, but you can still get your shot during open bowling on the weekends at noon. Just get there early -- like, really early -- because it's strictly first come, first served.
Chow down on an iconic Juicy Lucy
$
Powderhorn
The Super Bowl drove tourists and celebs alike to Matt's Bar and The 5-8 Club to try a Juicy Lucy (sometimes spelled "Jucy Lucy"), so your out-of-town guests will most likely want to do the same. You'll have to explain that it's really just a burger with cheese inside the patty instead of on top, but it's still damn delicious, and a Minneapolis icon.
Try any of our seriously cool ice cream shoppes
$
Uptown, Northeast
Lately, all kinds of ice-cream shops have been popping up -- each one more colorful and delicious than the last. After a long day of adventuring around town, we recommend making sweet stops at either Milkjam Creamery, Loulou Sweet & Savory, or Minnesota Nice Cream. Milkjam has the unique specialty "Jam Bun" (an ice cream sandwich featuring a Glam Doll donut), Loulou has "rolled" ice cream, and Minnesota Nice uses edible glitter and tie-dyes their cones.
$
Northeast
Nothing says fun like drinking out of a Shrunken Head on a riverfront patio...and there's no better place to do it than Psycho Suzi's, which lives up to the hype and its name. Whether you're hosting out-of-state friends for bachelorette shenanigans or trying to relive your Hawaii vacation with family, Suzi's has the recipe (in the form of a 48-ounce Fire Bowl). Praise the tiki gods!
$-$$
North Loop
We locals may be biased, but Target Field truly is a great place to catch a ballgame. Now in its eighth season, this team doesn't always get better, but our ballpark food usually does. That includes the restaurant Bat and Barrel, a bacon-wrapped tenderloin by Murray's, and chicken parm from Red Rabbit. Whether or not your weekend guests enjoy baseball, the Field in itself is a blast.
$-$$
Northeast
Betty Danger's Country Club bills themselves as a "country club for the 99%," and we couldn't agree more. The food is great, but it's really the other amenities that seal the deal. Snag a seat on "The Danger," a giant Ferris wheel in the front parking lot, and order a drink as you rotate over the rooftops. Its Poodles and Palms mini-golf course is a new offering this year where you can putt-putt with your pooch.
$-$$
Downtown Minneapolis
One of the longest-running independent rock clubs in the country, First Avenue has hosted pretty much everyone who's anyone when it comes to music -- including Prince. After recording Purple Rain there in the '80s, the club became synonymous with the Purple One. With more than 500 live concerts every year spanning a broad variety of genres, it's still a great place to bring friends and family.
$$
Tangletown
In case you haven't heard, hanging out in salt caves -- a therapeutic practice with origins in the Himalayas -- is now a thing in the States, and Minnesota has one now, too. The benefits of sitting in the pink crystallized space are said to include an improved immune system, clearer skin, and reduced stress and anxiety, so it's worth a try, right? Sit back, relax, and breathe deeply as you escape the world above for an hour.
Party for a cause at two of the summer's coolest music festivals
$$-$$$
Downtown Minneapolis
When it comes to outdoor, locally-sponsored summer music festivals, the biggies to bring people to are Walker Art Center's Rock the Garden and The Basilica of Saint Mary's Basilica Block Party. Rock the Garden's lineup is still TBD, but Block Party's already includes Kasey Musgraves, Jason Mraz, Hanson (yes, that Hanson), and Metric performing. The festivals raise money to showcase the best in local and national music and preserve the historic Basilica, respectively.
$$
North Loop
Not your grandma's crafting circle (though you could bring her too), Upstairs Circus offers the chance to paint, create, and hammer a custom creation. Pick a project from the menu (including Minnesota nail-and-string or distressed wood art,) order a cocktail from the bar, and snack on the free truffle popcorn in between getting your hands dirty.
$$-$$$
Nordeast, Uptown, Downtown Minneapolis, Downtown St. Paul
If cycling around the city sounds good in theory, but not rowdy enough in practice, there's a fix for that. Companies like PedalPub Twin Cities and Traveling Tap rent a wooden multi-seat bike that holds a keg, and by pedaling as a team, you careen through the streets with five to 15 of your closest friends. (Yes, there are safety measures in place, including a sober "driver.") Routes go through several neighborhoods with a bevy of breweries so you can chart a course at your leisure.
$$$-$$$$
Mississippi River, Lake Minnetonka
They don't call Minnesota the "Land of 10,000 Lakes" for nothing, and there's no better place to rent a pontoon for a day and hit the water than Lake Minnetonka. Bring your crew and your flip-flops to party spot Big Island and get ready to channel your inner T-Pain. Strangers will quickly become friends as soon as you tie your boats together and booze starts flowing, showing out-of-towners what "Minnesota nice" is all about.
Sign up here for our daily MSP email and be the first to get all the food/drink/fun the Twin Cities have to offer.