In the summer, it's pretty easy to figure out what to do in the Twin Cities: We've got plentiful lakes, bike trails, and beaches plus there's block parties and beer fests galore. But, when the temps dip you do have to get a bit more creative with your weekend itinerary. Whether you want to see live music, explore a food hall, or pretend (pretty please!) that you're in the tropics, we have ideas that will work for everyone and every budget. Sit back, relax, and screenshot this list as your go-to guide for Minneapolis and St. Paul.
Recommended Video
Please Don't Hang Up: The Best Things to See, Eat, and Do in Seattle, WA
$
Powderhorn, Nokomis
Remember two years ago when celebrities like Jimmy Fallon and Justin Timberlake came to town and raved about the Minnesota-famous Jucy Lucy burger? Although there are many trendy restaurants that do a solid modernization of the Jucy, the original can be found at both Matt's Bar and The 5-8 Club. There has long been a debate which has the better burger, so you may have to bring your crew to both spots so they can decide for themselves.
Cost: $10-12 for a Jucy
$
Downtown Minneapolis, Downtown St. Paul
Minnesota has five pro sports teams, so big fans can check out the Minnesota Timberwolves (basketball) and the Minnesota Wild (hockey). The Wolves play about 40 games per year at Target Center, which is super-convenient for those hoteling downtown. And hockey? Well, your guests should probably know that hockey and Minnesota go together, dontcha know. The Wild play at Xcel Energy Center in St. Paul, which gets pretty rockin' when the team is on a hot streak.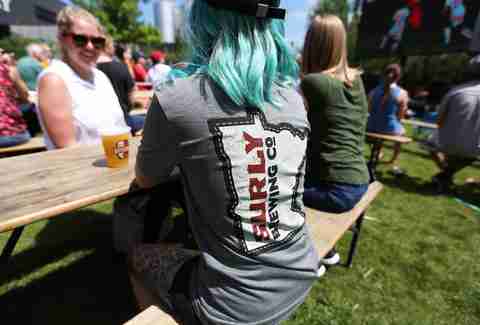 $-$$
Citywide
Minnesotans love a good beer. Over the last five years, breweries have spread across the metro like wildfire -- and there are so many strong contenders demanding your attention, it's impossible to list them all here. We suggest starting with this mix of OG's and newish taprooms on the brew scene: Bauhaus Brew Labs, Fulton, Indeed, Modist, Surly, Able, and Pyres. They're kid (and some, animal) friendly, and many have good non-alcoholic options, as well as food/food trucks available.
Cost: Depends on how much you drink
$$
Downtown Minneapolis
One of the longest running independent clubs in the country, First Avenue has hosted pretty much everyone who's anyone when it comes to music. After recording Purple Rain there in the '80s, Prince quickly made the club famous. With more than 500 live concerts every year spanning a broad variety of genres, it's a great place to bring friends and family, no matter their taste in music.
$-$$$
Citywide
The Twin Cities region is home to some amazing James Beard award-winning kitchens: Popol Vuh, Spoon and Stable, Restaurant Alma, The Bachelor Farmer, In Bloom, Hai Hai, and Young Joni, just to name a few. No matter the type of cuisine you're searching for- or how dressed up you want to get- these options offer something for everyone and every occasion.
MORE: The best restaurants in the Twin Cities right now.
$-$$$$
Bloomington
Make fun of it all you want (and we do), but the Mall of America has more than 500 stores that attract tourists and locals alike. Where else can you find five roller coasters, four Caribous, a million-gallon aquarium, and a Chapel of Love all under one roof? The people-watching alone is reason enough to go, plus the chance to visit stores with just this one location in the state. But, make sure someone remembers where you parked the car -- despite the color-coded pillars, the ramps are so massive that it gets confusing.
$-$$
Uptown
If you are looking to party, Uptown is the place to throw down on a Friday or Saturday night. Popular bars include Stella's, Uptown Tavern & Rooftop, Cowboy Slim's, and The Pourhouse -- and they're all within a few blocks of each other, so you can easily move if one isn't your jam.
$-$$
West Seventh, North Loop
Channeling all foodies: our hype food halls have you covered. Keg and Case Market in the West Seventh area of St. Paul opened to rave reviews about a year and a half ago while Graze Provisions + Libations joined the North Loop neighborhood just last fall. The standout at Keg and Case is probably Revival for BBQ, and at Graze, you've gotta try the empanadas at MidNord. Both spots are kiddo-friendly, and the upstairs at Graze offers bubble hockey, shuffleboard, and vintage MarioKart to occupy little ones and teens.
$-$$
Northeast Minneapolis
If your guests are so brave as to visit during subzero temps or a snowstorm, perhaps hitting a spot with a tropical vibe will distract them from Mother Nature? Brunch, cocktails, or dinner at Psycho Suzi's should be just the ticket -- the eclectic restaurant/tiki bar features Polynesian decor, fun drink mugs you can take home, and some pretty great eats. If you're with a group, try the 48-ounce Leilani's Firebowl (which, naturally, arrives on fire) or the smoking Eruption in Paradise. It's also a fun spot for bachelor/bachelorette shenanigans.
$
Downtown East (Minneapolis), Merriam Park, South Minneapolis 
You scream, I scream, we all scream for ice cream...even though it's freezing outside, no one can say no to our best scoop shops. After a day of adventuring around town, swing over to Izzy's Ice Cream or Pumphouse Creamery. We listed them both amongst the best ice cream shops in the Midwest, so they've gotta be good.
$$
North Loop
Not your grandma's crafting circle (though you could bring her, too), Upstairs Circus offers the chance to make and take a custom creation. Pick a project from the menu -- including nail-and-string or distressed wood art in the shape of our state -- order a cocktail from the bar, and snack on the free truffle popcorn in between getting your hands dirty. It's a great way to connect with craftier friends.
Free
Downtown Minneapolis
The Guthrie Theater is a great spot for two reasons: One, the shows are some of the best in the Midwest, and two, the Endless Bridge that stretches towards the Mississippi offers amazing views of the city. While performances can sometimes be spendy, exploring the theater is absolutely free. 
$-$$
Dinkytown
There are competing theories as to how the area surrounding The University of Minnesota (Dinkytown) got its name, but it's a huge part of Minneapolis' character. Notable spots to sightsee that go over well with guests include TCF Bank Stadium, Loring Bar & Restaurant (Bob Dylan used to live above the building), and 14-seat diner Al's Breakfast (which still does not take credit/debit cards, so plan accordingly).
$-$$
Downtown Minneapolis
Within walking distance to all downtown attractions and hotels, Brit's Pub is known for its fish and chips, English ales, and televised football (soccer) and rugby games. Brit's also serves a wonderful afternoon tea Monday-Friday with dainty sandwiches and imported English treats and sweets. Even Meghan Markle wouldn't mind spending an afternoon here.
$-$$
North Loop
It's practically guaranteed you'll have a good time when you're bonding over jokes and beers. Acme Comedy in the North Loop has a free open mic night every Monday -- you can even heckle stand-up hopefuls. Whether they slay or bomb, it's highly entertaining. Weekends bring some big national names (Hannibal Buress and Maria Bamford, for example) and dinner-and-a-show packages are great for groups, too.
$$-$$$
Citywide
When the weather doesn't permit outdoor golf, you can still check out indoor/climate-controlled swinging spots. For mini-golf, Can Can Wonderland's elaborate course in the Midway neighborhood is a terrific option. For "real golf," Topgolf in the north 'burbs has more than 100 covered, warm hitting bays and newly-opened bar Thr3 Jack in the North Loop has six state-of-the-art simulators. They all have stellar food menus, too.
$
Downtown Minneapolis
Thought farmers' markets were just for summer? Think again. The Mill City Farmers Market is also open on select dates in the off-season and makes for the perfect parent-friendly Saturday morning. You can find around 40 local vendors selling everything from coffee and juice to mini-doughnuts and breakfast sandwiches to locally-made hats, jewelry, and clothing. Check it out on the first and third Saturday of the month until the end of April inside the Mill City Museum.
$
Glenwood
If you love beer and dogs (and what sadist doesn't?), you can't go wrong with the winning combination that brand new Unleashed Hounds & Hops has figured out. It's the first indoor, off-leash-dog-park-meets-taproom in the Twin Cities, located between the North Loop and downtown Minneapolis. If your crew has dogs, there are play areas for pups of all sizes. If you're just wanting to down some beers in a different setting, Unleashed has local suds like Surly, Summit, and Castle Danger on tap.
$-$$
Uptown
You can't beat acting like a kid again -- except when you throw in some adult beverages. Uptown's Up-Down has more than 50 arcade games from the '80s and '90s, pinball, Skee-Ball, life-size Jenga, and Connect Four. The barcade also offers more than 60 beers on tap and the house-made mac & cheese pizza is guaranteed to impress anyone you bring.
$$
Mid-City/Industrial
For something a bit more adventurous, check out Bad Axe's 8,000-square-foot building in the industrial area not far from Northeast Minneapolis. Your guests can learn how to throw an axe just like an old-school Northwoods lumberjack, and it's pretty easy to learn- staff supplies you with coaching and safety tips. Afterwards, stop at neighboring Norseman Distillery for handcrafted cocktails in a super-cool setting.
Sign up here for our daily MSP email and be the first to get all the food/drink/fun the Twin Cities have to offer.