Actually Cool Things You Can (Still) Do in the Twin Cities Right Now
Never be bored again.
This is bound to be a fall unlike any other -- concerts, parties, and dining out have all changed due to COVID-19. But, as the Twin Cities adapts to our "new normal," there's still fun to be had- if you know where to look. Think hikes, Fall foliage, corn mazes, breweries, golf, dog parks, and more. We've gathered great ideas for everyone and every budget so consider this list your go-to guide of cool things you can (still) do in the Cities right now.
Shakopee
The largest corn maze in the state and arguably the most popular too, Sever's returns with fall fun for the whole family. Due to COVID, tickets will be sold exclusively online and capacity will be limited. In order to successfully navigate the maze, follow the letters of the alphabet from A-Z and read fun facts along the way. Other activities include a small zoo, zip lines, live music, and a pick-your-own pumpkin patch.
Cost: $17, kids 3 and under free
Lowertown
Not surprisingly, huge Oktoberfest events like the one Gasthof Zur Gemutlichkeit throws are taking a year off. However, if you need a reason to get out your lederhosen, there are other options in town for celebrating. One is Oktoberfest in the Outfield at CHS Field -- sip autumnal booze in a socially-distanced biergarten and snack on fun bacon dishes by Hormel Foods. You can (almost, sort of) close your eyes and pretend you're in Germany. Prost!
Cost: $15 general admission, $49 VIP
St. Paul
Sure, you've done a fun run before, but have you ever raced in a Halloween costume? The annual Monster Dash returns with 5K, 10K, 10 mile, and half marathon courses, all following the sure-to-be-scenic Mississippi River. If you choose to dress up, prizes will be awarded for best costumes in six categories following the race.
Cost: $45-60, depending on the distance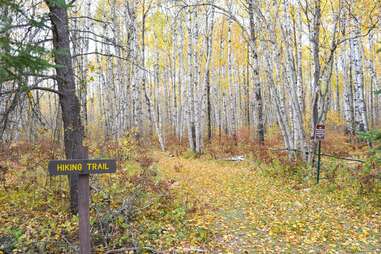 Metro-wide
There's no better way to catch the changing leaves than by hopping in the car and cruising along scenic roads bursting with color. In the Cities proper, try circling the Grand Rounds Scenic Byway, which covers about 50 miles of parkway. If you're up for a brief drive, start in Taylors Falls and head down Highway 95 along the St. Croix River to Stillwater or Afton for a truly stunning view.
Cost: Totally free
Minneapolis, St. Paul, Stillwater
If you're intrigued by the paranormal, a ghost tour on foot may be just the trick. Choose from three cities -- each promising true stories of spectres that you've never heard before. Social distancing measures will be in place and the tour is outdoors, operating in most weather conditions, so dress appropriately.
Cost: $20-25
Metro-wide
Nothing says Fall like a trip to a local apple orchard, and fortunately the greater Twin Cities have plenty of options for picking. Aamodt's Apple Farm, Afton Apple Orchard, and Apple Jack Orchards span the east and west metro, so you shouldn't have to go far. You can pick your own apples straight from the tree or purchase them pre-picked and bagged. Some also offer classic Fall eats like donuts, caramel apples, and cider. As Halloween draws closer, think about picking up a pumpkin to carve. The orchards' pet policies vary, so check first before bringing your pup.
Cost: Free-$5 admission/person
Roseville
If you think it's not Halloween without scaring yourself silly, you won't want to miss Flip Phone events' Deadly Drive-In. New for 2020, organizers promise a haunting, creepy experience- without leaving your vehicle. Guests will drive into a tent of horrors where, for 30 minutes, actors will do everything possible to scare the bejesus out of you. The Deadly Drive-In runs for three weekends in October.
Cost: $75/car, maximum 6 people
St. Paul
Don't be a turkey if you want to eat a ton of food on Thanksgiving -- just burn some calories first at the 8th annual Turkey Trot. Choose from a 6K or 10K run, and feel free to dress up in Thanksgiving-themed clothing. The race also partners with local nonprofit The Open Door Pantry and you're encouraged to give thanks by either making a donation or bringing a healthy food item to the race.
Cost: $35
Metro-wide
The murder of George Floyd in Minneapolis has sparked significant, necessary discussions on racial justice. Get involved with a local organization working to make the Twin Cities more equitable for all residents like Reclaim the Block, which put together a great list of groups to support right now. You can also order from amazing Black-owned restaurants around town, such as Soul Bowl, Afro Deli & Grill, Handsome Hog, and Wendy's House of SOUL. However you choose to make a difference, now is the time to consider how your dollars -- and time -- can further racial equity in our community.
Cost: Free + donations, food
Metro-wide
Minnesota's great outdoors offer a lot to explore, and you can get in some great hikes without leaving the metro. Try Fort Snelling State Park's Pike Island Trail, which offers a four mile trek to where the Minnesota and Mississippi Rivers meet. There's also Hidden Falls, with nearly seven miles of trails and a scenic waterfall. If you're looking to get out of town, Interstate and Afton State Parks have great hikes along the St. Croix River and are roughly one hour away. The trails are also open year-round, offering cross-country skiing and snowshoeing when the snow flies.
Cost: Free-$7 for a one-day state park permit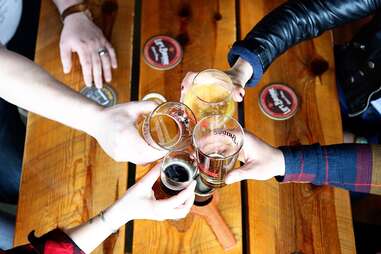 Metro-wide
Minnesotans love a good beer -- and even COVID can't put a damper on taprooms. Most are open right now and many have outdoor patios, porches, and beer gardens. It's impossible to list all the strong contenders demanding your attention, but we highly recommend Bauhaus Brew Labs -- in addition to having a massive outdoor space, they are also delivering growlers, crowlers, and six-packs within a 10-mile radius of their Northeast brewery. Fulton, Inbound, and Pyres are all good options and so are Indeed and Able, which have walk-up windows for to-go sales.
Cost: Depends on how much you drink
Brooklyn Center, North Loop
After golf courses close for the season, you can still swing a club at some pretty unique climate-controlled spots. The massive Topgolf location in the north 'burbs has more than 100 covered, warm hitting bays. Since COVID, they've installed protective dividers and, when hitting, it's 11 feet from tee to tee, so you're properly social distancing. There's also Thr3 Jack in the North Loop, which has six state-of-the-art golf simulators with cool tracking technology so you can work on your game year-round.
Cost: $30-60/person per hour
West Seventh, North Loop
If you can't quite decide what you want to eat, or want to try a lot of different dishes, one of our fabulous food halls is a great bet. Keg and Case Market in the West Seventh area of St. Paul features vendors like O'Cheeze, Revival, and Sweet Science Ice Cream. You can roam inside, but they've moved all the indoor common seating to their huge patio and park area for a physically distanced (yet still awesome) dining experience. Or, try Graze Provisions + Libations on the other side of the river in the North Loop. You can order poke, empanadas, pit beef, soul food, and vegetarian eats with the click of a button for pickup.
Cost: Depends on what you order, about $10-20/person
Downtown Minneapolis
Thought farmer's markets were just for summer? Think again. Mill City Farmers Market is open year-round and makes for a great socially distanced Saturday morning. You can find around 40 local vendors selling everything from coffee and juice to mini-donuts and breakfast sandwiches to locally made hats, jewelry, and clothing. The outdoor market is open through October 31, and -- in years past -- it's continued indoors in the winter. No word yet on the plan for this year, but we're keeping our fingers crossed.
Cost: Free, plus purchases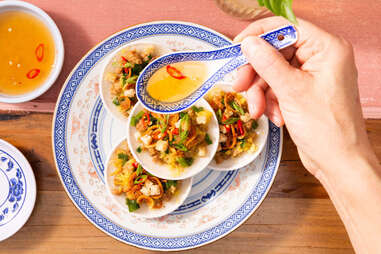 Metro-wide
If you have a birthday, anniversary, or other special occasion this season, you don't have to skip the celebration. Many of the Cities' best restaurants have amazing, COVID-friendly spaces where you can dine al fresco (at least for another month or so.) Make a reservation at Colita, Spoon and Stable, Hai Hai, Martina, or The Lexington, just to name a few. If you'd rather celebrate in sweats at home, you don't have to sacrifice a four-star meal: P.S. Steak and Restaurant Alma are offering gourmet take-away dinners for two. No matter what kind of food you want- or how dressed up you want to get -- there's something for everyone and every occasion.
Cost: Anywhere from $20-100/person
Mid-City/Industrial
If you're looking for a place to take out some pandemic-related frustration, check out Bad Axe's 8,000-square-foot building in the industrial area not far from Northeast. You can quickly learn how to throw an axe just like an old-school Northwoods lumberjack, and staff will supply you with coaching and safety tips. By the time you leave, you're sure to feel a bit more zen.
Cost: $25/hour for walk-ins
Uptown, Northeast, Stillwater
You scream, I scream, we all scream for ice cream… no one can say no to the Twin Cities' best scoop shops, right? Two of our favorites with unusual, Instagrammable creations are Milkjam Creamery and Minnesota Nice Cream. Try Milkjam's dark coffee and sweet cream creation appropriately named "Work From Home." At Nice Cream, cake batter is the flavor to try with a variety of fun toppings including edible glitter. We can't think of a better way to satisfy your sweet tooth.
Cost: $5-10
Glenwood
If you're a dog person who also loves beer you'll be in heaven at Unleashed Hounds & Hops. Originally opened as the first off-leash indoor dog park/brewery in the Twin Cities, they pivoted when COVID hit and added a 6,000 square foot outdoor patio. (The indoor area is still open when the weather is bad.) On top of that, you can sip local suds like Lake Monster, Summit, and Castle Danger as you watch Rover romp around.
Cost: $7 daily pass for dogs, cost of beer for humans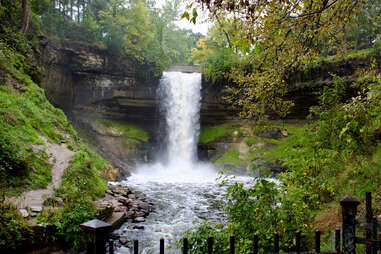 Minnehaha
One of the most picturesque spots to visit in the Twin Cities anytime of the year is Minnehaha Falls. The 50-foot cascade is beautiful in the spring and summer when the water is flowing fast, but equally gorgeous in the winter when the falls freeze over. You can view the rapids from the top of the park or descend the stairs to the base to snap a winning selfie. There's also a network of trails along Minnehaha Creek, including the popular two-mile trek to where it meets the mighty Mississippi.
Cost: Free
Powderhorn, Nokomis
The Minnesota-famous Jucy Lucy burger wowed celebrities like Jimmy Fallon and Justin Timberlake during Super Bowl LII and it still blows us away, too. Although there are many trendy restaurants that do a solid modernization of the Jucy, the original can be found at Matt's Bar and The 5-8 Club. Both are offering takeout and 5-8 is also doing delivery. It's long been debated who has the better burger, so you might just have to try both and decide for yourself.
Cost: $8-13
Sign up here for our daily MSP email and be the first to get all the food/drink/fun the Twin Cities have to offer.