Order the $20 bottle of Champagne and drink it alone from the bottle to double down on the experience.
2. Take a riverboat from Downtown Minneapolis to Downtown St. Paul
1885-style, son.
3. Go to Big Island on the Fourth of July
Seriously, just once. Trust us.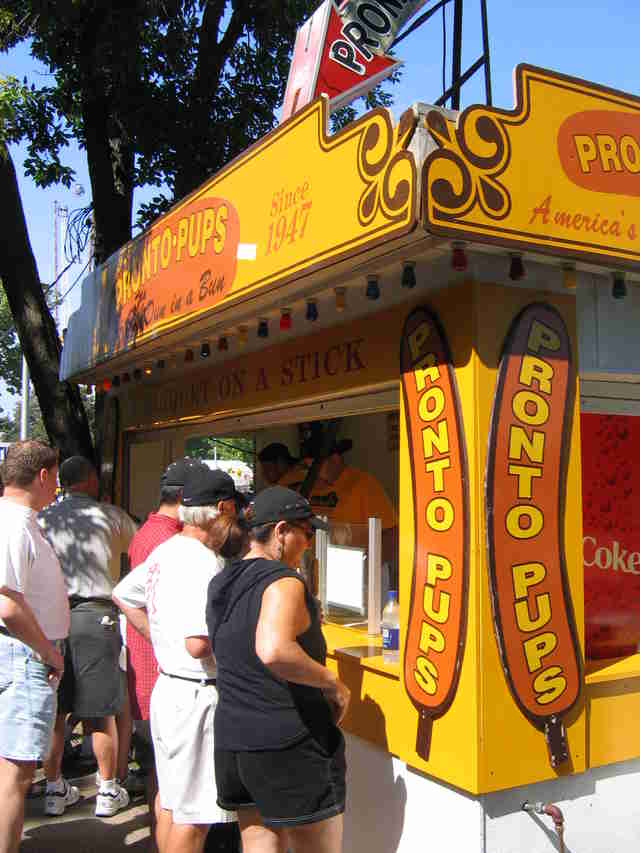 8. Have a Pronto Pup at the state fair
Then have a corn dog to remember how much better they are.
9. Have a function at the Wabasha Street Caves
You too can have a cocktail party in the St. Paul caves where Prohibition-era gangsters were murdered.
10. Go to Zorbaz on Gull Lake on a Saturday night
Buckle your seat belt.
11. Go through the Downtown Minneapolis locks in a canoe
Yes. This is a gnarly thing you can totally do.
12. Attend the Renaissance Festival...
... dressed as Bill & Ted. Just think of the possibilities.
13. Watch a town ball game in a place like Howard Lake or Waverly
Optional apple pie on a rocking chair on a porch with a pinwheel in your hand.
14. Curb it for the Aquatennial Torchlight Parade
Been making 'Sotans feel good since your grandpa was a kid.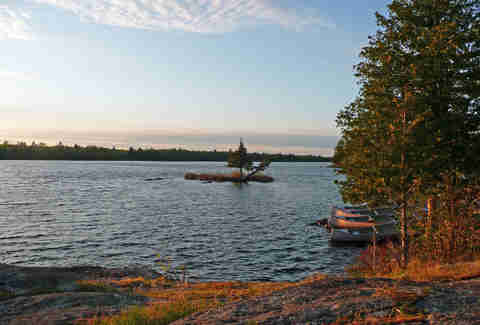 15. Take a trip to the Boundary Waters
Bring shloads of bug spray. And whiskey.
16. See the Mill City Summer Opera
The dramatic indoor/outdoor Mill Ruins Park venue more than makes up for the fact that you're watching opera.
17. Order a Tiki drink on Psycho Suzi's patio
A Polynesian oasis in an industrial desert.
18. Go to a horse race at Canterbury Park
We don't really know what to do once you're there either. Probably just wave around racing forms or something.
19. Eat a dago at the Gopher Bar
Just don't make eye contact with the regulars.
20. Attend a Vikings vs. Packers game...
... even if you're not all that into the NFL. Oh, and remember to root for the Vikings.
21. Go to a beer festival
Preferably an outdoor one.
If ever there was a hot dog that could change your life...
23. Snowmobile across a frozen lake at sunset
Hopefully to a bar.
24. Jet Ski across a not-frozen lake at sunset
Hopefully to a bar.
25. Sing "Piano Man" to close out the night at Nye's
Don't worry, it's during piano karaoke, so you're not doing it alone.
26. Drive to Canada for a fly-in fishing trip
The reason you're not "really into fishing" is because you've never fished Canada.
27. Play pinball at SS Billiards
Sure it's in a Hopkins strip mall but it's a treasure trove of vintage pinball.
28. Spend Oktoberfest in New Ulm
Schell's Brewery is only the beginning of the Bavarian bombast in one of the most completely German towns in Minnesota.
29. Have a veal Parm hot sandwich and cannoli at Cossetta
Plan on taking a nap for two days afterward.
30. Wait in a three-hour-long line at Sea Salt
Just kidding. Don't wait in that line. Go on a day like Tuesday when there is no line.
31. Go over Minnehaha Falls in a barrel
JUST KIDDING! You'll have to settle for fish & chips at Sea Salt.
32. Ride High Roller (aka White Rails) at Valleyfair
That's Valleyfair's first rickety wooden roller coaster, which means this could also be the last thing you do on your MSP bucket list.
33. Somehow, someway, make it into one of the rare public performances at Paisley Park
If you find out the "somehow, someway" part please let us in on the secret.
34. Play pool at Jimmy's Pro Billiards
DO NOT "make a friendly wager."
35. Drive a tank at Drive A Tank
Why wouldn't you want to crush a car with a tank you're driving?
36.Watch a Twins game at Target Field
Err, better make that watch a St. Paul Saints game at CHS Field.
37. Live in Uptown
Probably while you're young.
38. Complain about people who live in Uptown
Probably when you're just slightly older but still young enough to want to go to Uptown.
39. Drink a boot at Gasthof's followed by a hit of snuff
It's pretty singular.
40. Visit the Spam museum in Austin
Related: EAT MORE SPAM.
41. Hit the Minneapolis Institute of Arts
Go on a (rare) day when when the front doors are open.
42. Celebrate all the culture you got at the MIA by eating pho at Pho Tau Bay on Eat St
Lots of good pho on Eat St, but Pho Tau Bay's got the undisputed champion.
43. Spend a fall weekend in Grand Marais
You have never seen fall until you've seen fall on the northern shores of Lake Superior.
44. Fly fish the Mississippi River
People do that! It's a thing! And after your aforementioned trip to Canada you'll totally be into fishing, remember?
Is it funny because it's funny or funny because it's not funny?
46. Wear a suit and have a fancy steak dinner at Jax Cafe
Do it for no reason other than the fact your grandpa did the exact same thing 50 years before you.
47. Take a tour of the Red Wing boot factory in Red Wing
You'll understand why they cost what they cost and gladly pay it.
48. Own a pair of Red Wing boots
Because how could you not after No. 47?
Proudly tell the person pissing next to you that Al Capone pissed in these very same urinals.
50. Go to a live taping of A Prairie Home Companion
Consider it a monotone right of passage.
Sign up here for our daily MSP email and be the first to get all the food/drink/fun the Twin Cities have to offer.