A food truck fest & a beer AND food truck fest
Minneapolis Event of the Week
Friday, June 27th: 27 local breweries are pairing up with 27 local food trucks at the Beer Dabbler to give your taste buds an experience they'll never forget. Look for live music and plenty of great games and activities.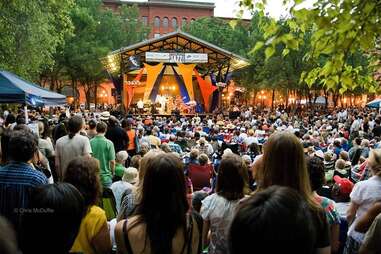 Thursday-Saturday, June 26-28th: Get ready to groove at this three-day jazz-stravaganza. The Twin Cities Jazz Festival just happens to be free -- so why not stop by Mears Park to grab something from one of the food trucks and hear some of today's top jazz artists? Continue Reading
Saturday, June 28th: Ok, jazz isn't your thing? How about Honky Tonk? Grumpy's has a solid seven hours of great honky tonk artists, plus proceeds go to the Leukemia & Lymphoma Society of MN.
Sunday, June 29th: Live music, more than 35 local food trucks, and tons of craft beers. The only thing not to like is the inevitable full feeling you'll get after 10 hours of gourmet bingeing at the Minnesota Food Truck Fair.


Sunday, June 29th: You don't have to take part in the raucous celebration going down on Hennepin Ave to enjoy the Twin Cities Pride Parade, not when there's gonna be tons of food and drink booths over in Loring Park.