If Everyone Did These 20 Things, MSP Would Be a Much Better Place
Seems like these days everybody has an idea about what would make the world a better place. Well, we don't know about the whole wide world, but we do know that -- even though it's a pretty great already -- if everyone did these 20 things MSP would sure be a much better place...
 
1. Stop trying to turn left from Hennepin onto Franklin
Where are you even going when you do that? You don't need Sebastian Joes Ice Cream right now, fatty.
 
2. Vary your work hours
There's no reason we all have to try to go to work at 8am, there're only a handful of ways into Downtown Minneapolis for Chrissake!
 
3. Only walk on the sidewalk and only bike in the bike lanes
We have such beautiful infrastructure for both of those things, so why must we waste it?
4. Wear deodorant to the State Fair
Just think how much greater the Great Minnesota Get Together would be if it smelled like it should -- fried food -- instead of sweat.
 
5. Stop complaining about potholes...
... and just start filling them in yourself. Complaining clearly hasn't worked, so adopt a pothole it is. Kidding... sort of.
 
6. Pick up your dog's poop
We're looking at you dude who puts the bag on his hand and pretends to pick up the poop but really doesn't.
 
7. Stop encouraging Michele Bachmann
The entire world thanks you in advance.
8. Eat at :D-Spot at least once per month
Not only would everyone be super satisfied by eating brilliant wings on a regular basis, they would also ensure that Darin Koch's strip mall wing Valhalla keeps on keeping on, and wing people need that damn place too much for it not to.
 
9. Quit being snobby about craft beer
Craft beer has become standard fare in this town so lose the 'tude cicerone dude.
 
10. Stop calling it the State of Hockey
We're as proud of our hockey heritage as anyone, but let's be honest here, we haven't done anything to renew that nickname for a long, long time.
11. Go to Minnehaha Falls on weekdays
We all love the Falls, but we can't all go on Saturday lest we all have to drive around for an hour to park and wait in three-hour-long lines at Sea Salt.
 
12. Leave poor Adrian Peterson alone already
Just kidding. Dude totally deserves your ridicule.
 
13. Stop wearing Adrian Peterson jerseys
We understand you sank a lot of money into that pro-stock jersey with the tight sleeve cuffs, but c'mon man!
14. Go camping
There're so many good, fairly easy-to-get-to camping grounds within an hour of the urban core. Put all that Heritage outdoor wear to use, son.
 
15. Buy a "bump" with your beer
It remains to be seen if MSP would actually be better if everyone ordered a shot of whiskey with their beer, but it wouldn't hurt to try.
 
16. Chose day trips to Hudson instead of Stillwater
Because in Hudson you can drink a ton of 'Sconi beers you can't get in Minnesota while looking at the same river.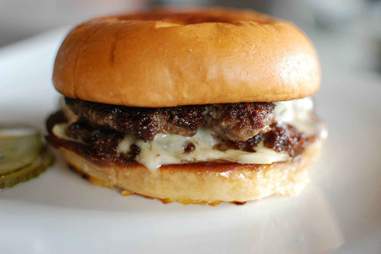 JOY SUMMERS/Thrillist
17. Eat more Parlour burgers
They're the best burgers in the Twin Cities and they make everyone who eats them happy. How could this possibly be a problem?
 
18. Stop complaining about extreme weather
Too cold in winter? Too hot in summer? Duh! This is not perfectly temperate San Diego, people. You know this by now.
 
19. Cut Joe Mauer some slack
Sure he gets paid a pretty penny, but the hometown boy's stuck it out through some tough times with the Twins, and they might finally be turning things around. Hahaha... sure they will. But hey, still lay off the guy.
 
20. Go to all the Cities' lakes
Lake Calhoun and Lake Harriet are not the only two lakes. Use them all and we will all be happier.
Sign up here for our daily MSP email and be the first to get all the food/drink/fun the Twin Cities have to offer.