Turns out that even though you've made the brilliant decision to live in MSP, a place that does a ton of things better than anywhere else, you're not immune from ruining it by making one of these 19 terrible decisions...
1. Getting sucked into Timberwolves season tickets
At this point even one game is one too many.
 
2. Swimming in the Mississippi
The way it looks is not deceiving... it really is a body-infested cesspool. 
 
3. Living in St. Paul
If you need an explanation, you probably live in St. Paul. 
4. Not being "a beer person"
With one of the best and fastest growing craft beer scenes in the country, this is an epically bad town to be a "white wine person".
 
5. Being a fan of the Packers
It's understandable that after growing up in Wisconsin you'd eventually get tired of cheese and want to move to your more interesting neighbor Minnesota, but once you do, proper decorum dictates that you keep your lust for the Packers in your own household. 
 
6. Trying to argue that any place other than Matt's Bar makes the best Jucy Lucy
Sure, there might be fancier Jucy Lucys in town, but nothing beats the original.
7. Shoveling while it's still snowing
Why do twice what you can do once? 
 
8. Living in a place with no indoor parking
Think street parking's not so bad? Talk to us after you've been towed during a snow emergency or when it's -20 and your car won't start... or both.
 
9. Thinking the freeway's quicker when it's snowing
City streets on a snowy commute people!
 
10. Investing any meaningful money in a boat
Don't let the shloads of sweet lakes fool you, considering our summers last about three days, you'll spend more time and money storing that boat than actually boating on it.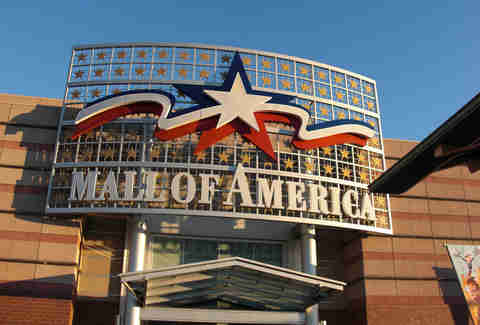 11. Going to the Mall of America basically ever
There are more of "them" than you there.
 
12. Moving to Wisconsin
Seriously, why would you do this? 
 
13. Choosing Lake Calhoun over Lake Harriet, and Lake Harriet over Lake Nokomis
When it comes to summer beaching in Minneapolis Lake Nokomis wins. Know this.
 
14. Pronouncing pho "FO"
The Twin Cities is a national hub for the Vietnamese noodle dish, so F-U for not figuring out it's pronounced "FUH" yet.
 
15. Trying to go out in Downtown on a game or concert night
Unless by "going out" you mean paying out the ear for parking and sitting in traffic all night.
16. Taking the Green Line from Downtown Minneapolis to Downtown St. Paul for lunch
Unless "for lunch" you mean for the entire afternoon because that's one slooooow roll.
 
17. Not getting a warranty on your tires
With the pothole minefield that invades our streets each spring, it's not a question of if you get a flat, but when.
 
18. Buying your produce at a grocery store instead of a CSA and/or farmers market
Seems we've got as many hipster farmers as we've got hipster cyclists, so why not take advantage.
 
19. Still wearing your Adrian Peterson jersey
Dude.
Sign up here for our daily MSP email and be the first to get all the food/drink/fun the Twin Cities have to offer.