8 things Montreal does better than any other city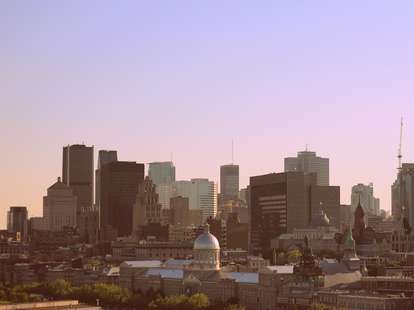 Katherine Sehl
Katherine Sehl
Ah, Montreal. It's the second-biggest city in Canada (though it kicks that other city's ass), and it has the second-most restaurants per-capita in the whole of North America (only NY has hungrier denizens). But we're not here to talk about the things Montreal is only second-best at. No, this is where we lay out the areas where La Belle Ville absolutely destroys the competition, and does better than any other city...
Rent vs quality of life
New York, LA, Toronto, SF, London, Tokyo -- sure they're all great cities, and they're also all the usual suspects on "most expensive places on earth" lists. Not Montreal. You could get a mansion in Montreal for what bedbug-infested shoeboxes cost in New York, yet still get a commensurate quality of life. Why does this magical discrepancy exist? Because of inclusionary zoning bylaws, the city of Montreal has leverage to keep 30% of new pads in developments at affordable rates.
Winter
Even cold-climate cities don't deal with Winter in quite the same way as Montreal... and while New Yorkers are busy tripping over their stilettos and spilling their triple no fat soy mochaccino all over the floors of taxi cabs, and Torontonians wimp out and call in the army at the sign of snowflakes (never forget!), Montrealers take Winter in stride, and embrace the cold like no other metropolis on earth. Extreme winter biking, skiing to work, pulling toddlers on sleds instead of pushing strollers... Montreal doesn't just deal with the cold, this city welcomes it.
Summer
Summertime sadness: what is that, Lana Del Rey? There's really no such thing for Montrealers who have spent the better part of the year in parkas and toques. Whatever LA, how can you truly appreciate Summer if you have it all the time? Summer in Montreal is a collective strip tease, a citywide block party, a golden season that brings all the people into the parks to bask in their youth and beauty.
Happiness
Ergo points one and two (see above) and the fact that Winter, almost Summer, Summer, and almost Winter are really the only real seasons here, Montrealers are happy pretty much all the time. Chalk it up as conjecture if you will, but it's actually a proven fact. According to a study conducted by Lonely Planet, Montreal is the second-most happy city in the world, just after Vanuatu -- but for our purposes, it beats them out due to the fact that Vanuatu isn't a city.
Music festivals
Montreal plays host to not one, not two, but three world-class music festivals: Pop Montreal, Jazz Fest, and Osheaga. That's more than most countries. Don't like jazz? No problem: Osheaga. Don't like hippies? No problem: Pop Montreal. Montreal's music fest scene has got something for everyone, unlike other places. What's that Indio? Just Coachella?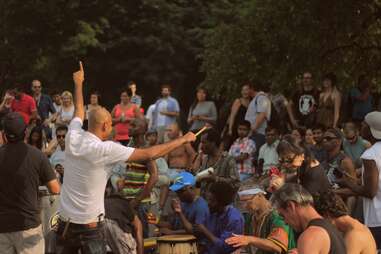 Partying
Montreal didn't get its nickname, Sin City of the North, for nothing. Sure, sure, there's the notoriously seedy string of clubs down the St. Catherines strip and the famous nightlife of Crescent St, but more importantly, Montrealers know how to party anywhere, all the time. Dance party in an igloo? We call that Igloofest. Hippie picnic/medieval larping on the side of a mountain? We call that Tams. And yes, Vegas, Ibiza, Cancun can all easily lay claim to a sturdier nightlife scene, but Montreal beats them all out thanks to the fact that this city's frolicking enhances the lives of the locals, rather than eroding their faith in humanity one drunken reveler at a time.
Food
In this instance, we're restricting the claim merely to Canada (you can relax now, Paris). But nowhere else can you find the best bagels, the best smoked meat, and the best poutines in the world. Also, going beyond the pocketbook benefits of the city's claim over the best cheap eats around, Montrealers also know how to fine-dine without all that pretentious food snobbery. Sure, you may have to book your table at Au Pied de Cochon weeks in advance, but no, you won't need a trip to the spa before hand, and yes, poutine will be on the menu.
Being funny
Only in Montreal is narrowly averting a Just For Laughs candid camera gag team the fodder for a witty Facebook status update paired with the hashtag #montrealproblems. Because during the Just For Laughs comedy fest season, the entire city takes part in the hilariousness.