Dating in the brutal Montreal winter can be tough. After all, with temperatures hovering below zero, it can be difficult to plan activities that might end up with you taking clothes off. So we've come up with 14 bulletproof ways to add a little heat to that Tinder date...
Recommended Video
Check in to Hotel Thrillist this September!
Mont Royal
The fact that Mont Royal has over 20km of incredible cross-country skiing trails is a well-known fact among Montreal natives. But if skiing amongst screaming infants isn't romantic enough for you, Les Amis de la Montagne also puts on a special guided snowshoeing walk every Friday night (and it's in English!). Prepare to enjoy a free glass of (spikeable) hot chocolate and the best view of the city's sparkling lights.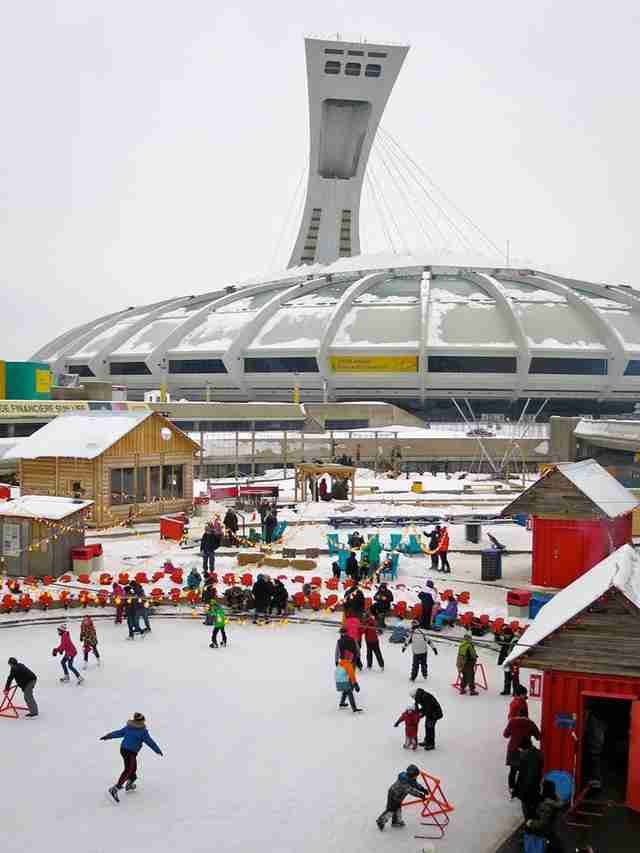 Hochelaga-Maisonneuve
From January to March, spend a Friday or Saturday night ice skating, drinking mulled wine, or getting your dance on at L'Hivernale festival in Montreal's Olympic Park. Each week, a different culinary team will offer their take on superb wintertime food, while a guest DJ or live band will get your Sorel-clad feet moving, weather be damned. And the best part is, everything but the booze and food is free! Just don't forget to bring your own skates.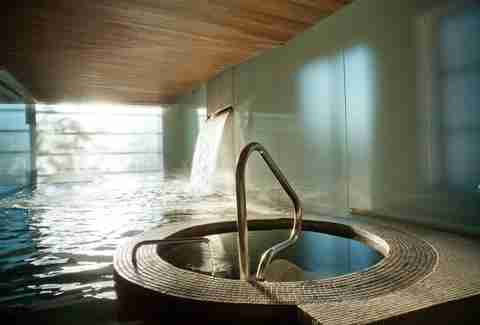 Old Montreal
If chilling outside in mid-winter isn't your thing, then the thermal baths at Scandinave Spa in Old Montreal just may give you and your date the warm-blooded pampering that you need. This beautiful, modern oasis in the heart of the city will get your blood rushing with a soothing, healing soak, followed by an invigorating ice-cold rinse. If you're feeling especially generous, the spa also offers special bath and massage packages.
Throughout the city
From bar hopping around Montreal's brewpubs, to a winding walk down Montreal's underground food courts or a degustation of Montreal's finest urban honey, there are never-ending options for those seeking to explore the city's vibrant food scene. Plus, a guided tour with lots of little samples just may be the best way to prevent an overly full belly from interfering with your late-night, post-date plans.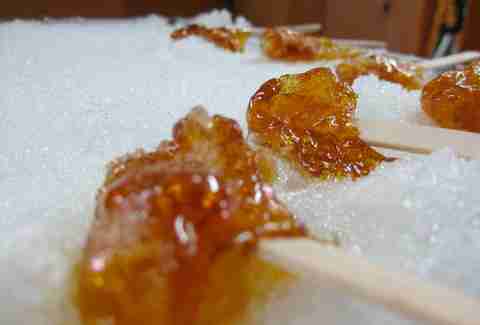 Outside Montreal
If you're ready to pile into a car and drive a little bit out of town, a visit to a sugar shack needs to happen from February to late April. From the gluttonous and gourmet Cabane à Sucre at Pied de Cochon, to a booze-laced, but traditional feast at La Branche, or the late-night Saturday party at Érablière au Sous-Bois, there's something for pretty much every couple.
Downtown
For those looking to up the wow factor on Montreal's wintertime dating, a visit to the Société des Arts Technologiques' (SAT) rooftop yurt is a safe bet for success. Sit down on fur-covered wooden benches, sip on special cocktails expertly prepared by the school's food lab team, and show your date that you can think outside the box -- literally. Entry is free!
Throughout Montreal
Yes, it's cold. Leaving the house can be tough. The good news? You don't have to! For a pre-determined fee, the culinary masterminds behind Chef @ Maison will come to your digs and prepare an intimate, one-of-a-kind romantic dinner (but won't leave you any dishes to clean). These are the big guns, folks -- don't pull them out for just anyone.
Griffintown
You know why the Righteous Brothers are playing in your head right now? Well, it's not because pottery classes aren't romantic. Head the Griffintown Art School, and get your hands dirty in courses of five or eight weeks that are especially geared for couples.
Pointe-Saint-Charles
Allez Up offers drop-in route climbing on Fridays and Sundays, and its skilled instructors are always available to answer any questions beginner climbers may have, while completely promising not to steal your date away from you.
Hochelaga-Maisonneuve
Just because it's winter doesn't mean that the Biodôme shuts down. If your date has never gazed into the eyes of a scarlet macaw or beheld sea otters holding hands, this is your chance to melt. Her. Heart. And all from the carefully maintained paths of the Montreal Espace Pour La Vie complex.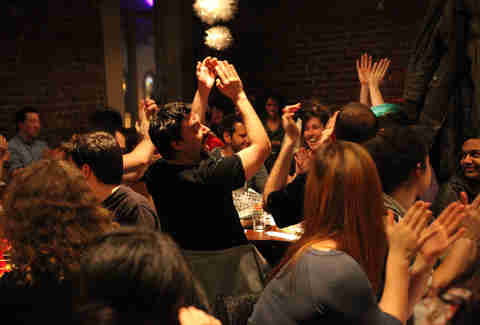 Hochelaga-Maisonneuve
If you are fairly certain of your romantic partner's good sportsmanship, then a night at Randolph Pub may be just what the doctor ordered. You can play a tried-and-true game of Carcassonne, or challenge your date to try out one of the pub's hundreds of board games. Also, some scientists are beginning to say that booze might help in romantic situations.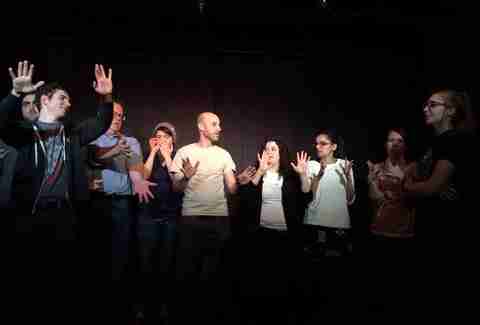 Downtown
Whether you'd like to showcase your own comedic skills, or watch others make fools of themselves, Montreal Improv has got something for everyone. See if your date is game for a free drop-in improve workshop on Saturdays and Sundays, or catch an experimental performance on Thursday-Sunday nights.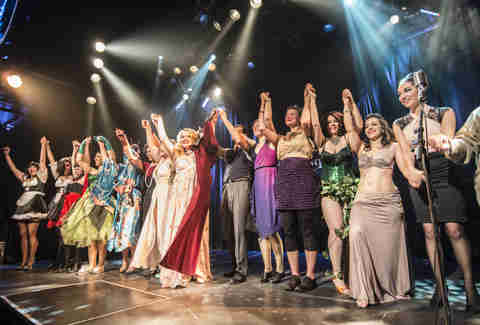 Throughout Montreal
From pasties to retro pin-up style, you've probably heard all about burlesque shows. Well, taking a date to a reputable burlesque show is probably the safest environment in which to see what the fuss is all about. Locations vary -- check here to see what shows are on in a given week.
Throughout Montreal
If you're looking to eat well but also learn something in the process, Ateliers & Saveurs offers cooking workshops on every subject under the sun, all for the price of a meal at a good restaurant. You can stop in for a quick lunchtime date, or make an evening out of it with a mixology or a comfort food cooking class.