This accordion-wielding songstress may hail from Winnipeg, but she's spent enough time in Montreal to throw out some pretty rad tips on how to take in POP like an insider, taking in only the finest of its 600 shows, and only the most delicious of the city's thousands of bars & restos.
What shows do you plan to check out this year?
I want to see Jenny Hval live. I would want to see every single show I think!
What're you most looking forward to?
Well, I haven't seen a whole Whitehorse set yet, and I love playing music, so reasonably, I'm very most excited about our show. I had the pleasure of seeing the band Chic Gamine last weekend in Manitoba. They are phenomenal, and I would enjoy myself immensely at their show if it wasn't the same night [as mine].
What makes POP Montreal so awesome?
I think it is very very well programmed. The people who run it are open and innovative and forward thinking and interested in music, which there is a shocking lack of in the music industry.

What do you miss most about Montreal when you're out of town?
I miss everything -- that surprise mix-bag of French and English, a 24/7 supply of attractive individuals, beautiful new music, visiting Verdun, bagels.
What restaurant do you have to go to when you're in town?
I spend a lot of time at Le Depanneur Café. The all-day live music is consistently class, on top of the good food, coffee, people, and space.

Thrillist recommends these awesome spots if you want to grab a bite...
What tastes the most like Montreal to you?
Bagels and sprouts and sangria. In no specific order or combination.
What's the best bar to grab a drink at after a show?
I will drink almost anywhere. I like exploring. My favorite new thing is to try to go to a different bar for every drink just for fun, which works well in the Mile End.

Thrillist recommends Alexandraplatz as a great place to start a Mile End bar-hop.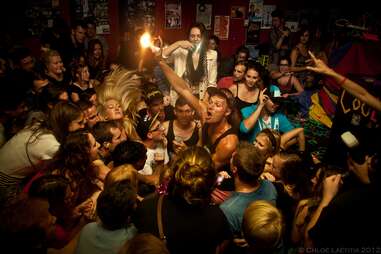 Where's the best place to catch an unexpected jam session?
You gotta get your bros together and just make it happen, I'd say. Music happens in the most unexpected places.

What's your favorite venue to play in or catch a show at?
I really love playing Casa del Popolo. It's pretty perfect as a venue. There are so many good ones in Montréal. The city is filthy rich with good venues.

Thrillist recommends more of those venues right here!
Which band or song sounds the most like Montreal to you?
Montréal always hands you the unexpected. I imagine falling into a party where there are 20 Spanish men madly playing the guitar or a crazy Nigerian jam happening on the street. That's the sound of Montréal.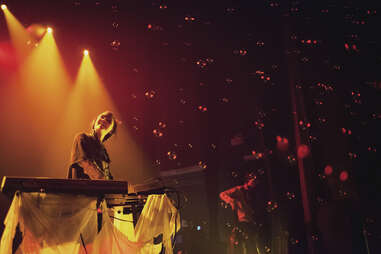 If Montreal were a musician, what would their debut album be called?
Hahaha. Cornucopia. Caramel. 17 Pianos. A slow and righteous death. Something like that.

What kind of music would it be?
This is obvious. Experimental indie rock.

Ingrid Gatin will be playing with Whitehorse and Mike O'Brien at the Ukrainian Federation September 28th, 2013. Get advance tickets here.