The 10 best days to live in Montreal
What are the best days to live in Montreal? Obviously we could just list the 365.25 days between Jan 1st and Dec 31st, but we're going to be a tad more discriminatory here, so here are just the finest 10...

1. Moving day
They say "one man's trash is another man's treasure", right? Well, on July 1st, one neighbor's trash is your new living room set. Apartments across the city spill into the streets in a chaotic purge of futons, kitchen utensils, and Ikea bookcases. An awesome day for broke people in need of a new electric kettle -- or if you're lucky, a washer/dryer combo. It's like campus move-in day, times 1.6 million people.

2. The first snow
It's so powdery and innocent! So sparkly and virginal! We peer out from frosted windows and think, "It's so beautiful. Winter's not so bad!". For a moment we believe we'll buy a season pass at Mont-Tremblant and go ice skating at Parc Lafontaine every weekend. That's before you have to shovel out the minivan. The feeling is as euphoric as it is fleeting.

3. Gay Pride
Neon g-strings aside, Montreal takes Pride very seriously. Since the legalization of gay marriage in 2004, Quebec has been a leader in the North American gay rights movement. Boasting one of the most vibrant gay districts outside of San Fran, Montreal's pride celebration is the most joyous, eclectic, and bizarre party of the year.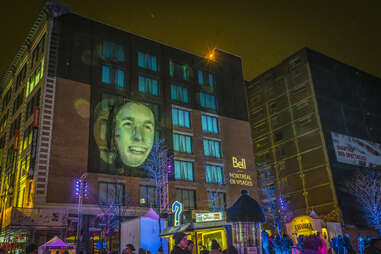 4. Nuit Blanche
This arts free-for-all throws open the doors of nearly every museum and gallery in the city. The Metro is open all night. Buses run nonstop. Over 200 free concerts, art installations, and street performances take over Downtown. Plus, every Westmount teenager gets permission to stay out late. It's a beautiful mess. If you can brave the crowds, it's an event that leaves you thrilled by the density of people and creativity in this city.

5. The first day of that festival you love
It's opening day of Fringe Fest-Jazz Fest-Piknic Electronik-Osheaga-Pop Montreal! You're so pumped! (This is basically every day of the summer. But still.)
6. Fireworks festival finale
Considered the "Olympics of the pyrotechnical world", each show detonates over 6,000 fireworks. The grand, simultaneous-explosion finale lasts for several minutes, and is all the more spectacular as your temporary deafness helps heighten your other senses, too.

7. The day the ice cream shops reopen
What does every Montrealer love more than
making fun of Toronto
? Eating ice cream. Okay, the two are kind of on a par, but there's still that glorious day in late April when the icy grip of winter loosens, and your favourite ice cream shop reopens. So you put on your ski coat, and you grip that cone with shivering, glorious determination.

8. Your 18th birthday
Because the age of maturity is 19 in most other provinces (and 21 across the border), Montreal is pretty much the best city in North America to be a dumb, smart, or averagely gifted 18-year-old. Congrats, kid, now you can gamble at our bitchin' casino (it's on its own island), buy alcohol, smoke,
go to contact strip clubs
, and -- get excited -- vote! Go crazy.
9. That game where the Habs are maybe about to clinch something important
You know that one (or two, if we're lucky) game(s) where the Habs are on a winning streak, and everyone's like, "This is our year! Stanley Cup, bitches!" and start wearing their jerseys to the office? Sports bars fill up immediately after work. Neighbors discuss Don Cherry's latest blazer. We all believe it's 1993 again. It's a magical, hopeful time. And it generally lasts one day, so enjoy it.

10. The day they finish construction on your street
You'll wake up one morning and the orange barrels and jackhammers will be gone. One day.