As we approach festival season, approximately everyone in the North American continent will be coming to Montreal, while Montreal's own natives will understandably decide that's the perfect time to get out of town for a spell -- and the easiest, cheapest, and most fun way to do that will be on a rod trip. Here are the best spots to head out to...
Mont-Tremblant, QC
Distance from Montreal: 81 miles north; 1.5-hour drive
Why it made our list: Mont-Tremblant is the ideal four-season getaway. During the winter season, head over to the mountain and learn to ski, snowboard, or snowshoe. When the sun goes down, warm up by testing your chances with Lady Luck at Mont-Tremblant Casino. What about the summer? Play a game of golf at Le Diable golf course, followed by some rigorous shopping at the very colourful pedestrian village.
Pro tip: Mont-Tremblant is kind of an athlete's paradise. During the summer months, the mountain is home to several bike races and the Subaru Ironman triathlon. If yoga is your thing, check out the four-day yoga festival, Wanderlust.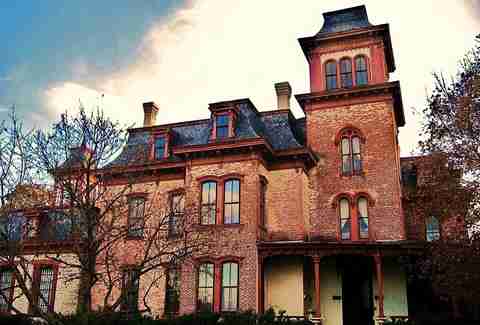 Plattsburgh, NY
Distance from Montreal: 63 miles south; one-hour-and-10-minute drive
Why it made our list: One word: shopping. Canadians will cross the border every day so they can shop on the cheap, until they drop in Plattsburgh. Let's face it; the United States has a myriad of items and brands that we cannot get in our native land. With new treasures in hand, a drink is needed. Head to the family-owned Elfs Farm Winery and Cider House for some locally made vino and ciders. Sign up for its wine and cider tasting and sit back on the terrace and enjoy the view of the vineyard.
Pro tip: Take the Greater Adirondack Ghost Tour around Plattsburgh. During a lantern-lit tour at dusk, you'll hear tales of the cemetery that State University of New York built a dorm over and the haunted Plattsburgh barracks. Listen to the haunted stories, but pay attention to your spooky neighbours.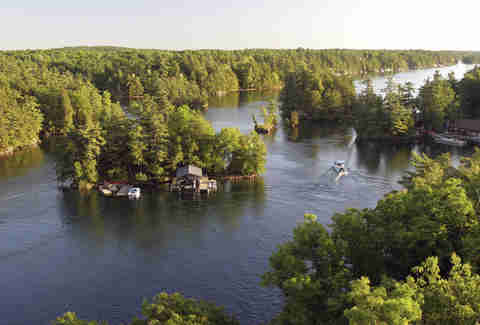 Thousand Islands, ON
Distance from Montreal: 171 miles west; three-hour-and-15-minute drive
Why it made our list: Thousand Islands are located on the border of Ontario and New York. Each of these little islands has something perfect for everyone. From the Thousand Islands Winery to Coyote Moon Vineyards to the Avonmore Berry Farm, this is a local produce paradise. Once you've picked your vino and your berries, it's time to go fishing for your dinner.
Pro tip: Rumor has it that a local fisherman's wife invented the dressing named after Thousand Islands and eventually passed the recipe to George Boldt, owner of the Waldorf-Astoria hotel back in 1894. While here, hunt down the original Thousand Islands dressing.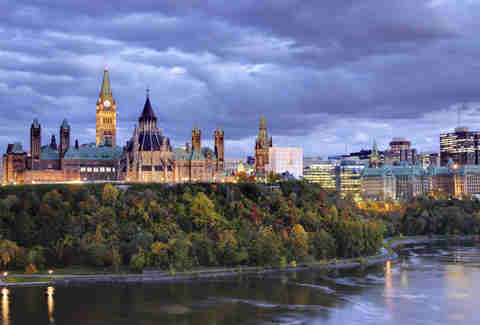 Ottawa, ON
Distance from Montreal: 125 miles west; two-hour-and-five-minute drive
Why it made our list: Ottawa is our nation's capital and as such, it deserves to be on this list. Parliament Hill, the National War Memorial, and the Tomb of the Unknown Soldier are a must. Yoga is regularly practiced on Parliament's front lawn, so join in. Now that you've worked up an appetite, go to Fauna for its halibut with squid ink risotto cake, or Salt for its Atlantic salmon poached in a brown butter with buttermilk fennel.
Pro tip: Ottawa is the best place to be on Canada Day. Celebrate this July 1st by heading Downtown, where streets will be blocked off for the event. Passed years have included performances by Marianas Trench and Serena Ryder. Watch the acrobats, have some good Canadian brews, eat a BeaverTail, and gasp at the fireworks.
Saint-Sauveur, QC
Distance from Montreal: 47 miles north; one-hour drive
Why it made our list: Saint-Sauveur has it all. A mountain for winter sports, shopping outlets, and spas all around make this a prime spot for couples looking for a romantic getaway. Head over to the Japanese-themed Ofuro Spa or the Polar Bear's Club spa situated by a river for those looking to jump into Nordic-like waters.
Pro tip: Looking for somewhere to eat that has amazing coffee, but still has that small-town vibe? Check out Brûlerie des Monts, where coffee beans are imported from Indonesia, Peru, Kenya, Yemen, and beyond. Go for the coffee, but stay for brunch.
Quebec City, QC
Distance from Montreal: 156.5 miles northeast; three-hour drive
Why it made our list: Along with being La Belle Province's capital, Quebec City is a must for its historic European flair. Check out the Plains of Abraham, Parliament, and Old Quebec City's Lower Town, which will transport you to the late 1600s. After a historic trip around town, you'll definitely want to eat. Hop over to Restaurant Toast!, where you could dig in on dishes like crispy pork belly with shrimp and sea urchin emulsion, or go to IX pour Bistro and enjoy foie gras for dessert.
Pro tip: Book a room at the extraordinary Château Frontenac, whose doors first opened in 1893. Not only is the hotel a National Historic Site, but it was also the set of Alfred Hitchcock's twisted thriller, I Confess, with Montgomery Clift.
North Conway, NH
Distance from Montreal: 214 miles south; three-hour-and-45-minute drive
Why it made our list: If you're looking to spend a weekend being active whilst enjoying that small-town feel, North Conway is for you. Drive up the almost 6,300ft Mount Washington and enjoy the amazing view of the White Mountain National Forest. Hiking more your thing? Then hike to the multi-waterfalls that make up Diana's Baths waterfalls or up to Echo Lake State Park. Eventually, climb back down and enjoy shopping at North Conway's vast selection of outlet malls.
Pro tip: For breakfast, run to the Martha Stewart-approved restaurant Peach's and dig into her favorite pumpkin pancakes. For dinner, sprint to Jonathan's Seafood or Lobster Trap. Their menus include fresh seafood and they're super generous with their lobster portions. Definitely get a bowl of clam chowder and a lobster roll.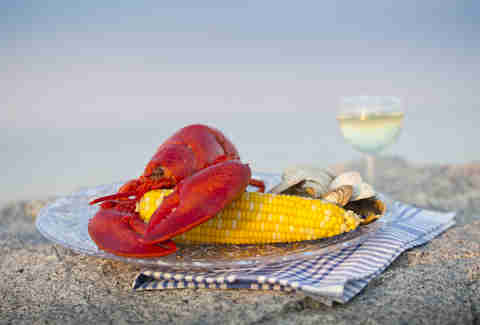 Portland, ME
Distance from Montreal: 278 miles south; five-hour-and-10-minute drive
Why it made our list: Portland is a definite road trip destination for anyone who loves food. We're not kidding. Having been called the "Foodiest Small Town in America" by Bon Appétit magazine and is home to almost 250 restaurants. One of these little gems is Duckfat, whose Chef Rob Evans won Food Network's Chopped three times. Chow down on its fried Brussels sprouts with bacon and pickled apple, but save room for the fries cooked in duck fat. For dinner, head to Street & Co.; a restaurant tucked away in an alley that serves up on-point dishes using locally caught fish. Grilled octopus with chorizo and local kelp are just the beginning of your food adventure.
Pro tip: Portland's foodie's dream reputation is no exaggeration. The city hosts such food festivals as the Maine Vegetarian Food Festival and the Harvest on the Harbor fest, which means lobster, seafood, and more lobster.
Sign up here for our daily Montreal email and be the first to get all the food/drink/fun in the City of Saints.