Montreal may be smaller than the average global metropolis, but it's still got an immense amount of energy, culture, and therefore cool things you need to do there before you either die or leave (which, let's face it, are more or less the same thing). Here are the things you need to check off that list...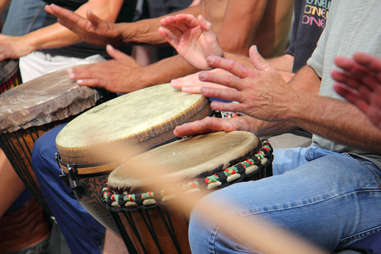 1. Experience a full Sunday Funday of Tam Tams & Piknic Electronik
Start the day relaxing to the drumming beats of Tam Tams, and end it dancing under the sun at Piknic Electronik with a drink in your hand. What could be better than tanning as you dance outdoors in your comfy sandals?
Everyone needs to try bagels from both of these Montreal institutions and be well versed in how to win against anyone who dares to say that bagels from New York are better. Shut them down with some straight up logic and sweet, sweet bagels.
3. Show some true Quebec pride at the St. Jean-Baptiste Day parade
June 24th is Saint-Jean-Baptiste Day, otherwise known as La Fête Nationale, a public holiday across the province of Quebec and it's all about celebrating Quebecois culture. In Montreal, that equates to a giant parade and tons of parties/festivities across the island. The city's joie de vive is truly something to behold.
4. Spend a whole day chilling and drinking wine at Parc La Fontaine
Nothing is more quintessentially Montreal than enjoying the sun for hours on end in a park, and Parc La Fontaine is arguably the best (Parc Laurier and Parc Maisonneuve are a close second and third) if not only for the fountain of its namesake. You should technically have some food with you while drinking; this is known as the "picnic rule," but the rule is rarely enforced.
5. See the skies light up with color during the Montreal Fireworks Festival in the Old Port
Each year, pyrotechnicians from around the world participate in the L'International des Feux Loto-Québec (aka the Montreal Fireworks Festival) at La Ronde amusement park, a summer event that is equally romantic and visually mesmerizing.
6. Grab a smoked meat sandwich from a deli that isn't on St. Laurent Blvd
You've heard about Schwartz's and The Main, and there's no question about their greatness, but there's so much smoked meat beyond St. Laurent like Reuben's, Snowdon Deli, Jarry Smoked Meat, and Smoked Meat Pete, to name a few.
7. Get a beer at a Habs game at the Bell Centre
This should also be paired with complaining how ridiculously expensive beers are at the Bell Centre whilst making friends with other disgruntled beer drinkers like yourself.
8. Muster up the courage to walk inside Cinema L'Amour
Yes, it's a sex theatre, but Cinema L'Amour is also a historical landmark, being part of a theatrical legacy dating back to 1914. You'll also be sure to get an interesting story out of it.
9. Buy a drag queen a drink at Cabaret Mado
Montreal's Gay Village is a section of the city everyone needs to experience, and rather than just dance it up at club Sky, witness the colourful eccentricity that is a drag show at Cabaret Mado. Find your favorite fabulous queen and buy her some alcoholic appreciation.
10. Run/walk/bike up Mount Royal to the observatory in the summer or fall
No matter if green or autumn-coloured leaves grace the trees on the path up towards the top of Mount Royal, the foliage is a sight to behold. The view of the city at the top is even better.
11. Have a steamie (or three) at the Montreal Pool Room
You won't find a single pool table at this Montreal greasy spoon, but what the Montreal Pool Room lacks in advertised billiard equipment, it makes up for in amazing hot dogs. Open since 1912, Montreal Pool Room is the place to get a steamie, and being located right in the heart of Downtown (and across the street from Cafe Cleopatra, an equally famous strip club) the clientele is always an interesting mix of strangers.
12. Cook a whole meal from foods purchased at Jean-Talon Market
The Montreal food scene isn't just about restaurants and a trip to Jean-Talon Market will quickly show you that. If cooking isn't your thing, then just munch out at the many delicious vendors to be found at the market.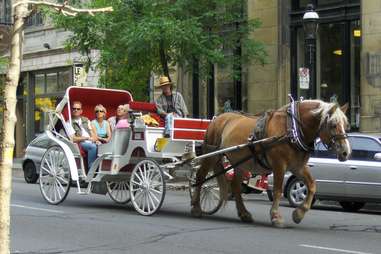 13. Ride a horse-drawn carriage through Old Montreal
​Sure, it's a little touristy, though no one can deny the old-school feeling of classiness you get when pulled by a horse and guy in a top hat down one of Old Montreal's cobblestone streets.
14. Attend an Impact game as you watch a coordinated crowd chant and dance behind the goalie's Net
Tickets aren't as expensive as you would imagine so buy a bunch and head over to Saputo Stadium with your mates for a day of shouting at soccer players while you drink.
15. Dance the entire night away at Stereo
With its world-renowned sound system pumping techno and house, Stereo is arguably Montreal's best after-hours to dance until 10am before heading out for brunch.
16. Witness a giant mural being painted live on a building at Mural Fest
Seeing a piece of art being created is pretty cool in and of itself. When it happens at Mural Festival, the city's street art fest, the experience is taken to the next level as creativity and color take buildings from dreary to dreamy.
17. Wear an outfit of clothes found solely at Eva B
Think of the weirdest thrift store you've ever been to, then multiply the strangeness by 10, and you have Eva B. -- part cafe, part clothing store, part costume rental shop. It is the kind store that could only really exist in Montreal.
18. Listen to a band or DJ you never knew existed with a bunch of friends you just met at Osheaga and îleSoniq
Osheaga and îleSoniq are special places filled with beautiful people and musical acts you're not hip enough to have heard of previously. Thankfully, the atmosphere is all about good times with strangers and good tunes, making Osheaga and îleSoniq festivals everyone should attend at least once in their lifetime.
19. Get a poutine at La Banquise... at 4am
Open 24 hours, you can get one of La Banquise's famous poutines anytime, but it's during the wee hours of the morn that you get to eat with that extra-special slice of society of partiers, foodies, and weird night owls.
20. Shake off the cold by dancing at Igloofest
Nothing says "the winter won't hold me down" like grooving in a neon-colored, full snowsuit at Igloofest, because even in -30, the city doesn't stop partying.
21. Catch a play/production at the annual St-Ambroise Fringe Festival
From musicals to comedies to burlesque and everything in between, Montreal's version of the Fringe Festival has a show for you, even if you're not a "theatre type."
22. Join in on one of the inevitable outdoor rallies after the Habs win a round in the playoffs
... Or lose. There will still be one.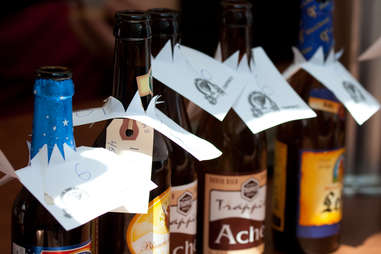 23. Drink as many beers as you safely can at Beer Fest
Festival Mondial de la bière is an annual tradition celebrating everyone's favourite beverage (beer, duh).
24. Check out muscle cars and enjoy greasy eats at the Orange Julep
You also need to try the famous orange-and-cream beverage that is the giant orange-shaped diner's namesake.
25. Watch a movie you've never heard of at the Fantasia Film Festival
Nothing to do with the Disney movie, Fantasia is a haven for nerds of all sorts, playing horror, animated, and generally weird films from around the world. Don't get weirded out when people start meowing like cats in the theatre when the lights go dark, it's a thing.
26. See a POP Montreal show at the Church of St. John the Evangelist
Kill two birds with one stone: visit an old church and see a local music performance.
27. Stroll through St. Catherine St during Aire Libres
So much happens during the close-to-five months that a large chunk of St. Catherine's becomes a pedestrian-only walkway, including art installations, sidewalk sales, and Montreal Fetish Weekend.
28. Cast a line at the Ice Fishing Village in the Old Port
Combined with the fact that you can bring your own beer, you have the ultimate winter activity.
29. Get caffeinated at Café Olimpico in the Mile End
What is often cited as the city's best espresso is found at Café Olimpico, and given the huge amount of coffee critics and independent cafes in Montreal, that's quite the statement. See if you agree for yourself.
30. Satisfy your sweet tooth at Juliette et Chocolat
Arguably the city's most famous chocolatier, and for good reason.
31. Gaze upon the grandeur of Saint Joseph's Oratory
Canada's largest church? Check. St. Joseph's Oratory truly is an architectural wonder. Stroll through Mount Royal Cemetery while you're in the area, too.
32. Enjoy a few locally brewed pints on the terrace of Dieu du Ciel!
Sun + amazing locally brewed brews = a Montreal must.
33. Take the metro home at 5am after a full night out during Nuit Blanche
Montreal's metro system stays open only one night a year, so you mine as well take advantage of the special Nuit Blanche hours, along with wide array of events and art to see throughout the city.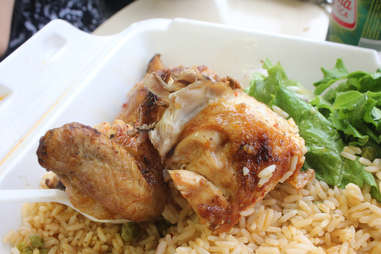 34. Enjoy the "crack chicken" that is Romados
Bagels and smoked meat are well known Montreal food staples, but right up there with them is Portuguese chicken. Romados is known as the best place to get it, with its "crack chicken" being its aptly named bestseller.
35. Slip up while going down a set of icy outdoor staircases in the winter
Not enjoyable, or on purpose, but this is definitely a Montreal rite of passage. Why anyone thought building steep-as-hell staircases on the outside of an apartment in a city where ice and snow are incredibly prevalent in the winter was a good idea is beyond us, but we gotta deal with it, and embrace it.
36. Go museum-hopping on Montreal Museum Day
Fit a whole year's worth of artistic appreciation in a single 24 hours during Museum Day in Montreal, where nearly all of the city's major museums offer free admission for the whole day. Free shuttles and "museum routes" are even set up to help you get around the city.
37. See the city from the top of the tower at the Olympic Stadium
Just to say that you did.
38. Cycle through the Lachine Canal bike path
Or walk or run; just take in the by-the-water beauty.
39. Walk from Downtown to Old Montreal through the Underground City
Over 32km make up Montreal's infamous set of subterranean labyrinths, said to be the largest underground network on the planet. You'll want to do this one in the winter, when walking outside is avoided at all costs.
40. Attend a free outdoor show during Jazz Fest
Festival International de Jazz de Montreal brings jazz and blues to our fair city, but what is truly inspiring is that the festival hosts free outdoor concerts. Past performers have been Diana Krall and Stevie Wonder, so get there early to sneak a spot close to the stage.
41. Take a walk around the Plateau
From its colorful and interesting architecture to its darling restaurants and shops, Le Plateau has everything you could ever want. Take a walk along Mont-Royal Avenue, Laurier, and St-Denis on a sunny day and visit as many unique boutiques as you can.
42. Try your best to manoeuvre around the gridlock caused by Tour de l'Île
Cyclists rejoice one weekend a year when the city is turned into a huge bicycle path, leaving hundreds of streets and side streets closed. However, for everyone else who isn't taking part in the event on two wheels, the bike tour is kinda a huge pain in the ass.
Glitter, nipple tassels, and a whole lot of dancing in sexy heels, there is nothing more erotic than a confident beauty who isn't afraid to show off her bounty of curves on stage.
Shake your booty to the tunes of divas like Cher, Lady Gaga, and more with your LGBTQ brothers and sisters as colorful floats pass by and love is all around.
45. Laugh your butt off during the Just for Laughs festival
With headline acts in the past like Jerry Seinfeld, Dave Chappelle, Kevin Hart, and the late Joan Rivers, Montreal's Just for Laughs festival adds some much needed laughter to a city riddled with potholes and orange construction cones.
It's a 10,000sqft indoor skating rink in Montreal's Downtown sector that's open year round in one of the city's huge glass-skyscrapers. Go with friends or with a date. And this is absolutely a place for Canadians who miss the cold even in the middle of summer.
47. Grab a bite to eat during the First Fridays
First Fridays, or Food Truck Fest to most of us, takes place at the Olympic Stadium on the first Friday of each month between May and October. With almost 40 food trucks rallying at the Big O for a night of food, live music, and food comas, this is a definite must for novice food truck hunters.
Sign up here for our daily Montreal email and be the first to get all the food/drink/fun in the City of Saints.
Felicia Di Palma is a freelance writer for Thrillist and a short, feisty woman who loves to eat, drink, laugh, and travel -- not necessarily in that order.