North to the great and powerful USA lies Montreal: a small, vibrant city that, for what it lacks in size, makes up for in its cultural freedoms, creative aura, and liberal use of cheese curds. Here's a list of some of the other liberties the average Montrealer gets that you simply can't do down South... 
 
1. Have a conversation in Franglais
Some call it Frenglish. Some call it Franglais. It's very real, and it's one of the only hybrid languages in the world. A combination of French mixed in with English, it's become the universal language of the city, and if you don't appreciate how good that could be, you just haven't tried swearing in French yet.
2. Eat poutine for breakfast
Montreal is known for many things and almost all of them are poutine. Its popularity in these parts has seen it make its way onto many a breakfast menu (including at restaurant La Banquise, one of the city's most notable poutine spots that's open 24/7). Sure, you can technically consume this anywhere at any time -- but here, it's acceptable.
3. Legally drink at 18
There's a reason US college kids regularly hop the border on the weekends, and it's not to experience temporary free healthcare. It's to experience a country with a sensible drinking age, and exploit that until they find they might actually need that free healthcare after all.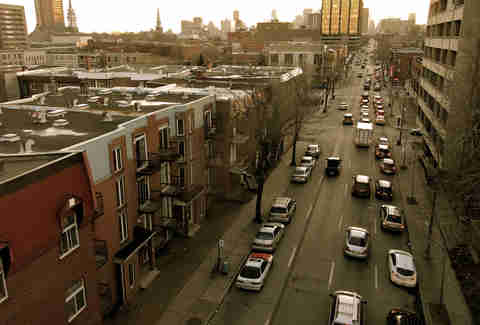 4. Get away with paying for cheap rent and university tuitions
As much as the city has its protests over the tuition hike, you can't help but appreciate the low cost of living here. For example, in Montreal, university tuition costs roughly C$2,224 per year. In comparison, the average fee of university tuition (not including the fancy-pants universities) in the United States costs anywhere between $8,340 and $16,992, annually. In terms of rent, a one bedroom apartment costs anywhere between C$550 and C$600 a month in Montreal, whereas in the United States, rent prices are considered to be 4.84% higher than in Canada. Not that much of a stretch, but in the end, living in the cosmopolitan city of Montreal won't leave a hole in your wallet.
5. Eat at more restaurants than you've ever seen
Montreal has more restaurants per capita than all but one major North American city -- New York. Only in Montreal, you can actually afford to eat at them. And you'll probably eat something you couldn't get anywhere else; take Au Pied de Cochon (meaning: pig's feet), where you can get foie gras poutine w/ maple syrup.
6. Get a hot dog at a giant, three-story Orange
Better yet known as one of the main landmarks in the city, Gibeau Orange Julep is your main destination to get your fix of orange juleps (duh), one of the city's finest hot dogs, and feast your eyes on a wide array of vintage cars lined up every Wednesday night from May to August.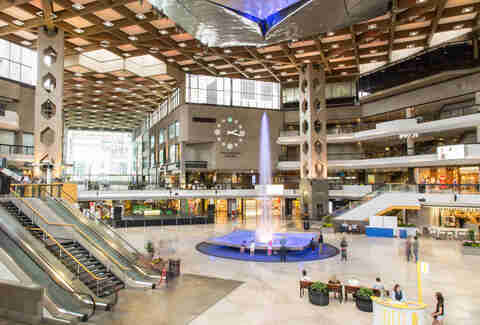 7. Experience shopping in one of the world's biggest underground cities
Montreal winters are pretty brutal, but luckily, mankind has conquered that wuss Mother Nature with good old-fashioned capitalism. Thanks to the underground city, you can tunnel your way into 32km of endless shopping centers and restaurants without having to step foot outdoors. 
8. Take a ride up the Olympic Stadium, the tallest inclined building in the world
Witness the city in all its beautiful glory by riding up on the city's unique monument. After taking in the view, be sure to check out the Botanical Garden and the Biodome, two popular attractions that are situated in the heart of the Olympic Stadium. For a culinary experience, stop by every first Friday of the month from May to October for a vast roundup of street food.
9. Surround yourself with a diverse crowd and be part of a drum circle every Sunday afternoon during the summer months at Mount Royal's "Tam-Tams" festival
If there's one thing Montreal knows how to do, it's party. After a weekend of drunken debauchery, enjoy your Sunday afternoon at Mount Royal Park and experience a different kind of partying that involves being surrounded by an eclectic range of people dancing to the beat of their own drum (literally), basking in the sunlight, and taking part in a myriad of activities including sword fighting. The Tam-Tams, we're pretty sure, is the only drum circle in the world that doesn't make you feel like a hippie.
10. Indulge in some of the city's finest smoked meat joints
Smoked meat. It's better than pastrami, just as Montreal bagels are better than New York bagels. As much as Schwartz's is considered one of the more popular joints in the city to get your meaty fix, if you don't have the patience to wait a long period in line, there's without a doubt many great smoked meat joints that shouldn't be overlooked. Some of these include: The Main, Le Roi Du Smoked Meat, and Dunn's -- none of which are in the US.