Sure, here in Montreal it might be difficult to get away with finding an actual skyscraper, or even an actual mountain, but there are a few things that Montreal stakes a sole claim to -- here are nine of them…
1. Go to an outdoor rave in -30-degree weather
Instead of going stir crazy, Montrealers embrace the Winter by drinking Jäger and raving in arctic temperatures -- otherwise known as Igloofest. It's possibly the most badass outdoor music festival in the world. Dance until your sweat refreezes to a lineup of international electronic artists, then don your fav fluorescent combi and participate in the one-piece competition, roast marshmallows at the camp fire, or slide down the ice slide. Totally normal behavior here.
Recommended Video
Chick-fil-A Is Giving Away Free Food
Yep. The dep. Thought convenience stores were just for cigarettes and Hustler mags? Not in Montreal. You'll find everything from fancy microbrews to house plants. Then, there's the full-service dépanneurs like Le Pick Up, where you can order a melt-in-your-mouth pulled pork sandwich, or the Sushi Dep rolling first-class salmon maki. Eat your heart out, 7-Eleven.

3. Drop in on a piano concerto... on the street On certain street corners you're likely to witness an impromptu piano concert thanks to the pianos publiques. More often than not, it's a toddler playing "Chopsticks". But, in serendipitous Montreal fashion, there are many unassuming pedestrians that sit down, jam out, and draw a crowd. That old man who pounds Mozart on the corner of Marie-Anne and St. Denis? He's our hero.
4. Find world-renowned street artists around every corner
London may have Banksy, but we have... everyone else. Street artists come from all over the world to participate in the MURAL Festival, and North America's biggest and longest-running graffiti fest, Under Pressure. Plus, the public art walls, dedicated gallery spaces, and Beaux Degats battles help nurture and encourage new artists to hone their craft. You're likely to find a hidden gem in any back alley, garage, or underpass.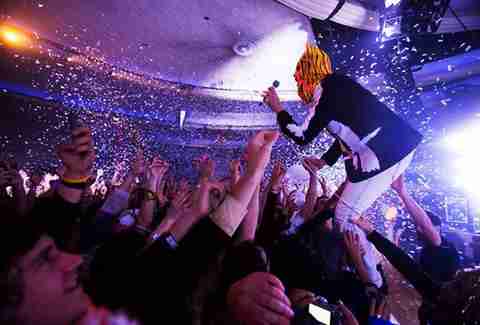 5. Party with Grimes, Arcade Fire, and Mac DeMarco at an after-hours party
Montreal has a killer music scene, and even crazier loft parties, but stick around after the show, and if you wink at the right people, you'll soon find out where the after-party is. Rub elbows with Win Butler and Claire Boucher, but play it cool. Montrealers don't get star struck.

6. Ski, walk, or drive to work All forms of transportation are accepted here. How to get across town after a meter of snow falls overnight? Cross-country ski to work. No one will double-take.

7. Get fined for having too many Italian words on an Italian restaurant menu In accordance with Quebec's Loi 101, businesses must make French the predominant language on all products, signs, and advertising. Fighting against foreign language infiltration, the Office Québécois de la Langue Française famously reprimanded Italian restaurant Buonanotte for having too many Italian words (i.e. bottiglia, pasta, and antipasto) on their menu. Later, the office conceded it may have been "over-zealous". Ya think?
8. Eat at a different restaurant every day for three years, and still not visit them all
Sounds overwhelming, doesn't it? Home to renowned chefs like Chuck Hughes, Martin Picard, David McMillan, and Frédéric Morin and regularly hosting foodie celebrities like Anthony Bourdain, Montreal has the one of the highest restaurants-per-capita ratios in the world.

9. Witness tightrope walkers, drum circles, and LARPers all in the same park At the crossroads of Cirque du Soleil, the video game industry, and lax marijuana enforcement, Montreal parks have all the ingredients for a nerdy, Bohemian playground. In addition to your garden variety frisbee throwers and snuggly picnickers, Parc Jeanne-Mance hosts acrobats, jugglers, LARP battles, flamenco guitarists, and the iconic Sunday Tam-Tam dance party. La vie est belle.