Old guy reviews new books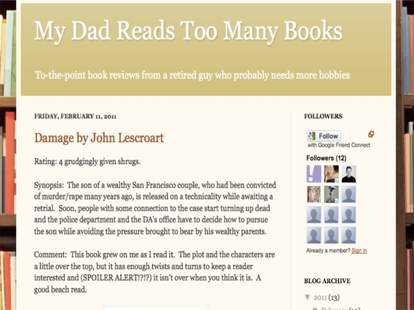 Investing time in a book is risky: what if it doesn't actually pick up after 50 pages? Or even worse, if it does, and you're left with no easy excuse to stop reading and go watch Animal Hoarders? Let some dude's dad tell you what you're getting into, with My Dad Reads Way Too Many Books.
A wondrously dry collection of "to the point book reviews", just-launched Too Many Books is posted and near-daily-updated by the son of a charmingly crass retiree whose lounging in Rancho Santa Fe prevents him from learning the intricacies of using Blogspot. Abbreviated literary insight includes:
"3.5 out of 5 Ambivalent Shrugs" for The Border Lords by T. Jefferson ParkerSynopsis: "Rogue ATF undercover agent, with mysterious illness, seeks revenge on Mexican drug cartels while being sought by fellow agents and his beautiful wife." Commentary: "Beware of priests bearing bats"...implying Dad hasn't seen from Dusk Till Dawn, or at least doesn't want his son to know he did, probably due to its heavy boob-age.
"3 out of 5 Ambivalent Shrugs" for Snow Angels by James ThompsonSynopsis: "A brutal murder forces a Finnish detective to confront his past, deal with the present, and plan for the future." Commentary: "Probably more than you want to know about Finnish customs, language, and life in the dead of winter" -- an astute observation, as the book at least passingly mentions all of those things.
And should one sentence per book prove too involved for you, he's also got a list of his top books of 2010, including Colum McCann's Let the Great World Spin, and Stieg Larson's The Girl Who Kicked The Hornet's Nest, who unlike the subject of that Animal Hoarders episode, didn't do it literally and repeatedly, and then blame it on her parents divorcing when she was nine.