Nashville has reached the point where the only day that isn't a weekend is Wednesday -- what with bevies of bachelorettes arriving on Thursdays to get a head start on the weekend and other tourists extending the stays past Sunday so that they can grab lunch at Arnold's Country Kitchen (open only for lunch, Monday through Friday!). So if you're a local looking for a little peace and quiet, just remember that those three interstates bringing all those folks to town also run in the outbound direction -- straight to some incredible weekend trips. All that fun Nashville stuff will still be here when you get back -- gas up the car and get outta town!
Franklin, KY
Distance from Nashville: 45 miles north; 1-hour drive
Why it made our list: Just across the border into Kentucky, the other Franklin is home to Kentucky Downs, a modest track where they only really race the ponies a few weeks out of the year. But they do offer simulcasts and betting from other tracks seven days a week, plus slot machines and live entertainment. Its tagline is "Vegas-style gaming," but that might be a bit of an overstatement.
Pro tip: Those greedy Kentucky bourbon distilleries often save their finest hooch and best deals just for residents of the Bluegrass State, so check out the liquor store at the interstate exit just across the border for the chance at some rare finds.
Old Stone Fort, TN
Distance from Nashville: 63 miles southeast; 1-hour drive
Why it made our list: Don't let the name fool you -- there's not actually a fort next to Interstate 24. What is there is a fascinating archaeological site that was constructed almost two millennia ago that was used by Native Americans for five centuries as a ceremonial gathering spot. You can also walk trails along the walls of the sacred site.
Pro tip: Closed since 2011, Old Stone Fort Golf Course has reopened as an inexpensive nine-hole track where you can actually see an Indian mound between holes #1 and #9.
Lynnville, TN
Distance from Nashville: 65 miles south; 1-hour drive
Why it made our list: If you've ever visited the huge distillery and downtown gift shops of Lynchburg, then you do know Jack. Nearby Lynnville is a smaller and quainter version of the town that Jack Daniel built, so visit the Col. Littleton shops for fine leather goods and Tenn South Distillery for some unique spirits.
Pro tip: The fried pies at Soda Pop Junction are worth the drive all by themselves!
Cave City, KY
Distance from Nashville: 93 mile northeast; 1.5-hour drive
Why it made our list: If you're trying to escape from the hustle and bustle of Nashville, there's no better place to get away than actually underground. Mammoth Cave is undoubtedly the main attraction and is definitely worth visiting. The world's longest known cave system, with more than 400 miles of explored passageways, really is one of the greatest natural wonders of the world.
Pro tip: For a little kitschy fun, stop by Dinosaur World and take a selfie with a life-size Jurassican.
Sewanee, TN
Distance from Nashville: 93 miles southeast; 1.5-hour drive
Why it made our list: Home to the Hogwarts-like University of the South, Sewanee offers opportunities to hike on miles of trails around the school on the accurately named Perimeter Trail. Or, visitors can enjoy indoor pursuits in the charming pubs, art galleries, and the beautiful All Saints Chapel on campus.
Pro tip: The nine-hole Golf Course at Sewanee features two par 3's with infinity greens overlooking the valleys below and has been recognized as one of the top public courses in the state.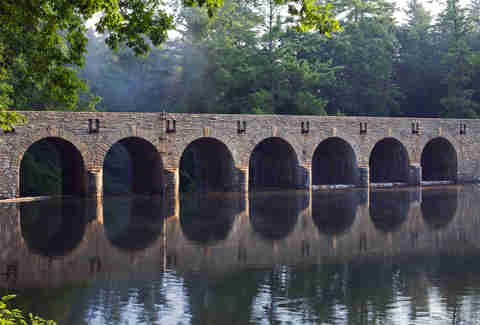 Crossville, TN
Distance from Nashville: 114 miles east; 1.75-hour drive
Why it made our list: Situated on top of the Cumberland Plateau, Crossville has all sorts of fun activities for an afternoon or a weekend trip. Wineries with some decent juice, plenty of hiking or golfing opportunities and the renowned Cumberland County Playhouse are all destinations worth seeking out.
Pro tip: More than one local spirits shop in town claims to be "Your Moonshine Headquarters," so if you really need one of those, you've got choices.
Huntsville, AL
Distance from Nashville: 115 miles south; 2-hour drive
Why it made our list: If you're a local, you probably visited the U.S. Space and Rocket Center when you were younger, but now that you're all grown up, Huntsville is definitely worth a return trip. With almost a dozen craft breweries in the area and an entertainment complex with restaurants and bars built in an old high school, Huntsville is fun for all ages.
Pro tip: Lowe Mill ARTS & Entertainment is America's largest independent center for the arts, with over scores of working artists plus shops, restaurants, and live performance venues.
Pinson Mounds, TN
Distance from Nashville: 135 miles southwest; 2-hour drive
Why it made our list: Tennessee has lots of Native American archaeological sites, but none are more impressive than this complex of 17 mounds from the Woodland period (circa 1-500 AD). At 72-feet tall, Sauls' Mound is the second-highest surviving mound in the country. An informative visitor center is built inside a replica of a platform mound.
Pro tip: Pinson is surrounded by some of the state's best barbecue restaurants, so if you smell smoke and see a rick of wood stacked up outside a smoke shack, pull over! Siler's Old Time BBQ is a great first stop to experience an old-school pit barbecue.
Paducah, KY
Distance from Nashville: 137 miles northwest; 2-hour drive
Why it made our list: This quaint town at the confluence of the Tennessee and Ohio Rivers is a delightful surprise for folks who haven't ever stopped halfway on the trip to St. Louis. With a 20-block downtown historic district, a vibrant arts scene, and a tradition as the center of the quilting universe, there are plenty of reasons to make the detour, like last year's Top Chef runner-up Sara Bradley who cooks her brand of elevated Kentucky cuisine at The Freight House.
Pro tip: The best time to check out the craft beer excellence of the town is at the PaBREWcah festival each summer, but there's never a bad time to swing by to sample the local spirits and wine.
Scottsboro, AL
Distance from Nashville: 140 miles southeast; 2-hour drive
Why it made our list: It seems like the Today Show sends a correspondent to Scottsboro every year to do a story on the famous Unclaimed Baggage Center, but it really is that cool. Lost luggage from airlines across the country end up in this facility where they are sorted, priced at discount levels, and laid out like a regular department store for your shopping pleasure. There are even wedding dresses for sale if you don't mind getting married in somebody else's gown. Consider it both "something old" and "something borrowed."
Pro tip: You remember that iPod you left in the seatback pocket of a Southwest flight home from Vegas in 2011? You can probably buy it back for $20.
Rugby, TN
Distance from Nashville: 140 miles east; 2-hour drive
Why it made our list: Take a trip back in time at this Victorian village, founded in 1880 by British author Thomas Hughes as a model utopian community. Planned as a spot for the "second sons" of England who were passed over for peerage, Rugby still maintains many beautiful structures from the late 19th century in this quaint little hamlet on the edge of the Appalachians. The Rugby Visitor Centre & Theatre is your starting point for historical information, a documentary film and guided walking tours of the town. You'll also find charming shops and galleries plus the Harrow Road Cafe that still serves classic English and American fare.
Pro tip: Rugby is just across the dividing line for the Eastern Time Zone, so don't forget to add that hour to your anticipated arrival time. Don't worry; you'll get it back on the return trip.
Sign up here for our daily Nashville email and be the first to get all the food/drink/fun the Music City has to offer.