The Most Iconic Music Venues in Nashville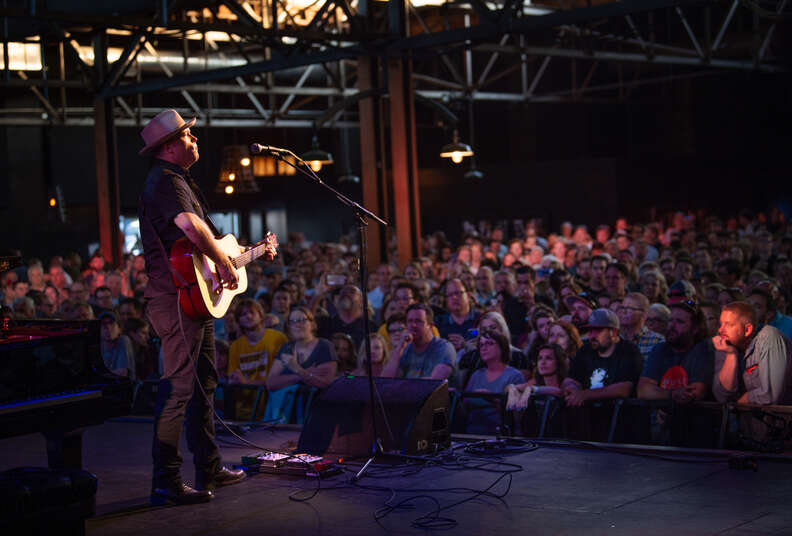 Music, Food, and Beer City doesn't roll off the tongue quite the as easily as just plain old "Music City," but local venues have figured out that no matter how good their seasonal concert lineups are, they can always be made just a little bit better with some good eating and drinking options. From the boot-stomping, hip-shimmying honky-tonks of Lower Broadway to the seedier, divey-er joints of East Nashville, here's a guide to your best bets in town.
Downtown
We begin with the first name in Nashville music, the venue that started it all. It was the Ryman -- "the Mother Church of Country Music" -- that first started attracting names like Hank Williams, Dolly Parton, and George Jones, securing Nashville's status as the American center of country music. The Ryman remains a country music mecca, but as one of the city's most dazzling concert-going experiences, has also hosted everyone from the Foo Fighters to Janelle Monae. Even if you don't make it to a concert, it's at least worth taking the time for a brief tour.

Where to eat and drink nearby: Robert's Western World, Skull's Rainbow Room, Makeready
Music Valley
A venue that needs no introduction, the Opry is actually a bit of a haul from downtown Nashville, but it's worth the trip if only to see what all the fuss is about. It's a country music fan's dream and also attracts plenty of non-country artists who are nevertheless drawn by the sheer allure of the place. Once you're inside, you really can't deny that there's something magical about the place.

Where to eat and drink nearby: Nashville Palace, Music City Bar and Grill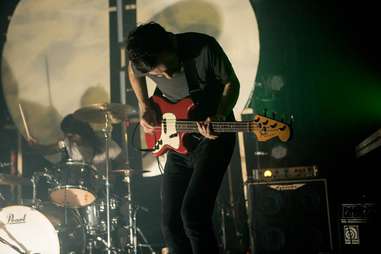 Downtown
Mercy is actually two different venues. Cannery Ballroom is the larger of the two, an airy, open auditorium with a bar that stretches nearly its full length. And then there's its little sister, the High Watt, which tends to host more regional acts in a more intimate setting. Both are well-loved by locals for solid vibes, a killer view, and some of the strongest cocktails money can buy. Give yourself a little extra time to explore the surrounding complex, where you can find the city's hippest hair salon, Parlour & Juke.

Where to eat and drink nearby: Jackalope Brewing Company, Peg Leg Porker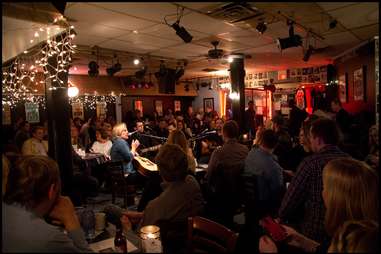 Green Hills
A beloved institution, known for catering both to up-and-coming songwriters and legendary country music vets, the Bluebird navigates the nifty trick of having a ton of appeal for locals, out-of-town tourists and even A-list stars who have been known to take the stage on a whim. Whether you love country music, are looking for a uniquely Nashville experience, or just have a few hours to kill before your dinner reservation, you can't beat the Bluebird.

Where to eat and drink nearby: Noshville Delicatessen, Firefly Grille, the Corner Pub, Greenhouse Bar, Fox's Donut Den
Berry Hill
If you want a great audio experience, you can't ask for better than a room designed by Jack White, one of the most obsessive audiophiles of his generation. The Blue Room is a venue in White's Third Man Records and just like all things Jack White, it pays close attention to the little details. From an interior perfectly calibrated for beautiful sonics (an experience harder to find in Nashville than you might think) to aesthetics that rigorously adhere to Third Man's unique color palette, the Blue Room is a small venue well worth snagging a ticket to.

Where to eat and drink nearby: Tennessee Brew Works, Party Fowl, Arnold's Country Kitchen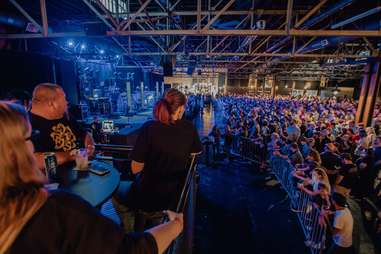 Marathon Village
Want to hear some music in Nashville but looking for something a little different from the whole Nashville thing? Head down to Marathon Music Works, located in the old Marathon Motor Works Factory, which is big, weird, and consistently awesome. They recently finished a big remodel, and the effort shows, with a snazzy new entrance and a few extra bars. The complex also plays host to a huge variety of little stores, coffee shops, and even an improv comedy club, so give yourself plenty of time to explore.

Where to eat and drink nearby: William Collier's, Chauhaun Ale and Marsala House
Five Points
Five Points is one of Nashville's better neighborhoods, and there's no better venue in Five Points than The Basement East, or, if you want to sound like you know what you're talking about, "The Beast." It's a small venue, but it catches surprisingly big acts and features a bar with all sorts of interesting specials and a lot of charms -- like a living room-themed VIP section unlike any other in town.

Where to eat and drink nearby: Attaboy, Five Points Pizza, Three Crow, The Crying Wolf
The Gulch
When people think of Nashville music, what they're probably thinking of is the Station Inn, a musty old hounddog of a truly historic spot that's impossible to hate. Everyone who's anyone (and a good many nobodies) have delivered iconic sets here, and don't miss the Sunday night bluegrass jam, which brings together seasoned pros and aspiring amateurs of all shapes and sizes for a weekly tribute to Nashville's oldest, most cherished tunes.

Where to eat and drink nearby: The 404 Kitchen, L.A. Jackson, Adele's, Otaku Ramen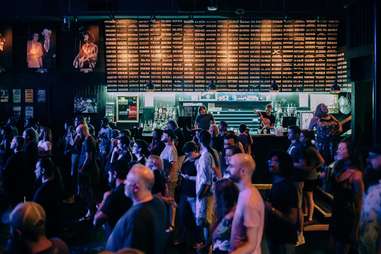 Elliston Place
Few Nashville venues have embraced rock and roll like Exit/In, which has more of a punk rock vibe in its women's room than the rest of Music City combined. Take a gander at Exit/In's meticulous list of all the acts that have played there over the years and your head will start spinning at how many legacies have taken the stage. There's not a bad seat in the house, but don't miss the balcony, which is definitely the best seat in the house.

Where to eat and drink nearby: Hattie B's Hot Chicken, Patterson House, Sitar Indian
Downtown
One of the city's few open-air venues and definitely the one with the best views, Ascend is situated right along the Cumberland River on the outside perimeter of downtown. It's a short walk from the neon signs, honky-tonks, and street corner cowboys of Lower Broadway, but it feels like it's worlds away on a nice evening.

Where to eat and drink nearby: Acme Feed and Seed, Pinewood Social
Downtown
3rd and Lindsley is an interesting spot, located close enough to Nashville's downtown scene to feel like it's part of the action, but far enough away to be its own unique location. It's got an intimate feel and is still small enough that it can pull off its own idiosyncratic shows, mixing a genre that runs the gamut from daisy-fresh local acts to Top 40 names even your mom has heard of. And as an added bonus, few spots are in such close proximity to some of Nashville's best food options. If you're looking to eat or drink before you hit a show at 3rd and Lindsley, you've truly got an embarrassment of riches to meet your needs.

Where to eat and drink nearby: Husk, Hermitage Cafe, Martin's Bar-B-Que Joint, CREMA
Sign up here for our daily Nashville email and be the first to get all the food/drink/fun the Music City has to offer.
Tyler Huckabee is a contributor to Thrillist.