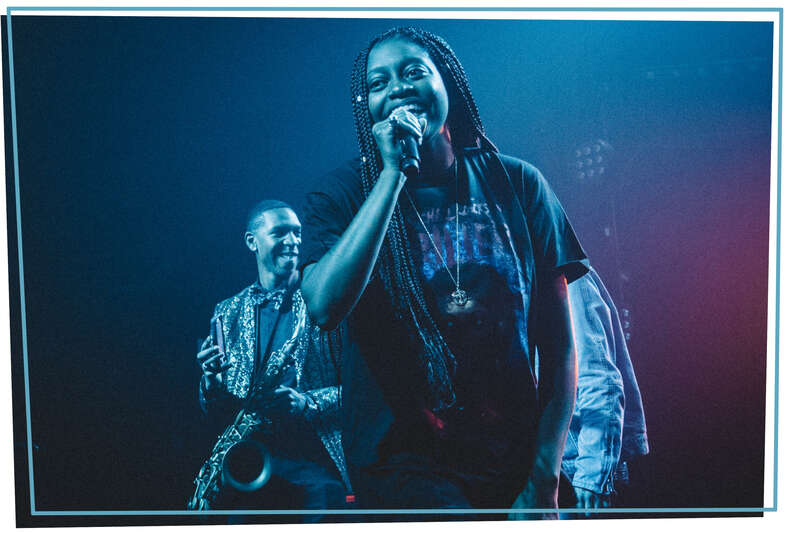 Nashville's Rising Hip-Hop Scene Is Music City's Best-Kept Secret
Nashville is serving up real-deal hip-hop, and is just waiting for the rest of the world to catch on.
When the Wu-Tang Clan landed in Nashville to celebrate the 25th anniversary of their album Enter the Wu-Tang (36 Chambers), they took the stage at the Ryman Auditorium, the hallowed former home of the Grand Ole Opry. In fact, Method Man, RZA, GZA, and the rest of the crew were the first hip-hop act to ever perform at Country Music's Mother Church.
Still, the Wu show was less an attempt to cater to country fans who might sprinkle their FGL playlists with "C.R.E.A.M." or "Protect Ya Neck," and more an attempt to accurately reflect Nashville's ubiquitous "Music City" persona.
Travel to Nashville by plane and you'll likely be serenaded by Dolly and Willie as soon as you disembark. You'll pass a vintage promotional poster for a Patsy Cline show; a three-piece band may serenade you with a Garth Brooks tune on the way to baggage claim. But once you hit the streets and make your way around town, sidestepping Broadway and navigating like the locals do, you'll find that Nashville's musical roots are as wide as they are deep.
Thalia Ewing, a mechanical licensing manager at BMG and founder and owner of Muziqueen Music Group, knows this down to her core. The Nashville native has since printed T-shirts and rubber bracelets with the slogan NASHVILLE IS MORE THAN JUST COUNTRY MUSIC, building a brand while leveraging her insider knowledge and industry connections to clear a path for artists who eschew country.
"I'm just trying to change the narrative about Nashville," Ewing says. "I want to highlight all genres of music and provide a platform and a voice for all artists to grow, blossom, and hone their craft."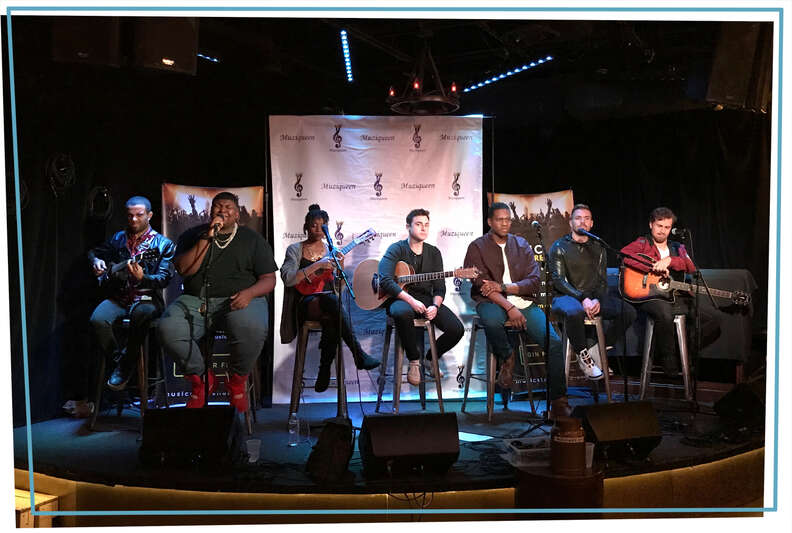 On the first Monday in May, I visited The Local, a neighborhood bar just minutes from Vanderbilt's campus with a welcoming outdoor patio and enough distance from Lower Broadway and its copycat country acts to be sonically intriguing. I was there for Ewing's Urban Writers Round, an acoustic show modeled after the songwriter showcases Music City is known for.
In Nashville, where the Song is king, songwriter rounds are a public pledge of allegiance -- an opportunity for music writers and music lovers alike to commune over a well-turned phrase, a clever metaphor set to melody. It's for this reason the line outside the Bluebird Café forms hours before doors open. It's because of this ready platform of music venues that wannabes of all ages pack up their hollow bodies and trek to Middle Tennessee, desire for stardom gripping their hearts and souls like a Ring of Fire.
Nashville has always done a fantastic job celebrating music creators as much it does music performers, making clear the idea that the pen is as mighty as the voice. Yet for all its efforts, there was something missing -- namely, an outlet for R&B and hip-hop acts who needed a place to test-drive their latest compositions.
Ewing was happy to fill the void, and there was a full cast of non-country characters that Monday evening at The Local. Nicole Boggs, the soulful, big-voiced alumna of NBC's The Four, was there. And so was Will Davenport, a born-and-bred Nashvillian with buttery vocals and sultry lyrics. Before singing his first selection, Davenport remarked that he felt a little unsure about following a songwriter whose praise music could have been easily cut by Hillsong United. Davenport's choice was unabashedly sexy -- a mélange of early-aughts neo-soul and '90s R&B, a slow groove with a driving, rhythmic core to bob your head to.
Even the honky-tonk averse can find something to jam to.
Yet for all the eclectic talent gracing the stage, Daisha McBride, a hip-hop artist known across social media as The Rap Girl, was clearly the star. In a world where "viral" and "good" don't always co-exist, McBride is worth the hype, and the 30,000-plus followers, and the countless views she racked up posting freestyle videos she'd recorded in her Middle Tennessee State University dorm room.
For those who may have questioned the validity of Nashville's urban music scene, McBride is proof -- proof that hip hop is thriving in Nashville, that iconic venues like Tootsie's and the Bluegrass Inn don't have a monopoly on the city's live music scene, that even the honky-tonk averse can find something to jam to.
Not that anyone who was at The Local that night needed proof. Nashville has been serving up real-deal hip-hop, and is just waiting for the rest of the world to catch on.
When McBride graduated from MTSU last May, she was already Twitter-famous and had collabbed with Mike Floss and other local emcees. So when it was suggested that she decamp to Atlanta to kickstart her full-time rap career, she balked. Moving from Knoxville to Music City after high school graduation, she could already see Nashville's potential as a hip-hop mecca; her newfound celebrity only inspired her to double-down.
"I felt like Nashville would be perfect for me because there is not a lot of well-known hip-hop," says McBride, who moved into the city from Murfreesboro, where MTSU is located, last June. "It's been great because at all the shows I do, I'm the only rapper on the lineup. It's normally an all-pop lineup, and a lot of the pop artists sound similar. And then here's me, rapping with a full five-piece band."
That's not to say that Nashville is new to hip-hop, though. It's been 16 years since local legend Young Buck first signed with 50 Cent's G-Unit Records after leaving Baby and Cash Money; 15 since he dropped Straight Outta Cashville, his G-Unit debut with the titular nod to his hometown. And while Nashville's current up-and-coming rappers can't claim major label success, the one-two punch of streaming and social media may render those contracts unnecessary. Certainly, it allows independent artists, like McBride, to maintain their creative vision without sacrifice.
"What's great about Nashville hip-hop is that it has more of an underground feel instead of a commercial feel," Ewing says. "In some cities, the music feels heavily packaged, almost like a product. But here, it's authentic and creative, and there's a lot of variety."
"Who doesn't want to know about something before it gets big?"
The hip-hop sounds coming from Atlanta or Brooklyn or Miami are as varied as the locales that birthed them. But within each city, the music can be derivative, carrying a regional distinction that melds one with the other. All it takes is for the first rapper to break big in Houston, St. Louis, or Chicago; soon, other artists begin to follow suit, mimicking style and flow even as they seek to carve their own, unique lane. Ultimately, the geographical influences are as invisible and unmistakable as familial ties: Shock G begat Tupac begat Kendrick Lamar.
Nashville hip-hop has yet to establish a singular, distinctive sound or aesthetic, and this, says Ewing, adds to its appeal. Catch three different shows on three different nights and you'll hear three different artists, wholly disparate. Indeed, as country pushes back against claims of homogeneity -- too much bro-country! not enough women! -- Nashville's hip-hop is satisfyingly diverse.
McBride's rhymes are crisp and intelligent; the lyrics on Wild, her full-length debut, exude the confidence suggested by her jeans-and-T-shirt wardrobe and low-maintenance box braids. There is no need to flaunt or stunt: The Rap Girl is already smarter than you, flow tighter than yours. Meanwhile, Tim Gent is gritty in his realness, whether he's rapping about the daily grind of building his career and taking care of his family, or of other rappers coming for his spot. And across the spectrum still is The Morning After Crew, a trio of emcees who met in high school and now, in their early thirties, bring a poetic, grown-man sensibility to their music.
To be clear, Nashville's hip-hop scene has yet to reach the point where there's a live show on any given night, where trap beats and drum loops are as commonplace as steel-guitar riffs. But instead of being a deterrent, this fact cultivates an atmosphere of exclusivity, as if every bar spit is a limited edition, an opportunity for discerning locals and in-the-know travelers to say they heard it first.
"Who doesn't want to know about something before it gets big?" Ewing asks. "Everybody wants to be the one already up on game, so come and be one of the ones up on game. Something's gotta be next -- that's just the way the market is -- and Nashville's poised to be it."
Wanna catch a hip-hop show? These music venues help prove Nashville is more than just country:
Elliston Place
When it opened in 1971, Exit/In quickly established itself as Nashville's go-to venue for non-country performances. Nothing has changed since then, and there's typically a little of everything on the club's calendar -- R&B, rock, punk, and, of course, hip-hop. The venue is small, so buying tickets in advance (by calling 877-4FLY-TIX or visiting the box office at Marathon Music Works) is advisable.
Marathon Village
Marathon Music Works is the significantly larger sister venue of Exit/In, with a commitment to musical diversity. Located in a renovated, early-1900s warehouse, there's standing room for 1500 at shows, and tickets can be purchased in advance. Those who want to arrive early can hang at the on-site bar and lounge up to an hour before a show begins. Upcoming hip-hop shows include Tech N9ne (6/17) and Jelly Roll (7/26),
East Nashville
Like the owners of Exit/In, the team behind the iconic Nashville venue The Basement sought out more spacious digs with this second location. Basement East has room for 400 and reflects the neighborhood's eclectic personality with a well-mixed calendar. Some shows require advance tickets purchase while others charge a surcharge at the door. And there's always a smattering a free shows on the books.
East Nashville
There's nothing fancy about The Cobra, except for, perhaps, the glittering teal snake painted on its exterior. But despite the humble character of this East Nashville pub/concert venue, it's turning out some of Nashville's best hip-hop -- namely via the bi-monthly Meant for the Milkcrate showcase. Hosted by local emcees AL-D and E.T., MFTM features a changing lineup of fresh talent, as well as open-mic cyphers before and after the show.
Downtown
In Nashville, boutique hotels spring up as often as dandelions in Centennial Park, and many innkeepers are anxious to stick a toe into the city's music scene. At the Cambria, the True Music Room provides the intimacy of a coffee shop with the audio capabilities of a standard-sized venue, and artists of any genre are welcome. Beginning in July, Thalia Ewing will host her Urban Writers Round at True Music Room and continue to provide a needed platform for Nashville's rising hip-hop stars.
Sign up here for our daily Nashville email and be the first to get all the food/drink/fun the Music City has to offer.
Andrea Williams is a writer and editor based in Nashville, Tennessee. Follow her @AndreaWillWrite.