Just when you thought you knew Nashville like the back of your hand, it turns out that -- woah, has that freckle always been there?? Yes, that's right, we have some rather interesting Nashville secrets for you to check out and only one of them has anything at all to do with music.
This badass taxidermy shop
East Nashville
If you're looking for an unforgettable (and ahem, unique) gift, you're likely to find something at Hail, Dark Aesthetics. It specializes in rare and interesting taxidermy items but has also been known to sell human toes, moose hoof ashtrays, and shrunken heads. Oh, and if you're really interested, it's even been rumored to host classes on taxidermy where you can learn to properly preserve and mount a Jackalope head (and then take it home and hang it on your wall).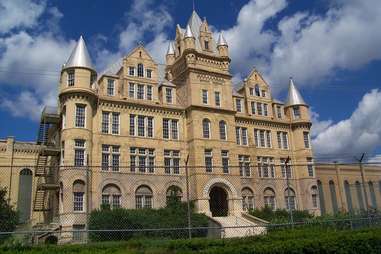 This abandoned state prison that has been in a bunch of movies
Downtown
This prison was a fully functional facility for over 100 years, but as of recently, it's been the site for many movies and TV shows such as The Green Mile and The Last Castle. There's been talk of tearing it down, but some history-loving Tennesseans formed a group to save the prison and currently have over 4,000 supporters on Facebook.
Why yes, there is a Dukes of Hazzard Museum... and it's right here in Nashville
Donelson
Yep, that's right. Nashville has its very own museum dedicated to all things Dukes. And what's even better is that it's owned by Ben Jones, former US Rep and actor best known for playing Cooter Davenport IN Dukes. While there, you can get your picture taken sitting inside Cooter's tow truck or the famed orange Charger, the General Lee.
There's a natural spring grotto hidden somewhere in Shelby Park
East Nashville
Who knew?? The grotto was apparently cleaned up and made more accessible to visitors over 100 years ago, but has since been forgotten again. The spring water comes from a small grotto in the park, which is probably a great spot to stay cool in the criminally hot Nashville summer months.
We have hundreds of nuns living in a traditional convent in Nashville!
Metro Center
Well, technically they're "sisters" (yes, there's a difference). Unless you grew up going to Catholic schools in Nashville, you probably had no idea that there's a giant convent in Metro Center, which is home to hundreds of religious sisters. If you've ever driven down Rosa Parks Blvd and wondered what the giant red building was, now you know.
RCA Studio B still has the Christmas lights up that Elvis had put there
Downtown
This famous studio is where Elvis recorded 200+ of his hit tunes, including one of his Christmas albums. However, since he was recording his Christmas album in the summer, he asked the staff to hang up Christmas lights and decorations to help get him in the Christmas spirit. Those lights are still up today, and can be seen on a tour of the studio.
We have a Lover's Lane
Hillsboro/ West End
Well, technically it's called Love Circle. This spot sits on a big hill, 744ft above sea level, near Vanderbilt. You have to drive through a small residential neighborhood and up a rather steep hill to get to the spot, but it is definitely worth it as you can see pretty much all of Nashville from atop Love Circle. Just bring a partner, please?
We have THE best bathroom in America, right in Downtown Nashville
Downtown
The 1930s Art Deco-style men's bathroom at the Hermitage Hotel was voted "best bathroom" in the US (...in 2008, but what's changed?). Don't worry ladies, women are in fact allowed into this men's restroom too, so we can all enjoy the grandeur (and get our shoes shined while we're there).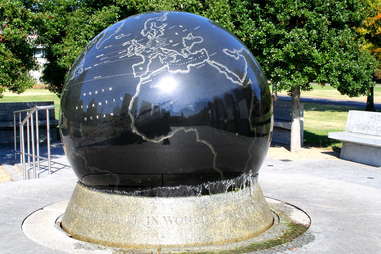 There's an 18,000lb granite globe just floating on water in Bicentennial Park
Downtown
And it spins! The globe is part of the Bicentennial Mall World War II Memorial that was built in the '90s. This giant black globe floats and rotates on an one-eighth of an inch of water and depicts all of the places that Tennesseans fought in the war.
There was a cinnamon bun here that made global headlines for resembling Mother Teresa
East Nashville
Crazy? Yes. True? Also yes. Back in the '90s, Bongo Java baked a batch of its delicious cinnamon rolls to discover that one of them looked quite a bit like Mother Teresa. This, clearly, was no coincidence. The cinnamon roll became famous and soon adopted the name "The Immaculate Confection" and then later "The Nun Bun." The Nun Bun was stolen on Christmas of 2005 and has never been recovered.
Sign up here for our daily Nashville email and be the first to get all the food/drink/fun the Music City has to offer.