Need a reason to get out of Nashville? How about a dozen? If you're into beautiful scenery and getting a bit of exercise, hop into your car and head to these 12 great hiking trails that aren't too far of a schlep from Music City proper.
Distance from Nashville: 8 miles
An urban oasis just outside of Downtown, Radnor Lake has something for just about everyone. Now that Otter Creek Rd is permanently closed to traffic through the park, it is safe for cycling, jogging, or walking Fido while you take in the beauty of the lake. Or head into the hills for a hike around the perimeter of Radnor Lake on trails that offer panoramic views of the water and the surrounding wooded hills.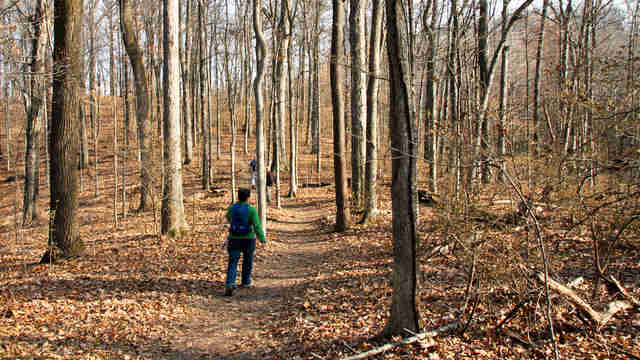 Distance from Nashville: 10 miles
The Warner Parks are good for much more than just getting lost on your way home from Steeplechase. Mossy Ridge Trail is a moderately strenuous 4.5-mile loop through the natural forests of the park that is quite popular with trail runners. Just be sure to watch your step because it's a long way back to the parking lot if you twist an ankle.
Distance from Nashville: 66 miles
Located along the Cumberland River near Carthage, Bearwaller Gap is a track for expert hikers with endurance. Because it's an out-and-back instead of a loop, you can extend your hike to over 11 miles depending on when you decide to turn back. There's plenty of elevation change to give you a good cardio workout.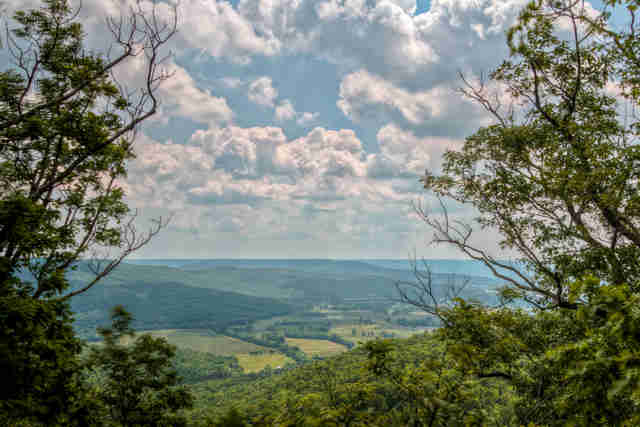 Distance from Nashville: 89 miles
This trail is a 20-mile loop around the campus of the University of the South in Sewanee. The path is primarily around the rim of the plateau, so there's not too much up and down to worry about, but the rocky bluffs can be a bit treacherous. The Perimeter Trail can be hiked in segments if you take advantage of various trailheads around campus to park your car and run a shuttle between the beginning and end of your route.
Distance from Nashville: 95 miles
If you haven't visited this popular trail near Monteagle in a while, you might be surprised by a few changes along the route. A dispute with a private landowner led to park rangers and volunteers having to reroute part of the trail, adding about a third of a mile to the length and increasing the difficulty of the terrain. It's a real "thigh burner" now, but you don't go hiking without expecting to get a little exercise, right?
Distance from Nashville: 112 miles
Savage Gulf is a beautiful recreation area crisscrossed with multiple trails of varying lengths and difficulty levels. The 10-mile Collins Gulf Trail is particularly rewarding, unless you're acrophobic, because it involves crossing a 100ft suspension bridge over the Collins River. Just put one foot in front of the other...
Distance from Nashville: 115 miles
Until fairly recently, this dramatic forested canyon on the Tennessee/Alabama line was on private land and rarely seen by civilian hikers. Now managed by the Tennessee Wildlife Resources Agency, the entire 8,900-acre area is open to hikers willing to take on the strenuous six-hour hike in and out of the gorge. Those who brave it are rewarded with views of a natural amphitheater and numerous waterfalls and creek crossings as they hike through the same woods that Davy Crockett once hunted in.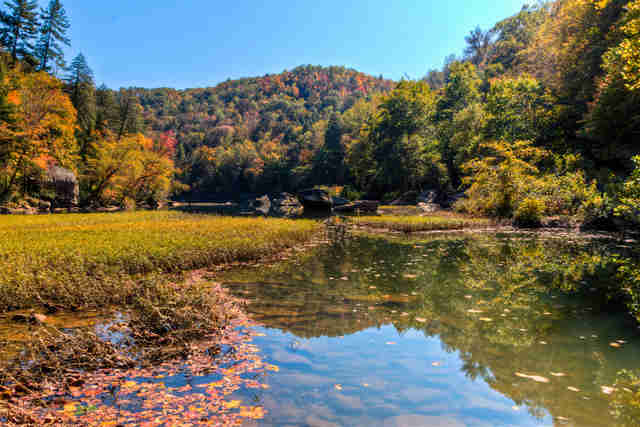 Distance from Nashville: 153 miles
Besides Twin Arches, the rest of the Big South Fork trail system offers lots of options ranging from easy day hikes to see the wildflowers blooming in the spring to hardcore overnight trips and backcountry camping. Bonus: Since the park is on the far western edge of the eastern time zone, summer sunsets come very late, so you'll have plenty of daylight to set up your campsite.
Distance from Nashville: 11 miles
Joelton is the reason that Metro School students frequently get another snow day or two, as the shady hills and valleys of this Nashville suburb tend to stay frozen a little longer. Those same rugged features make for some excellent hiking at this smallish park with its five miles of trails through almost 1,700 acres of protected natural area, plus an educational nature center.
Distance from Nashville: 24 miles
Woods and water come together at this state park with more than 20 miles of trails ranging from easy strolls along the shores of J. Percy Priest Lake to longer, more challenging terrains for the adventurous set. A special map app also lets you track your location on your phone using GPS, even if you're too deep in the woods to get a cell signal, so don't worry about getting lost.
Distance from Nashville: 33 miles
Named after the lovely eastern red cedar trees that grow together in glades and forests through the park, Cedars of Lebanon offers 8 miles of hiking trails teeming with wildlife and exotic plants. There's also a public pool and even a disc-golf course to test your 'Bee skills after the hike.
Distance from Nashville: 37 miles
While the trails at Bledsoe Creek are fairly short, with the longest topping out at just a bit over 2 miles, they range in difficulty from easy paved paths that are ADA-accessible to more strenuous wild trails through the forest. Some offer views of Old Hickory Lake while others take you through areas which are very popular with birdwatchers, so keep your eye to the sky.
Sign up here for our daily Nashville email and be the first to get all the food/drink/fun the Music City has to offer.