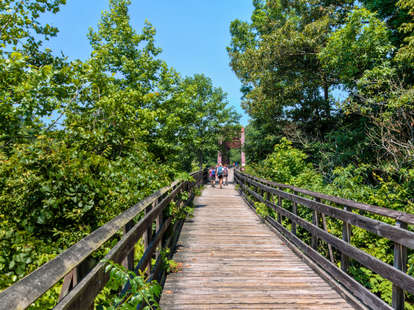 As Nashvillians slowly and tentatively emerge from the Corona cocoon, it's time to get out and breathe some fresh air. It can be difficult to maintain social distancing in some of the more popular destinations around town as crowds gather to soak up some rays, so your best bet is to look for spots to walk, run, or bike that either fly under the radar or are expansive enough to offer at least a little elbow room while you work to get a base for that summer tan. Here are some of our favorites -- try not to tell everybody about them.
Joelton
One of Nashville's newest recreation areas, Beaman Park covers more than 1700 acres tucked away in the forests north of downtown. Three hiking trails offer more than five miles of paths to take you back to nature among the wildflowers and soaring trees. Bonuses: Dogs are allowed with you on the trail as long as you keep them on a tight leash, and Marrowbone Lake is also close by where you can rent a boat for a little angling after your hike.
Downtown
While this pocket park isn't as expansive as others on this list, it's chock-full of history about the state that you can discover while you stroll around the Mall. The 11-acre park makes room for a 200-foot granite map of the state, a memorial to the state's World War II veterans, a 95-bell carillon that periodically plays significant songs from the state's history, a Pathway of History and the Rivers of Tennessee Fountains. It's also a great jumping-off point for walks along other downtown greenways and the sidewalks through the historic Germantown neighborhood.
Hermitage
If you're aching for some scenic exposure (heh) to water, the Volunteer Trail at Long Hunter Park is a great substitute for a trip to the beach. The 10.7 out-and-back trail meanders through the woods of Long Hunter State Park until it opens up to a lovely vista of Percy Priest Lake. The majority of the trail offers a lakeside path that is appropriate for walking at a leisurely pace or some serious trail running.
West Nashville
This 5-mile urban loop around the 27 holes of McCabe Golf Course is easily accessed by several different trailheads, and its paved paths are easy on the knees with only a few short hills. Also, it passes within a quarter mile of the West Nashville Trader Joe's, so you can just park at the White Bridge trailhead, get your exercise in, and go shopping without having to worry about the exasperating parking situation at TJ's. You won't want to buy more groceries than you can carry back to the car, so impulse buying is discouraged.
West Nashville
If you're up for some hard-core mountain biking, go west. Wear your helmet as you grind through the forests of Percy Warner Park on tracks ranging from the easy Toy Box Hill Trail to the black diamond Humdinger. There are plenty of long climbs to increase fitness and harrowing descents to keep your heart racing, so it's sure to be a cardio workout.
Oak Hill
It's probably a stretch to call Radnor "a hidden gem," since the suburban lake is such a popular destination for Nashvillians itching for a nature walk. However, the recreation area offers such a variety of trails of all exertion levels that it's not too difficult to find a little seclusion somewhere among the almost eight miles of trails within the 1368 acres of the state park. Have your camera phone at the ready in case you spot some of the numerous wild denizens that live around the lake.
Ashland City
For many Nashvillians, Ashland City is an exotic place that they have heard of, but never visited. In truth, the sleepy little town is just about a half hour drive from downtown across the Cumberland River. Those who make the trip will be rewarded with an easy flat walk or bike ride along the river under a canopy of tall trees and along steep limestone cliffs. At the end of the trail, you can extend your hike a little farther to Cheatham Dam, but remember that it's more than eight miles to get back to your car, so plan ahead.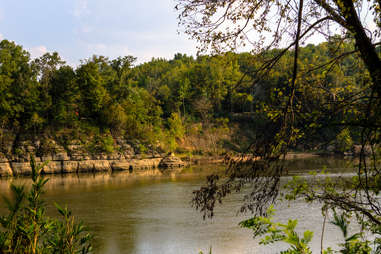 Neely's Bend
Peeler Park is hidden in plain sight, tucked away in a bend of the Cumberland River that is only accessible by looping around the north side of downtown. That keeps the crowds down so you won't be banging elbows with anyone as you walk or pedal along the two miles of greenway paths. Don't stray off the paved trail, though, or you'll find yourself in a special area reserved for horseback riders.
Belle Meade
For a fast bike ride that will make you feel like you're riding the final laps around the Champs-Élysées to win the Tour de France, you can't beat "The Boulevard." Cyclists are encouraged to ride single file so as not to disturb automobile traffic, and the local gendarmes are pretty serious about enforcement. Your reward for following the rules is a fast five-mile loop that offers up views of some of Nashville's most opulent homes, plus the option to extend your ride at the end of the road with an added 11-mile hilly loop through Percy Warner Park.
West Nashville
As a national scenic parkway, the 444-mile Natchez Trace has a very strict 50 mph speed limit for automobiles and commercial traffic (i.e. big trucks) is prohibited. That helps keep the traffic down and makes it an ideal route for road cyclists looking for a long, challenging ride. The Trace runs from West Nashville all the way to Natchez, MS, and the local terminus is a great spot to jump on the parkway for some serious cycling. The 28-mile leg from the quaint little town of Fly to Highway 100 includes plenty of long climbs and fast descents to challenge riders of any skill level, and afterwards you can reward your efforts with a meal at the iconic Southern food mecca, the Loveless Cafe.
Sign up here for our daily Nashville email and be the first to get all the food/drink/fun the Music City has to offer.
Chris Chamberlain is a food, drink and travel writer based out of Nashville. While he's still a fan of the outdoors, he doesn't sleep on the ground anymore. As he ages, he prefers to have something underneath him when he sleeps… like three floors of a Marriott. You can camp out with him @CeeElCee.