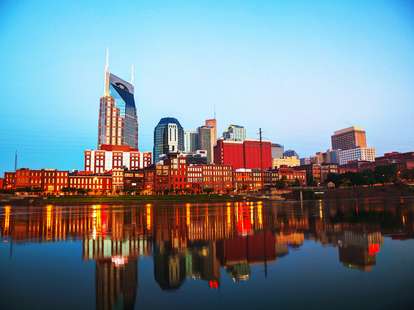 Sure, Nashville may only be the second-largest city in this fair state, but we are not here to give out silver medals -- because there are some things, quite a few in fact, that this town does better than anywhere else...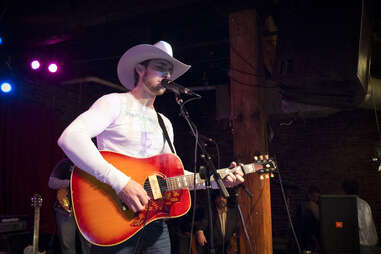 Music
Let's just get this one out of the way -- like flannel to Seattle, and po' boys to New Orleans, music is almost synonymous with this town. And it's no longer just for the cowboys, but hit-makers of all genres. Where else could you wait in the same Starbucks line alongside Keith Urban and Justin Timberlake? Not only is it made here, it's not uncommon for an artist to record here, fall in love, and instantly hit the real estate market. Kings of Leon, The Black Keys, Ben Folds, Jack White, and Elvis Costello are just some of the non-country crooners that reside here.
Healthcare
Although music is what we're known for, healthcare is the region's leading industry with more than 250 companies headquartered here; six of the nation's top 10 for-profit hospitals are located in Nashville and it represents one in eight Nashville jobs.
Tech
Business leaders and investors have been working for the past several years in a common goal of making the city a music AND technology destination. Companies like WorkIT Nashville are busy recruiting talented, techy transplants, while Google is making Nashville one of seven cities to participate in their Google for Entrepreneurs Tech Hubs (and bringing Fiber with it). In fact, this place is filling up so fast with keyboard talent, that it's becoming known as a tech transplant city.
Whiskey
Yes, Kentucky lays sole claim to bourbon -- but Middle Tennessee produces some of the country's best whiskey. Just South of Nashville, you can tour the distilleries of the most recognizable names, Jack Daniel's and George Dickel, but within the city limits are some fine contenders hot on their heels like Corsair, Collier and McKeel, Nelson's Greenbrier Distillery, Prichard's, Speakeasy Spirits, and many others you can find along the Whiskey Trail.
College
Nashville is commonly referred to as the "Athens of the South", and not just for having the only full-sized replica of The Parthenon in the world, but for all the colleges and bleeding-edge learning facilities here. There are 24 post-secondary institutions in the area and with a central location and lower cost of living compared to cities of comparable size -- no wonder an average of 60% of graduates choose to remain here.
Urban greenways
Thanks to the show Nashville and their weekly aerial views, everyone can see how lush and green the city really is. With over 90 parks, 75 miles of greenways, and 190 miles of trails throughout Davidson County, the campaign, Greenways for Nashville, is 90% completed in its goal for a greenway trail within two miles of every Nashvillian.
Southern food
Famously (or infamously?) beloved for our hot chicken and meat & threes, Nashville excels in all things Southern and fried. From hole-in-the-wall hot spots to five-star dining, there's no dish too casual or fancy for good ol' Southern ingredients like okra and black-eyed peas. After taking the Best BBQ crown from Memphis this year, it's sealed the deal as the best destination for Southern fare.
Volunteers
Tennessee is the Volunteer State, but Nashville in particular stands out. For any local that remembers the 2010 flood, they will also remember the immense outpouring of support in the form of assembly lines to pile sandbag barriers to protect their city, throwing benefit concerts, and organizing rebuilding efforts.
Radio
The world's longest running radio show continues to take place every week at the Grand Ole Opry, since its first broadcast in 1925 on WSM Radio. A modern-day favorite is "Music City Roots", now broadcasting every Wednesday night on Hippie Radio or Roots Radio online, 24/7. The Country Radio Seminar also takes place in Downtown Nashville every February and is known as the largest country radio event in the world.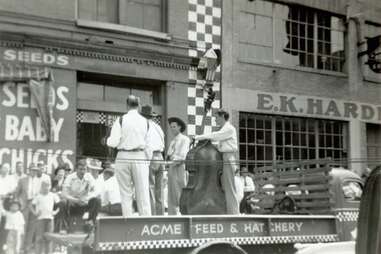 Reclaimed buildings
Instead of tearing down and making new, we prefer to reuse old buildings, like the Marathon Motor Works, Union Station, or The Cannery. More recently, Acme Feed & Seed on Broadway was renovated into four levels of multi-use restaurant and live entertainment space, and the historic Melrose Theater has been given a facelift with newcomers Sinema restaurant and The Sutler Saloon.
Fall
Summer humidity is stifling. It rarely even snows in the winter. But the fall? Well, no one does it better than the South. Trees in shades of orange, yellow, and red blanket the city, and the aforementioned urban greenways mean you can enjoy it.
Conventions
Between the Opryland Hotel, the Nashville Convention Center, and the newer, 2.1-million-square-foot Music City Center, millions of industry professionals from all over the globe come to Nashville year-round to meet, mix, and mingle, while boosting the local economy in the process. And yes, we even have a Comic Con.
Sign up here for our daily Nashville email and be the first to get all the food/drink/fun the Music City has to offer.