Shutterstock
Shutterstock
You live in Nashville, so it's inevitable that your friends, family, and passing acquaintances are going to visit, then demand that you introduce them to Taylor Swift. Helping make all of that go a lot smoother, here's a quick primer on the things you'll need to explain to them once they venture South of the Mason-Dixon line...
1. There are two kinds of locals: those who live in East Nashville and those who snobbishly refuse to "cross the bridge"
Think of it as a bit like Brooklyn vs. Manhattan, but with a better soundtrack.
2. We love to put eggs on stuff
Eggs on biscuits, eggs on pulled pork sandwiches, eggs on BLTs, eggs on pizzas -- it's all fair game. What we're saying is don't plan to lose any weight while you're here. (Diet starts Monday.)
3. Broadway is not Nashville
Broadway is a part of Nashville -- and a very small portion of our 25-mile-wide city (give or take), at that -- but just because you kicked up your heels at The Stage, got drunk at Rippy's, or took home some girl you met at Robert's does not mean you've "done Nashville".
4. Speaking of Broadway, you'll rarely spot a local on Lower Broad
Particularly at Tootsie's or Honky Tonk Central or one of those other smarmy tourist traps...
5. ... unless it's 3am
Sometimes you just really crave some late-night tots from Paradise Park.
6. In recent years, Nashville has become a transplant city like so many others
You'll just as likely meet a "local" country artist who relocated from LA in hopes of landing a recording contract, as you will an entrepreneur who came down from NYC to learn more about our burgeoning tech scene firsthand (Google chose us as one of its seven nationwide hubs, and we're pretty proud of that fact. Fiber is coming soon.). Either way, we hate being questioned, so drop the act of "where are you really from?" when we answer truthfully that this is and always has been our home.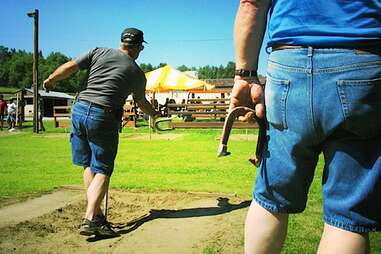 7. Jorts are not just for rednecks
We rock them loud and proud (at least in the warmer months).
8. Bushwackers are perfect for all seasons
Don't know what a Bushwacker is? Head on down to Broadway Brewhouse -- the Midtown location, not the Broadway one (have you not been listening?) -- and find out for yourself.
9. The popularity of the hit ABC show Nashville -- and the additional boom of vacationers it's brought to our fair city -- may mean we can't actually get into the Bluebird Café anymore
But we still love that little bluesy dive nonetheless.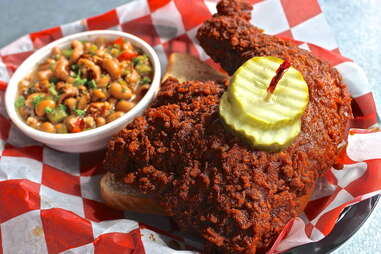 10. Hot chicken is called hot for a reason
It's not "mild chicken" or even "sorta, kinda, a little bit hot chicken". It's HOT chicken. So don't try to impress your friends at Prince's by immolating your tongue. Trust us, order mild unless you want to see what an internal chemical peel feels like.
11. Grits are absolutely a vegetable, and don't you try to convince us otherwise
While we're at it, mac and cheese, baked apples, and Jell-O salad are vegetables, too.
12. Cowboy hats are for Texas -- and tourists
No, we don't wear anything on our heads, except maybe a ball cap. If you want to blend in with the locals, take off the disguise.
13. Gluten-free? That's something those hippie coastal towns do.
If it doesn't come with biscuits or cornbread, we don't want it.
14. Any born-and-bred Tennessean who tells you he/she doesn't own at least one pair of cowboy boots is (likely) lying
They're the perfect style accessory for any occasion: a cocktail party, a wedding, a Titans game, a cowboy boot convention, etc. If they look shiny and new, however, then you know the wearer ain't from around here.
15. No one from these parts would ever wait in line under the boiling sun for breakfast at Pancake Pantry
Instead, you'll find us across the way sipping mimosas on the patio of Jackson's, mocking those who do.
16. We know our city is amazing, but we have a sense of humor, too
We will look for any opportunity to poke fun at ourselves and even have a beloved annual survey that's been running strong for 25 years and letting everyone know "You are so Nashville if...".
17. You'd think we'd get tired of all the music pulsating through our town, but we really don't
Aside from CMA Music Fest each June -- when most of us flee town for the duration of the four-day country event -- you'll find us at a number of regular musical smorgasbords, like Whiskey Jam on Mondays, Live on the Green or Nashville Dancin' on Thursdays in the Summer, Full Moon Pickin' Party one Friday a month, and at shows at the Ryman, Opry, and other live music venues around town on any given night.
18. Nashville is a legit city, and among the biggest in the whole of the United States
So don't offend us when you arrive and discover we aren't just a small town, proclaiming you can't believe we have such novelties as 21 accredited universities, a Trader Joe's, AND a Whole Foods.
19. Music Row is not a tourist destination
It's two one-way streets peppered with cutesy, small houses that double as recording studios, publishers' offices, writers' rooms, and the like. That's it. No, you will not see Toby Keith.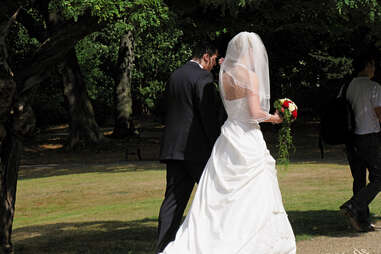 20. We may get hitched younger than most, but we don't marry our kin
This isn't Deliverance, and you'd be surprised how often we get into bar fights with outsiders who would like to think otherwise.
21. We are unwaveringly loyal
Hundreds turned up in June to fight the sale of RCA Studio A, whose tenant Ben Folds led the uprising (and has announced he's vacating in November), and more than 14,000 have already joined the Save Printer's Alley movement, as developers move in and threaten to ruin the character of one of Nashville's most historic pockets with the addition of a boutique hotel. Take heed and don't cross our paths.
22. Even Nashvillians are suckers for a killer rooftop view
Sambuca, Virago, and Acme -- one instance when we might sacrifice our no-Broadway rule in favor of the panorama -- all boast good ones, but we also find any excuse to mosey over the pedestrian bridge at dusk for the best skyline shot of our beautiful city.