Ah, dating in the South. The chivalrous gentlemen and the sweet Southern belles mixing & mingling in this big city/small town of Nashville makes for an interesting dating scene. And with the city growing by the day, transplanting thousands of new singles to town, they may start to notice these 10 reasons why dating here is different than anywhere else in the country...
Big city, small town
The dating pool can start to feel more like a wading pool remarkably quickly. Everyone knows everyone and they've all dated each other or know someone who has. There are good and bad things to this. On one hand, you could easily know everything you need to about your date before you meet them. On the other, you could easily know everything you need to about your date before you meet them.
You can't escape a bad date
In bigger cities, it's common to just bail if the date is going badly or to bluntly castigate the other person when they talk about their ex all night. Or CrossFit. It won't matter, because you'll never see them again. In Nashville, unfortunately, it's nearly impossible to never see that person again. You may even have to work with them at some point or be joint godparents to the child of a mutual friend. Maybe that's why we're so polite?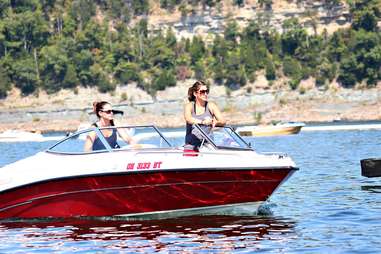 Will date for boat
You have a boat? Your dating life just got a lot better. You have a lake house? Holy frigging grail.

Everyone's married
People tend to settle down younger in the South, which makes it harder and harder to be the only single person at the dinner party. And the married friends feel bad that they only invited other couples, making you feel even worse.
The competition is hot
Southern ladies are hot. They put a lot of effort into their appearance. Their Mamas taught them to wear their hair high and curled, shave their legs (not just the bottom half), and wear heels -- and that's just to the grocery store. If you're a transplant, you need to step up your game.

Musicians always get the girl
There are a lot of hot musicians. They don't want a commitment, but they want your girl. Yes, you have a 401K, but he's dreamy and plays the guitar.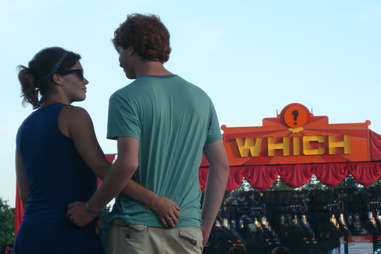 Bonnaroo is like moving in together
Music festivals are a big commitment to gamble on someone you've just started dating. You learn a lot about a person and not always in a good way. What are you going to do with that VIP camper you went in on together when you find out they loved the Kanye show? Bought tickets to a Ryman show six months out? Might as well meet the parents.

Standards run slightly higher
Nashville is the type of town you can settle down in. Many people move here to do just that. And the dating scene-ster definitely seems to know what he or she is looking for... and they don't bother with what they know will not work.
It's weirdly hard to just "bump" into someone
In a city where the majority of commuters are confined to their cars, you miss out on the opportunities some cities have in meeting people via public transportation or walking down the street. Maybe that's not how people meet anymore, but it sure sounds a hell of a lot more romantic than saying you "swiped right."

Dating etiquette still reigns supreme
It's not only the norm, it's preferred. Chivalry isn't completely dead. Men open the doors and offer their jackets just as the ladies expect them to pay, but will still offer to go Dutch (strictly as a formality). The rules of dating still side with tradition, for the most part. Unless you play the guitar.
Sign up here for our daily Nashville email and be the first to get all the food/drink/fun the Music City has to offer.