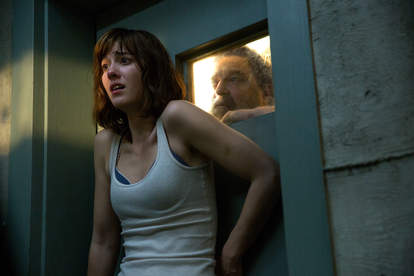 What the New 'Cloverfield' Is Really Hiding, According to J.J. Abrams
I traded hush-hush emails. I agreed to a temporary, spoiler-preventing gag order. I followed directions to a chic New York City hotel's basement, wound down into a small theater, saw 20 minutes of censored footage, and took an elevator up to a nondescript room on the eighth floor. That's where I finally met J.J. Abrams, the mastermind behind this covert operation.

Was 10 Cloverfield Lane this Hollywood maven's latest thriller or a new cut of the Zapruder film?

For Abrams, secrecy is the linchpin of entertainment. Like 2008's Cloverfield, 10 Cloverfield Lane slipped into the spotlight without warning, startling unsuspecting patrons of Michael Bay's 13 Hours with a haunting trailer, lighting up Facebook threads and Twitter feeds like it was something from Beyoncé.
We should have seen it coming. In 2014, Abrams and his production company Bad Robot announced Valencia, an abduction-themed drama starring John Goodman, Mary Elizabeth Winstead, and John Gallagher Jr., directed by Dan Trachtenberg, an up-and-comer with viral shorts under his belt. A few months later, the movie had a new name: The Cellar. And two years later, under the shroud of a little movie called Star Wars: The Force Awakens, Bad Robot gave the movie a third facelift. Abrams had been making his long-awaited Cloverfield sequel the entire time.
Paramount Pictures
Kind of. In 10 Cloverfield Lane's opening act, Michelle (Winstead), the victim of a violent crash, finds herself chained to the wall of a musty, windowless room. Her "captor," Howard (Goodman), presents himself as a hero. Not only did he save Michelle from bleeding out on the side of the road, he also rushed her to his underground bunker just before a pestilent apocalypse swept over the United States. The only thing convincing Michelle that her new roomie isn't bonkers is a boil-covered woman pounding at the door.
Something is happening outside. Just don't expect it to be a spindly,1,400ft monster with a taste for amateur cameramen.
Abrams says he spent many years discussing a proper "part two" with original Cloverfield writer Drew Goddard (The Martian) and director Matt Reeves (Dawn of the Planet of the Apes). In fact, they're still talking about it. Timing is what has made him hesitate. "We're in a world that has had the big Hollywood Godzilla, and Pacific Rims and we're not necessarily in a place where we want to do a kaiju movie just because we could," he says.
Instead, Abrams wanted to resurrect the Cloverfield spirit. "[In] a sequel... you've already bought in to the conceit, so you get what you expect," he says. "Sometimes, you get a little bit more this way, a little bit more that way. On a movie like this, it's an opportunity to do something that I think is more unique. [Cloverfield] gives us a platform to tell that story, making connections in ways that fans of the original wouldn't expect, and people who've never seen the original don't need to worry about."

Abrams has serious thoughts about movie trailers. His glowing positivity focuses to a laser beam when the topic of Hollywood marketing comes up. "What I can't stand is the trailer that shows me the CliffsNotes version of the movie," he says. "It gives me every highlight, every turn, every location in two minutes... Those trailers, for me, are the ones that are diminishing and reductive and disappointing."
Not every movie has the luxury of being secretive. On Star Wars, Abrams had to show off his finished product, and he says that "navigating the waters of 'How do we begin to reveal this thing to the public?' required as much thought as the experience of making the movie." The gamble, he says, was too big to hold it all back. But, to him, a trailer should provoke a single question from the audience: what was that?
Paramount Pictures
What Trachtenberg saw as a sweet blend of Rosemary's Baby, the Fallout video game series, and Alfred Hitchcock, Abrams saw as a path back to pure surprise. A few script tweaks and Easter eggs later, The Cellar owned the moniker. A date was set, with the old title still on the schedule, attracting minimal attention. Abrams even hired the editor of his Star Wars trailers to cut the movie, just so each crank of the plot-twisting wheel would pop. 10 Cloverfield Lane would feel cut from Cloverfield's mysterious cloth. It would become a true sequel on the Internet.

The trailers for Cloverfield were sprinkled with hidden URLs that unlocked websites, phone numbers, and email chains, all providing a fictional context for the movie's gargantuan carnage. Those who fell down the "alternate reality game" rabbit hole learned about Tagruato, the Japanese mining company that unearthed the attacking creature, and Slusho, a mind-warping frozen drink that shares chemical properties with the monster's bloodthirsty barnacles.

In January, anyone on the "Tagruato email listserv" i.e., the Cloverfield ARG, received an email trumpeting the employees of the month. This was a drill. A few weeks later, a second employees-of-the-month email hit inboxes. At the top of the list: Howard, 10 Cloverfield Lane's creepy lead.
Howard's " RadioMan70" shirt sent Internet sleuths to RadioMan70.com, which redirected to FunAndPrettyThings.com, where, if you input the right Pretty in Pink quote, opened up a chatroom between Howard and his daughter Megan, which clued people into a chain of hidden numbers planted in the 10 Cloverfield Lane trailer, which hinted at Howard's naval past and, when taken as coordinates, directed one participant to a buried supply box in Louisiana, which contained an audio file detailing an "unexplained magnetic energy," which anticipated a second survival-themed video game, which led people to a burner phone planted in a locker in Chicago, which gave fans a chance at hearing Megan's side of the story.
Phew. As of this publish, the gears continue to turn on the ARG. And with each new clue, the true secret of 10 Cloverfield Lane is revealed: Abrams' baby isn't just a franchise, it's a parallel universe.
In 2007, Abrams delivered a TED Talk professing his love for the "mystery box," a gift where the buyer was never quite sure of the toy inside. The mystery box became a keystone of his work, from the fluctuating mystery of Lost to the hyper-secretive marketing tactics that plagued Star Trek Into Darkness. Cloverfield was his ultimate mystery box -- and the payout was huge. He insists the mystery box isn't his "credo," but nearly 10 years later, his childlike excitement for sleight of hand won't go away.

"The byproduct of any good story is you want to know more, you want to know what's going to happen," he says. "I think I am the same person, in that regard. I know I'm the same person that likes to be surprised. I know I'm the same person that enjoys to watch a movie and not have it spoiled before I get to the theater."

As I take the elevator back downstairs, ascend from the basement, follow the winding streets back to my office, and re-confirm that I'll stay mum about the movie, I feel a little bad for J.J. Abrams, the poor bastard. He already knows the ending to 10 Cloverfield Lane.
Sign up here for our daily Thrillist email, and get your fix of the best in food/drink/fun.
Matt Patches is Thrillist's Entertainment editor. He previously wrote for Grantland, Esquire.com, Vulture, The Hollywood Reporter, and The Guardian. His favorite movie of all time is Groundhog Day. Find him on Twitter: @misterpatches.