10 Unbelievable Things Donald Trump Has Actually Done
Justin Sullivan/Getty Images
Donald Trump, against all odds, seems to be winning over a surprisingly large portion of the public. Much of his success has to do with the fact that, unlike so many other politicians, he speaks his mind freely.
But damn, if that mind isn't a little insane sometimes.
He said he would date his own daughter
In a 2006 appearance on The View, Donald Trump, discussing the possibility of whether or not his daughter, Ivanka, would pose for Playboy, admitted that she does have "a very nice figure."
And then he stated, "If Ivanka weren't my daughter, perhaps I'd be dating her."

He tried to bulldoze an old woman's home for a parking lot
In 1994, Trump decided the Trump Plaza Hotel and Casino needed a limo parking lot. But he had a problem. Vera Coking, an elderly widow, lived at the proposed location.
So, Trump convinced Atlantic City to use eminent domain to condemn her house. He was almost successful, until the Institute of Justice got involved.

He claimed that military school gave him better training than some soldiers
Trump was able to avoid being drafted during the Vietnam War and has never served in the armed forces. He recently told a biographer that, despite this, his time as a student at the New York Military Academy gave him "more military training than a lot of the guys that go into the military."

He created a vodka and it was a disaster
In 2006, Trump joined the likes of fellow liquor-slinging celebs like Diddy and Dan Aykroyd with the release of Trump vodka, a Grey Goose competitor with the slogan "Success Distilled." The vodka would, it was said, "demand the same respect and inspire the same awe as the international legacy and brand of Donald Trump himself." Trump predicted that the most requested drinks in America would soon be the Trump & tonic and Trump martini.
He created a board game and it was hilarious
Trump had a board game, and it looked like a mix between Monopoly and divorce court. Here's the 1989 commercial.

He tried to sue Bill Maher over a joke
During his "birther" period in which he insisted President Obama was not born in the United States, Trump offered to pay $5 million to a charity of Obama's choice if he provided documentation like college transcripts and passport records. On The Tonight Show with Jay Leno, Bill Maher joked that he would donate $5 million to a charity of Trump's choice if he could produce a birth certificate proving he isn't the "spawn of his mother having sex with an orangutan."
Trump did as requested, though. Maher didn't pony up. Trump sued.
(The lawsuit was eventually withdrawn.)

He called for the execution of five innocent men
In 1989, Trump paid for full-page ads in four major New York newspapers calling for the return of the death penalty to punish the five men convicted of raping a Central Park jogger. He warned "criminals of every age" to "be afraid."
They were innocent. He later called the settlement they received for more than a decade of wrongful imprisonment a "disgrace."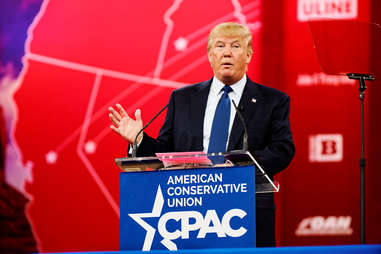 He said Mike Tyson shouldn't have to go to prison for rape
In March of 1992, boxer Mike Tyson was convicted of raping 18-year-old Desiree Washington, a contestant for Miss Black America. Donald Trump said that, rather than going to prison, Tyson should be able to pay "millions and millions of dollars" to victims of rape, saying "a lot more people will benefit by what I'm saying than by throwing a man in jail, virtually with no money -- because by the time this ends he won't have any..."
Tyson went to prison and still has at least some money.

He tried to create a reality TV show that reformed party girls
In 2007, Donald Trump worked with Fox to develop a reality series called Lady or a Tramp.
The show would send young, hard-partying women through charm school to reform their behavior, learning "the finer points of skills like flower arranging and needlework." Plans involved Trump potentially arriving from time to time to judge the contestants' progress. Trump said, "We are all sick and tired of the glamorization of these out-of-control young women, so I have taken it upon myself to do something about it... I am creating a real-life version of My Fair Lady. This show is all about getting a second chance and transforming for the better; the idea is genius and the show will be huge."
Lady or a Tramp never made it to TV.

He examines the Miss USA contestants to pick the most attractive ones
Donald Trump is co-owner of the Miss USA pageant. According to former contestant Carrie Prejean, part of his role involves evaluating the attractiveness of contestants and separating the ones he finds beautiful from those he doesn't. It's called the Trump Rule, and according to Prejean, it's made some contestants break down in tears backstage.
Here is a recording of him doing it.
Sign up here for our daily Thrillist email, and get your fix of the best in food/drink/fun.
Joe Oliveto is a writer for Thrillist. The New York Military Academy is directly across the street from his old high school, and he kind of maybe thinks Trump completely, totally exaggerated. Follow him on Twitter.