9 ways to make this the best 4th of July ever
Regular 4th Of July: Light some fireworks
Thanks to our arcane fireworks laws (e.g. Pennsylvania stores can sell fireworks, but not to PA residents), getting your hands on some decent demolition can be a pain, which leaves you stuck with sparklers and snakes. Lame.
Awesome 4th Of July: See the largest firework show in the country
 
So let the pros do the work. New York City hosts the nation's biggest firework display on the 4th, so get out of your backyard and checkout what six barges laden with a few 1,000 lbs. of fireworks can do. Can't make it to New York? It's still likely you can watch the show from your boob tube.
Nicholas Bennett
Regular 4th Of July: Eat a watermelon
 
Ain't nothin' wrong with watermelon. That said, alcohol does make everything better…
Awesome 4th Of July: Drink a watermelon
Behold, Nick Bennett's recipe for the Watermelon Margarita:
 
Ingredients
1 ripe seedless watermelon
2 cups tequila blanco
1 cup Cointreau
2 oz. simple syrup
 
Combine all the ingredients in a bowl and stir together.
Drill a hole into the watermelon large enough to fit the mouth of a funnel. Slowly pour the mixture into the funnel. Because the time it takes for the liquid to infuse into the cells of the watermelon this may take a full day so plan accordingly.
To serve, cut the water melon into wedges and dip one side in kosher salt.
Gorge responsibly.
Regular 4th Of July: Light the grill
Rookies use lighter fluid, pros use a chimney, but legends change the game.
Awesome 4th Of July: Napalm the grill
Say hello to the Bison Airlighter. "S'up, braham," that's the Bison saying hello back because we've anthropomorphized him into a rad dude. He's also freakin' hot, to the tune of 2,600°F. Just apply the Bison's four-inch flame and its built in fan directly to the charcoal and, boom, you've got a BBQ-worthy blaze.
Regular 4th Of July: Use a cooler
Something has to keep those beverages cold besides your icy wit.
Awesome 4th Of July: Drive a cooler
But why just chill your drinks when you can chauffer them to a destination of choice? Cruzin Coolers have been around for a minute, but their 1000-watt beast brings more horsepower and sturdier construction than earlier models. Meaning it can withstand your all-American girth a bit better.
Advertisement
Anthony Humphreys
Regular 4th Of July: Spend the rest of the day just kinda standing around
The grill probably got going around noon, those homemade hot dogs went down fast, the watermelon got ate, and your weird cousin keeps asking you to go rollerblading. Now what?
Awesome 4th Of July: Hit TGI Fridays
Keep the party going in the most patriotic way possible: go to a restaurant that's one of America's greatest brands. And because eating more is our national responsibility, honor the 238th anniversary of America by celebrating the 40th anniversary of the most patriotic snack food: the potato skin, invented by, you guessed it, TGI Fridays.
Regular 4th Of July: Jump on a trampoline
It's everyone's favorite backyard deathtrap!
Awesome 4th of July: Leap on a bouncy castle
 
Despite that one case of a bouncy castle flying in the air with children inside (they were fine, settle down), when have you ever heard of someone having a bad time in a bounce house? Never. That's when. Don't you dare disparage the bouncy castle.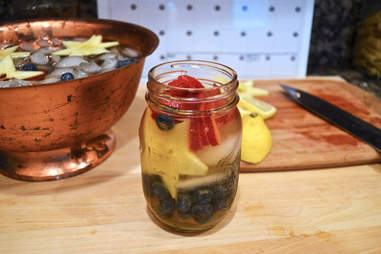 Nicholas Bennett
Regular 4th Of July: Drink some beers
 
Nothing more American than throwing back a few brews. Unless… (Something cool is coming next because there's an ellipsis!)
Awesome 4th Of July: Drinks some all-American punch
 
If there is one concoction that can be considered an American staple it's the Fish house Punch, Developed in 1732 by a group of rebellious colonial Americans who founded a pre-Revolution social club called the Schuylkill Fishing Company, this potion is said to have been imbibed by George Washington himself.
 
This fresh take adds some patriotic flair to an already patriotic recipe, like John Hancock and the Declaration of independence or Nicolas Cage and also the Declaration of the Independence:
 
Ingredients
1 cup sugar 
The peels from 4-5 lemons.
1 cup lemon juice
1 (750-ml) bottle Jamaican amber rum (preferably Appleton Estate)
14 oz Lairds Bonded Apple Brandy (There is nothing more American)
750ml Seltzer
 
Garnish
Blueberries
Strawberries
Apples (Cut into the shape of Stars)
 
In a large bowl, add sugar and lemon peels, and rub together to release the citrus oils into the sugar. Allow that to infuse for at least 30 minutes.
Dissolve the remaining sugar with the juice of the lemons, rum, and apple brandy.
Stir to mix and let chill in the refrigerator for at least three hours.
Add a large block of ice to the mix and top with seltzer.
Garnish and celebrate being an American the best way possible that still includes wearing pants.
Regular 4th Of July: Wade in a pool
Whether it's of the kiddie or Olympic variety, pools should figure in your 4th plans.
Awesome 4th Of July: Conquer an obstacle course
But why just doggie paddle when you could get the most ridiculous modular series of water obstacles ever imagined? The folks at Wibit have trampolines, "ice" towers, and more crazy toys that all can link together into a monstrous homemade water park. Floaties are a must.
Regular 4th Of July: Play any lawn game
Bocce is pretty fun. Croquet? Truly a gentleman's sport. Pétanqu? No idea what that is but it sounds French and they were pretty cool during the Revolution so okay.
Awesome 4th Of July: Play lawn darts
 
But lawn darts? You're talking about the game that in the eight years before they were banned put 6,000 people in the emergency room. Whether you've got to make your own or hit the lawn dart black market dealers (those are real, right?), this is the true lawn game of kings… if you're the kind of king who really enjoys risking deadly injury from a lawn game.