10 ways to make this the most glorious summer in history
LAURA M. PARENT/MOUNTAIN TRAVEL SOBEK
There's a certain comfort in doing the same old thing every summer. Then again, there's a certain comfort in wearing absorbent underwear. Assuming you don't need that yet, we put together over-the-top versions of 10 standby Summertime activities, all of which'll blow whatever you did last season out of the water.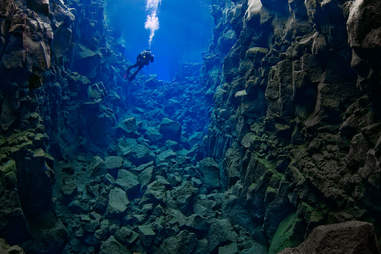 COURTESY OF DIVE.IS
Lame: Go scuba diving
Epic: Go scuba diving between tectonic plates
Why dive amongst the parrotfish when you could dive amongst the building blocks of Earth? Silfra is a lake in Iceland formed by the fissure between North American & Eurasian tectonic plates and filled with glacial water filtered through lava bedrock -- bottle that, Mark Wahlberg and P. Diddy. Puff Daddy?
COURTESY OF WALDSEILGARTEN-HÖLLSCHLUCHT
Lame: Go camping
Epic: Go vertical camping
In Germany, Waldseilgarten caters to campers looking for a little more than a furious harmonica-off around the campfire with cliff-dangling accommodations roughly 3,300ft off the ground. Swinging from a giant tree in a hammock is also an option. So is discovering you're acrophobic.
DANIEL CASE/WIKIMEDIA
Lame: Ride your bike
Epic: Ride your bike down America's most haunted road
Clinton Road, a 10-mile stretch in backwoods West Milford, NJ, is basically a real-life horror movie, and not just because it's poorly paved. Some highlights: an abandoned castle rumored to host satanic rituals, hellhounds, druids, ghost boys, ghost park rangers, a ghost Camaro, and a dead body dumping ground. Pro tip: peddle fast.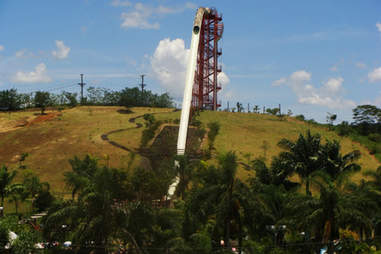 COUTESY OF ALDEIA AGUAS RESORT
Lame: Ride a slip'n'slide ironically
Epic: Un-ironically scream down the world's tallest waterslide
Until Verrückt opens later this year, you can ride Kilimanjaro in Rio de Janeiro. This monstrosity flushes you down 164 feet before bottoming out below ground level in a carved-out crevice, which is almost as terrifying as the 234 steps you have to climb to get to the top.
MICHAEL NICHOLS/NATIONAL GEOGRAPHIC
Lame: Explore a cave
Epic: Explore the deepest cave in the continental United States
Live out your Huckleberry Finn fantasies (everyone has those, right?) to the max: hit up Ellison's Cave in Georgia for a 586ft straight-down rappel and serious bragging rights. It's almost as cool as painting a fence.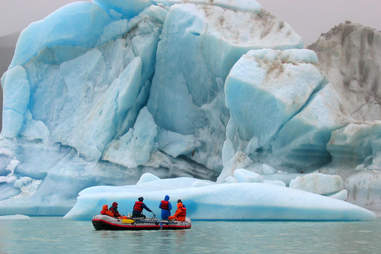 KRISTEL HAYES/FLICKR
Lame: Go whitewater rafting
Epic: Go whitewater rafting amidst glaciers
Alaska's Alsek River's class IV rapids skirt past straight up glaciers and massive, jagged mountain peaks. The course was paid the ultimate compliment by Walt Blackadar in his 1972 piece for SI, "Caught Up in a Hell of White Water": "I want any kayaker to read my words well! The Alsek gorge is unpaddleable!"
FRANK KEHREN.FLICKR
Lame: Hike
Epic: Hike one of the world's most treacherous trails
Mt. Huashan's five summits have been home to Daoist temples since the 2nd century. Helpful Monks built a network of stairs and platforms to navigate the peaks, but with sections called the "Thousand-Foot Precipice" and the "Black Dragon Ridge", you won't find that the monks were that helpful as you pray to be whisked off to a regular, less terrifying trail, perhaps named "Squirrel's Rest" or "Blue Bird Point".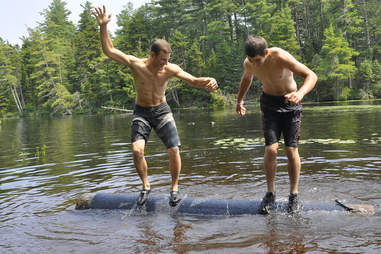 COURTESY OF ADIRONDACK WOODSMEN'S SCHOOL
Lame: Mow the lawn
Epic: Mow the damn forest
Ditch the weed wacker for the Adirondack Woodsmen's School at Paul Smith College, where you'll earn your flannel with a week-long course on the manly arts of axe throwing, log rolling and crosscutting.
COURTESY OF SALA SILVERMINE
Lame: Go "off the grid"
Epic: Go below the grid in the world's deepest hide out
That cabin in the woods has nothing on the Mine Suite at Sala Silvermine. Over 150 meters down a converted Swedish mine, this hotel room is totally cut off from the rest of the world. The only way to communicate? An intercom that transmits your pleas of "help me" to the staff.
GEIR HALVORSEN/FLICKR
Lame: Have a beach bonfire
Epic: Have the world's biggest beach bonfire
In Norway, the Midsummer's Eve celebration takes place on June 24th, and folks celebrate by lighting things on fire. Big piles of things. Each year, the town of Alesund aims to build the world's biggest bonfire, which is essentially a 130ft beacon of burning pallets on a giant, manmade island. Bring some seriously industrial marshmallows.