11 Hilarious Vines You Need to Watch Immediately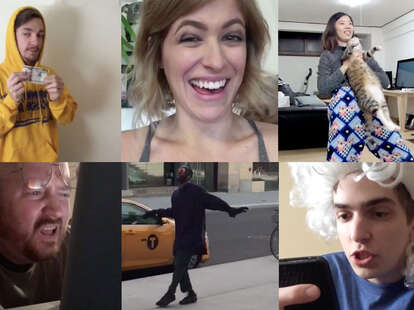 regaljoe/MielMonster/hemtube/Woodsie/Eloise/Drew Gooden/Vine
Vine is an essential app for anyone looking for a quick jolt of entertainment. It's also an unforgiving platform. The six-second video tool can catapult the simplest concept to meme status. Post at the wrong time, and it can also bury perfection under a dump of new updates. People scroll through and -- boom -- a wacky character or an embarrassing pratfall is lost forever. There are rumors Vine will soon make it easier to actually to find the classics. But right now, it's near impossible. Which is why we're here to pan for video gold and share the wealth. Here are 11 recent Vines you can't live without:


I was skeptical, but now I understand the severity of the situation.

Shame the people who do this. Shaaaaammme theeeemmmmm!

It doesn't have to make sense. It just has to be.

Basically Vine's version of A Beautiful Mind.

Warning: may induce serious PTSD.

Ugh I HATE when this happens.

The entire #TypicalMovieLines hashtag (created by @regaljoe) is amazing. This is one of our favorites.

When you're replaying the game and you just want to get to the fight scenes.

Perhaps the best representation of what it's like to live with social anxiety ever put on camera.

Men at Work is the true star of this Vine.

Behold: the reason why Vine exists.
Sign up here for our daily Thrillist email, and get your fix of the best in food/drink/fun.
Michelle Said is a writer who specializes in new media. In other words, she spends lots and lots of time watching Vines and Snapchat Stories. Follow her on Twitter: @michellelsaid.