Why '13 Reasons Why' Re-Edited Its Most Controversial Episode Years After It Came Out
Netflix's 13 Reasons Why, a show based around the suicide of a teenaged girl and the events leading up to her death, was always fated to spark some sort of conversation. Upon its release, the streaming service and showrunners who adapted the material from the best-selling young adult novel by Jay Asher anticipated it was necessary to include a post-series PSA, Beyond the Reasons, featuring the cast, showrunners, and mental health professionals explaining how to get help, and content warnings for three episodes, on top of adding a pre-first-episode advisory about a month after its debut. But they probably hoped the series would inspire more conversation around the reality of mental illness in teens and the necessity of seeking help -- rather than the flaws of the show itself, of which critics foundmany.
Now in July 2019, over two years since Season 1 was released, Netflix quietly re-edited its most controversial episode, as first reported by The Hollywood Reporter, that depicted the main character Hannah's (Katherine Langford) suicide on-screen. Meaning, the scene showing her death was excised from the episode and instead features a clip of Langford contemplatively looking in the mirror before cutting to her parents' reaction. So, were you to watch the episode for the first time today, it would appear as if its always been shot like this -- but if you were to rewatch it, that's quite a big change from the original scene that explicitly showed the teenaged character slitting her wrists and wincing in pain for several minutes.
It certainly is important that Netflix decided to make such a drastic change to a graphic scene that has already reached millions of impressionable young people and has the capability of reaching more -- but it's also a decision that seems like it came too late. While Netflix may be increasingly sensitive to the original content that it's releasing, it shouldn't be in retrospect -- years later! -- that they're thinking about how impactful and potentially damaging upsetting imagery can be.
In ways, 13 Reasons Why does attempt to talk about mental health without romanticizing it and points out means of getting help rather than casting suicide as an option, as was always its intention. But while it's hard to prove cause, there have been a number of studies exploring whether suicide rates among teens rose after Season 1 aired and offering concrete evidence that online searches about suicide has definitely increased since then. It's all been a part of the conversation the series anticipated and was eager to have -- even though showrunners refute many of these studies linking the show to increased suicide rates in teens. This sort of research and response probably would have come regardless, but because much of the commentary is attached to the fact that the show chose to include a graphic scene of Hannah's suicide, it seems this discourse would have shaken out much differently if it weren't included to begin with. Yes, depicting the grave reality of suicide in a way little media has done could be seen as a means to deter people from it -- which was allegedly the intention -- but it's hard to account for how much of an effect that could have on young viewers who will watch the show regardless simply because it's about teens, even with its MA rating and couple trigger warnings about the graphic content in the episode about to play.
Now, this isn't the first time around that Netflix has made an edit to an already released program. The Sandra Bullock-starring sci-fi film Bird Box, for example, edited out footage of a real train derailment in Quebec that resulted in more than 40 deaths after the movie had been out for months. And while it makes sense, cynically, for the timing of the re-edit to come nearing Season 3's premiere, it's hard to ignore the fact that social media has been buzzing about the show's graphic content again. Ever since Netflix made a pact to cut down on featuring smoking and e-cigarette use in early July, citing the new season of Stranger Things, people basically responded online by asking, "Well, what about all of the actual disturbing content in 13 Reasons Why?"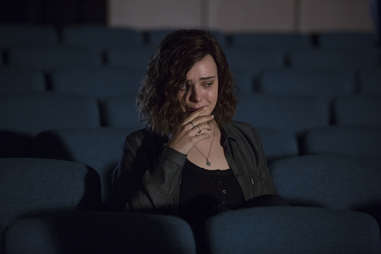 Showrunner Brian Yorkey explained their decision to re-edit the scene in a statement to The Hollywood Reporter, saying, "Our creative intent in portraying the ugly, painful reality of suicide in such graphic detail in Season 1 was to tell the truth about the horror of such an act and make sure no one would ever wish to emulate it. But as we ready to launch Season 3, we have heard concerns about the scene from Dr. Christine Moutier at the American Foundation for Suicide Prevention and others, and have agreed with Netflix to re-edit it. No one scene is more important than the life of the show and its message that we must take better care of each other. We believe this edit will help the show do the most good for the most people while mitigating any risk for especially vulnerable young viewers."
13 Reasons Why has definitely sparked an extensive dialogue, and just as studies have shown its potential damaging effect, it's also said by surveyed teenagers to be a necessary, honest portrayal of the realities in their high school lives. It's hard not to wonder if that impact could have been more positive were these decisions taken more seriously before the series' initial release. With Season 3 on the horizon, one can only hope it takes serious consideration of its past missteps to get closer to being seen as a force for solutions rather than just damning effects.
Sadie Bell is the entertainment editorial assistant at Thrillist.