Brandon Larracuente, AKA Jeff From '13 Reasons Why,' on Becoming Meme-Worthy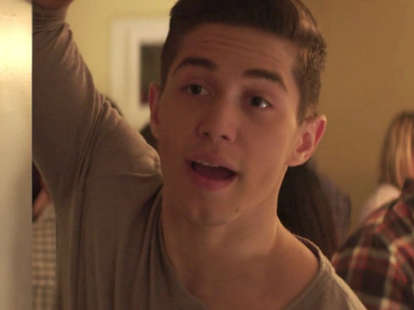 Netflix
Netflix
This article contains spoilers for 13 Reasons Why.
There's a lot of Jeff love out there.
Almost immediately after Netflix released Brian Yorkey's 13 Reasons Why adaptation, fans started rallying around Brandon Larracuente, the 22-year-old actor whose time as the character comes to a premature end after a car crash. Cries of "YOU WERE MY FAVORITE" and "JEFF DESERVED BETTER" still flood his social media. Understandable, considering Larracuente plays the nicest jock to ever grace Liberty High's gloomy halls.
Oddly enough, Jeff doesn't appear -- at least not with the same detail -- in Jay Asher's source material. But that wasn't an issue. "I have to thank Brian," he told Thrillist this week, "because he really let me develop the character from the ground up." Amid Season 2 speculation, we called Larracuente to talk about his character-building process, Jeff's alternate future, and the rabid 13 Reasons Why fandom.
Since Jeff Atkins isn't in the book, how did you make him your own?
Brandon Larracuente: Dylan [Minnette, who plays the protagonist, Clay] and I met to develop the backstory for Jeff and Clay -- how Clay helps Jeff with his homework and how Jeff helps Clay talk to women. In developing the character, I had noticed that everyone was against Clay. I wanted to be different, but I also realized I was supposed to be a jock. So I'm in that group of friends that sees Clay as a problem -- and they're always picking on the smaller kids -- but I wanted to be a leader and show that you don't always have to be a follower.
Are there any subtle details from your character-building that people might have missed?
Larracuente: There's a moment [in Episode 5] where Jeff and Justin are at the dance, and Justin says, "There's vodka in the red shit, if you want." And Jeff says, "Nah, I'm good." I tried to play Jeff much like how I would act. I'm not a heavy drinker. He does things by the book. He tries to leave aside distractions like partying, but still goes once in a while because he's part of the social scene. I think I relate to him so much because I'm not a big follower. I'm much more of a homebody, and I like to focus on my dreams.
Jeff doesn't drink much, but he still becomes the face of the show's drunk-driving subplot. And by the end, the stop sign debacle is left a little vague -- we only see the aftermath, and nobody, Clay included, knows exactly how Jeff's accident happened. Did you and Brian talk about a definitive story for what happened that night?
Larracuente: Brian, Dylan, and I did speak about that. This show raises a lot of important issues, so we felt like if Jeff really was drinking it would have kind of condoned drinking and driving. The message we were trying to get across to the audience was, It doesn't have to be your fault; it can be someone else's fault[Editor's note: Recall that a questionably sober Sheri knocks the stop sign over]. But Jeff was not drunk when he drove, we didn't want to portray Jeff as a drunk driver, and you should never take the risk of drinking and driving.
The show is about how everyone has their own secrets -- but we don't really get to know Jeff on that level. Did he have any secrets?
Larracuente: I feel like the reason he sticks up for the little people so much is because he was bullied growing up and then when he finally came out of his awkward stage and grew into his body and started working out and becoming popular, he took a different route. He stayed grounded. He remembers the way he was treated as a kid to help people like Clay.
We get to know Jeff primarily through Clay's memories, so some of it's hazy. When he grabs the Oh My Dollar Valentine from Clay, what does he fill out? What do you think Jeff is looking for in his perfect match?
Larracuente: There's a movie theater scene [in Episode 6] where I walk in with a young lady. Jeff's into quiet girls, girls who are intellectual, girls who challenge his mind. Not just girls who are going to be a yes man or woman. Jeff is much more than just a jock. He has goals and ambitions, and he looks for somebody who makes him a better person.
I've read you're a big Will Smith fan, and in 13 Reasons Why, Jeff is kind of Clay's Hitch. Coincidence?
Larracuente: [Laughs.] Yeah, I feel like if Jeff would have survived the accident, Jeff would have molded Clay into a better version of himself. It's like with a parent and a kid. As a parent, you want your kid to be a better version of you when they grow up. [Dylan and I] developed a close bond before hopping on screen. I got to know him on a more personal level, finding out that he enjoys music, a lot of the same stuff I enjoy, so it wasn't very hard to pretend to be friends. It happened organically.
Fans of the show love the fact that you guys all seem genuinely close. I've already seen lots of people saying that the 13 Reasons Why cast is "friendship goals."
Larracuente: Yeah, we're much more than cast mates. We actually just had game night a few nights ago. We do that every two weeks just to reconnect. We played charades. There's a lot of laughter, and it gets very loud. It feels like we all pick up from where we left off. When one person has an audition, we all text that person and ask how it went.
Social media seems crazy for you now. The other day, someone tweeted, "would die just so jeff could live, facts only."
Larracuente: Oh, man [laughs]. Yeah, it can be overwhelming at times because I feel like people really, really believe that we are these characters. Everything's under a spotlight now, so we have to be careful about what we put out there. Lately, actually, the cast made a decision to tweet out a link to 13reasonswhy.info [a crisis information website], in case people are overwhelmed by the show or feeling like they need help.
There's another really great one of Meryl Streep, where she's shouting --
-- JEFF DESERVES BETTER! [Laughs.]
[Laughs.] Yeah, I feel like that's become your character's epitaph. What do you think it is about Jeff that fans have latched onto?
I hope it's that he doesn't follow the crowd. It's easy to be a follower, but it takes a bold person to be a leader. If someone's getting picked on, or if they don't fit in, I hope fans can be bold enough to stand up.
How helpful has Netflix been for your career? You've managed to bounce from Bloodline to 13 Reasons Why and then to Bright [Larracuente's next Netflix project, a movie starring his hero, Will Smith, due out this December]. Did one thing propel you to the next?
Larracuente: It's funny. My girlfriend and I were just talking about how everything I've worked on lately is on Netflix. I was like, Wow, that's a huge coincidence. In the casting process, I don't think it had anything to do with me getting parts. But I would love to believe that somebody at Netflix does appreciate my work. It's cool to be part of the Netflix family, per se.
Netflix is often generous with TV renewals -- how would you want to see Jeff figure into a potential Season 2?
Larracuente: If we get blessed with that opportunity, I feel like that's something that will happen organically after speaking with Brian -- if he does want to bring Jeff back. I haven't really thought about it much. I've just been enjoying my time off.
I feel like a lot of people have their fingers crossed for more Jeff.
Larracuente: I have my toes crossed.
This interview has been condensed and edited for clarity.
Sign up here for our daily Thrillist email, and get your fix of the best in food/drink/fun.
Sean Fitz-Gerald is a staff writer at Thrillist Entertainment. Find him on Twitter: @srkfitzgerald.