The following post contains spoilers from 13 Reasons Why Seasons 1 and 2.
Over its two seasons, 13 Reasons Why has become one of Netflix's most talked-about and watched shows. Though the series and its portrayal of teen suicide have received criticism, many viewers nonetheless crave more.
With only one book of source material from which to draw inspiration, showrunner Brian Yorkey and his staff were left with the daunting task of whipping up a new story for season 2, and the team answered with a new set of episodes that, while earning more controversy, set the table for Season 3. Will Hannah and Jessica ever get justice? What's going to happen with Justin and his step-dad? What about Chloe's baby?
With Season 3 officially in the pipeline to (hopefully) answer those questions and more, the biggest mystery of all is when? Read on for everything we know so far about 13 Reasons Why Season 3.
Recommended Video
We Ranked Our 7 Favorite Celebrity Cameos on 'Friends'
When is 13 Reasons Why Season 3 coming out?
An official date hasn't been announced, but per Netflix and the locker combination seen in the announcement above, Season 3 will arrive sometime in 2019. According to SF Gate, filming began in August 2018 and is set to conclude in early February this year, meaning, based on production, you can expect to see Clay & company again soon, likely sometime this summer.
Though Season 3 wasn't necessarily a guarantee, the Season 2 finale, much like Season 1's, left many doors open, and blueprints for the future seemed to have been drawn up months ago. "Yorkey was reticent to come back for a second season until he could crack it. He didn't want to commit to it blindly until he knew how to find an entry point into these characters and their stories," Amy Powell, the president of Paramount TV, which produces the series, said at the start of 2018. "We're not going to pressure him to create more seasons if he doesn't feel they are there, but he is already starting to think about what a Season 3 could be."
How many episodes will there be?
Like Seasons 1 and 2, 13 episodes (appropriately) are set for the upcoming installment.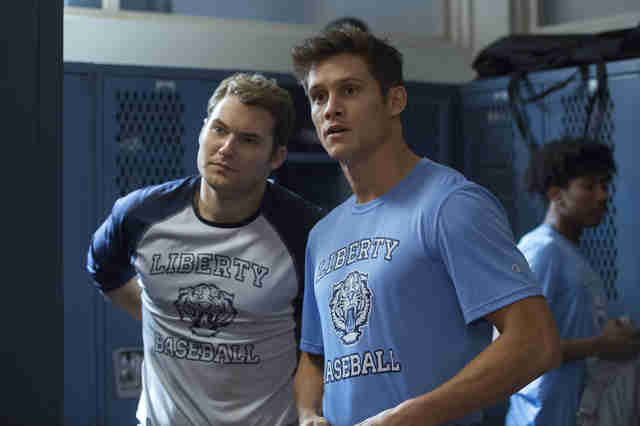 What's going to happen in Season 3?
Many of the plot details are likely going to be ironed out in the writers' room in the months to come, but in a general sense, Season 3 sounds like it'll piggyback off Season 2 in a fairly logical, straightforward manner -- the same way Season 2 did after Season 1. "The themes [of Season 3] are sort of inherent in the action of Season 2," Yorkey explained at a Netflix FYC panel. In particular, the showrunner's comments call to mind sexual assault, teen pregnancy, school shootings, and broken homes, all topics that loomed in the backdrop of the Bakers' court case. "What happened to Hannah will always be the first clause of the story," Yorkey added. "The rest of the story is about young people, as so many young people, maybe all young people today [learn] how to heal from the things that have hurt them."
Based on last season's finale and Yorkey's comments, it's likely that the reveal of Chloe's pregnancy (presumably with Bryce as the father) will be one of the many dramatic focuses of Season 3. In speaking to Entertainment Tonight, Justin Prentice, who plays Bryce, emphasized this angle being part of next season, specifying abortion as a potential topic to delve into. He said, "I think [abortion very much could be touched on] and it would be interesting to see how they handle it because from my point of view, Bryce comes from a powerful family and they have a way of making things disappear, so I don't know. It'd be very interesting to see."
As for other loose ends, the previous season may have shown Clay's family accepting Justin as one of their own, but it also suggested that he is relapsing -- meaning addiction may be another topic the issue-focused series explores. And, of course, the ramifications of sexual assault and gun violence are expected to carry over into Season 3. (More on Tyler later.)
Expect an even greater sense of community
As Clay and his peers tried their best to recover from the trauma of Season 1, near the end, they seemed to find strength in togetherness -- a theme Yorkey has hinted will crescendo going forward. "One of our big themes for the season was the progression from isolation to community," he told Entertainment Weekly. "We respond to people being there for each other, so I do hope that if the story does continue, we will continue to see that. I'm sure there will be new adversity, but I'm sure we also will see that there are bonds here that these characters didn't have before."
There probably won't be anymore Hannah scenes
The show's star is officially saying goodbye. But what about more flashbacks... and paranormal visits? Not long after the release of Season 2, the actress who plays Hannah, Katherine Langford, confirmed her exit: "It was kind of like being in purgatory for Season 2, and then being able to officially say goodbye to her," she told EW. "It definitely felt like time. For me, letting Hannah go was in Season 1; Season 2 was for Clay to let her go. It was being able to assist Clay on that journey." Though she's done, she said at a recent FYC panel that she's going to try to maintain her connection with the show's fans -- "even if it's in a small capacity, on social media."
Who else is (or isn't) going to be in Season 3?
The key leads in the ensemble cast -- Dylan Minnette, Brandon Flynn, Alisha Boe, Justin Prentice, Christian Navarro, Miles Heizer, Devin Druid, and Ross Butler -- are all set to return. The eight stars were all guaranteed major raises, according to Deadline, in order to secure their returns following long-winded negotiations. 
Though unconfirmed, characters we may be seeing less of or may not be returning include Sosie Bacon's Skye Miller, who gave an emotional farewell to Dylan Minnette's Clay after revealing she'd be moving to a new city for a new beginning, and Kate Walsh's Olivia Baker, who hinted at a potential move of her own.
Behind the scenes, Yorkey will be back as showrunner, alongside Joy Gorman, Mandy Teefey, Kristel Laiblin, Tom McCarthy, Steve Golin, and, of course, Selena Gomez.
Word of new faces, as it did last year, could come closer to the end of summer.
The setting -- at least part of it -- will be the same
According to an April report from local Californian paper Sonoma West Times & News, "the West Sonoma County Union High School District board on April 11 approved a third licensing agreement with Paramount Pictures that allows the company to film scenes at the Sebastopol High School." Translation: The school you know as Liberty High has been rebooked for production. The Times & News added that shooting could start mid-June and end by mid-December.
Will Tyler become a more central figure?
Unclear as of now, but it would make sense! The trauma he endured, plus his school-shooting cliffhanger, make him a worthy candidate for another sizable storyline. Talking about a prospective Season 3 with Entertainment Tonight, actor Devin Druid drew parallels to Jessica's Season 2 arc. "I think it would be great to see Tyler have some recovery in there and see him find himself and have that support group around him," he said, adding that he'd absolutely be in for Season 3 if the writers concocted a story worth telling. "I think he has a lot of issues to work out. We see him go to a behavioral camp during the season that specifically targets his anger issues, but that doesn't necessarily mean that those are the only issues he's dealing with."
Bryce and Zach's rivalry could be just beginning
Season 2 saw the two star jocks put some distance between each other -- a development that looks like it has room to turn into a full-blown rivalry, as Bryce transfers schools and continues to dodge justice. Or, so the actors behind the characters hope. "I think there's still more to explore," Justin Prentice, who plays Bryce, told EW after Season 2. "They're setting up a new school year, there's a little line to Dempsey -- 'I guess I'll see you on the football field' -- which could hint at more football."
Will the lawsuit involving 13 Reasons Why author Jay Asher affect the series?
In mid-2017 around the show's debut, allegations surfaced from the Society of Children's Book Writers and Illustrators that Jay Asher, author of the original source material, aggressively sought out women at the organization's events and later threatened them into not speaking out about his advances. As of early January 2019, Asher (who has since been dropped by his literary agent and pulled from speaking at events) has filed a defamation lawsuit against the Society of Children's Book Writers and Illustrators, as well as Lin Oliver, the group's executive director, according to The New York Times. 
While this lawsuit will likely unfold over the next year, neither will affect the production or release of the Netflix series. At this point, Asher actually has no creative involvement in the show and brought the lawsuit forward in part because he has been excluded from further involvement. 
Production looks like it's going to be done soon
The series is supposed to be done filming sometime in February, and according to some of the cast's social media accounts, it looks like they'll be right on time. While the cast has kept their lips sealed about any Season 3 plot points, based on the looks of Christian Navarro (Tony) and Brandon Flynn's (Justin) Instagrams, the core Liberty High crew are likely wrapping up shoots as of late December/late January. Although it's hard to pull concrete information from their posts, we're guessing that 13 Reasons Why is on track with its production schedule -- and hopefully means it'll be done in February for a summer release!
Be sure to check back for more updates on the third season of 13 Reasons Why as they are announced.
Sign up here for our daily Thrillist email and subscribe here for our YouTube channel to get your fix of the best in food/drink/fun.