Everything We Know About '13 Reasons Why' Season 4
The final season will hit Netflix in June.
It's been a long run for Netflix's controversial teen drama 13 Reasons Why, at least when you consider that the source material, Jay Asher's YA novel of the same name, was burned through in the first season. The show, about a teenaged girl named Hannah Baker who leaves behind tapes for her classmates explaining why she decided to take her own life, continued to imagine the ramifications of her death for several more installments, the last of which arrives on Netflix in 2020.
Aimed at a young audience, the series has also been the subject of much criticism for failing to censor its graphic content, putting up content warnings too late, and more. While the mere survival of 13 Reasons Why, developed by Brian Yorkey and executive-produced by, among others, Selena Gomez, speaks to the show's continued popularity, the final season was announced well before the third installment even aired. Now that you remember the basics, place your cassette into that old Walkman and get ready, because here's everything we know about the last season of 13 Reasons Why so far.
When will 13 Reasons Why Season 4 premiere?
On May 11, Netflix announced the teen drama will return for its fourth and final season on June 5. They shared the news with a sentimental goodbye video featuring the cast at their final table read -- and like the show itself, watching the clip will definitely get some tears flowing.
How many episodes will there be in 13 Reasons Why Season 4?
Although Seasons 1-3 featured a cheeky number of 13 episodes each, the final season will return with only 10 installments. Don't worry, though. It means they'll probably wrap up each storyline nicely without dragging the drama on (and without changing the title to 10 Reasons Why). Plus, with the final episode titled "Graduation," it seems fans will be getting an appropriate (probably tear-inducing) send-off for the characters.
Is there a trailer for 13 Reasons Why Season 4?
Class is back in session at Liberty High. In late May, Netflix dropped a trailer for the final season, and it looks like the doldrums of senior year is the last thing Clay and his friends have to worry about in the coming episodes. According to the trailer, a mounting police investigation and the pressure to tell the truth about framing Monty is what's mostly on their plate. The preview shows vandalism that reads, "Monty was framed," and clips of Winston persistent on getting justice for his friend, meaning Clay, Jessica, Alex, Justin, and others may have to both legally and mentally pay the price for the secrets they've been keeping. Even when you thought 13 Reasons Why couldn't get any more dramatic, its send-off season somehow looks like its darkest yet.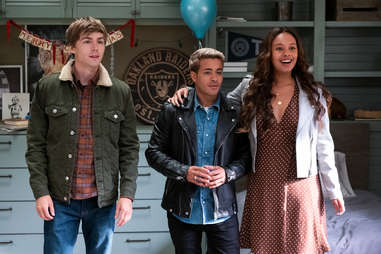 Who in the cast is returning?
The main Liberty High students you've gotten acquainted with over the series' run, like Clay (Dylan Minnette), Justin (Brandon Flynn), Tony (Christian Navarro), Alex (Miles Heizer), Tyler (Devin Druid), Zach (Ross Butler), Jessica (Alisha Boe), and Ani (Grace Saif), will all be back so you'll be able to make some final memories with the class of 2020 before you have to say goodbye.
But this is a drama where characters have died or been killed, some of whom still come back to the show in one way or another. Katherine Langford, who played original protagonist Hannah Baker back in Season 1, came back via flashbacks in Season 2. She didn't appear in the third installment, though, and won't be back for the final batch of episodes. That doesn't mean you won't be seeing characters Monty (Timothy Granaderos) and Bryce (Justin Prentice) in some capacity, though. As you can see in the farewell video above, both actors were on set, meaning they'll be making at least a brief appearance. Showrunner Brian Yorkey has essentially confirmed that, telling Entertainment Weekly, "Even though both Bryce and Monty are gone from this earth, there will be ways that they factor into our story and certainly into the states of mind of our characters in Season 4." It makes sense since the truth behind each of their deaths are far from being fully explored.
With Monty appearing, it also makes sense that Season 3 cast addition Winston (Deaken Bluman) will, too. You may remember from Season 3's finale that he knows that his classmates used Monty as a scapegoat for Bryce's murder, so it seems like he'll want more answers and justice this time around.
Are there any new cast members?
It may be the final season, but that doesn't mean there won't be new faces joining the cast. One interesting big add is Gary Sinise (Forrest Gump, Apollo 13) appearing as a regular. According to Deadline, Sinise will play Clay's therapist, Dr. Robert Ellman, who tries to help him work through the grief, anxiety, and depression he's struggled to cope with throughout his high school experience. His role should be pretty pivotal to the plot and Clay's experience in the final season, as Yorkey said to EW, "Clay's mental health is very central to the season and very central to some of the mysteries that crop up. One of our driving questions is: How is he going to ultimately process everything he's been through and the secrets he's keeping and can he continue to keep these secrets and find some way back to balance and to health?"
Aside from Sinise, Jan Luis Castellanos (Marvel's Runaways) is also joining the cast as a regular. Deadline reports the up-and-comer will play high-schooler Diego Torres, "a charismatic, aggressive, and fiercely loyal leader of a divided football team struggling to understand the loss of one of their own. But as Diego grapples with his own grief and confusion, his violent temper masking a hurting heart, he finds himself falling for one of Liberty High's most complicated women -- leaving him caught between past and present, wondering who he can trust."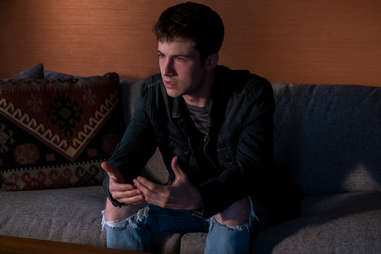 What will 13 Reasons Why Season 4 be about?
High school is tough, and 13 Reasons Why has attempted to shed light on some of the mental health strains and traumas of adolescence throughout its run to varying degrees of success. But the kids at Liberty High haven't had the most conventional high-school experience either, especially with Season 3 moving the drama into mystery territory via Bryce Walker's disappearance and murder. While Season 3 eventually revealed who really killed Bryce, it also illustrated that our beloved core group of friends lied about what really happened and pinned his death on sexual predator Monty. The fallout of that lie and cover-up should largely be the focus of the final season, especially considering Winston admitted he was with Monty the night Bryce died, and now it's unclear how Monty himself died in prison.
Yorkey told EW, "Certainly we saw at the end of Season 3 that Winston can alibi Monty and is upset at the way Monty was used by these kids to, in his mind, get away with murder, so Winston is certainly going to be a significant factor in Season 4. He is going to be trying to find out what really happened and in his own way get some sort of justice and closure for Monty, who he only had brief encounters with but we'll find meant a lot to him."
Among the other plot developments Yorkey teased in his interview with EW: Sheriff Diaz will continue investigating after learning that guns are getting dredged up by fishermen, and "a number of other people" who are doubting the veracity of the story will put pressure on the main characters. All the while they deal with the average drama of their senior year of high school.
Yorkey also added, "There's this question of: How are they going to live through this and can they escape their past? No one truly escapes their past but can we heal, can we deal with what we've done and what's been done to us and can we find a way to move on and have a future?" It sure is a lot to work through, but hopefully most of the 13 Reasons Why kids can make it to graduation and get the hell out of Evergreen County.
Is this really the final season of the series?
While the show was originally meant to be an adaptation of Jay Asher's novel of the same name, it expanded well beyond the book to explore the ramifications of the events in the original text and what else is going on at Liberty High. While it might be hard to believe since the show built upon its source material and has survived getting renewed even amidst a handful of controversies, Yorkey confirmed to EW that Season 4 will be the final season. "I'm always a little bit suspicious of high-school shows that go beyond four seasons because high school is four years long," he said. Makes sense!
Need help finding something to watch? Sign up here for our weekly Streamail newsletter to get streaming recommendations delivered straight to your inbox.