14 Essential Life Lessons From Louis C.K.
Louis C.K. is doing well these days. Thanks to the success of Louie, along with his numerous stand-up specials, he's just about everyone's favorite comic, with the exception of people who are wrong.
Getting to the top of the comedy food chain wasn't easy, though. Louis C.K. had to bust his ass for years in dingy clubs and pour a ton of effort into unsuccessful projects before achieving this level of success. And along the way, he built up a stockpile of wisdom worth paying attention to. Here are some of his best quotes about the importance of hard work, the way your attitude shapes life, and how to not take yourself so seriously.
"I've learned from experience that if you work harder at it, and apply more energy and time to it, and more consistency, you get a better result. It comes from the work."
--The A.V. Club 7/6/11
"Life isn't something you possess. It's something you take part in, and you witness."
--Louie ("Eddie")
"Life's too short to be an asshole, as an employer or as an employee."
--Louis C.K.: Shameless
"It's more fun to experience things when you don't know what's going to happen."
--The Guardian 3/18/11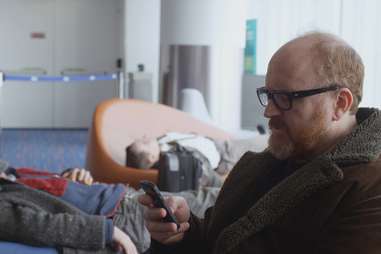 "You need to build an ability to just be yourself and not be doing something. That's what the phones are taking away, the ability to just sit there. That's being a person."
--Conan 9/19/13
"I don't have any political opinions, I just am very curious. And it's very interesting to listen to what people say... I try to take people who are way far away from what I think or understand and put a representative of them on my show. I like to try to learn from them."
--ThinkProgress.org 1/16/12
​"Self-love is a good thing, but self-awareness is more important. You need to once in a while go, 'Uh, I'm kind of an asshole.' "
--Louis C.K.: Live at the Comedy Store
"'I'm bored' is a useless thing to say. You live in a great, big, vast world that you've seen none percent of. Even the inside of your own mind is endless; it goes on forever, inwardly, do you understand? The fact that you're alive is amazing. So you don't get to be bored."
--Louie ("Country Drive")
"You'll be fine. You're 25. Feeling unsure and lost is part of your path. Don't avoid it. See what those feelings are showing you and use it. Take a breath. You'll be okay. Even if you don't feel okay all the time."
--Reddit AMA
"Fuck it... That's really the attitude that keeps a family together. It's not 'we love each other,' it's just 'fuck it, man.' "
--Louis C.K.: One Night Stand
"What happens after you die? Lot's of things happen after you die -- they just don't involve you."
--Louie ("Back")
"Friends should always tell you the truth. But please don't."
--Vanity Fair, January 2013
"I think you have to try and fail, because failure gets you closer to what you're good at."
--Los Angeles Times 7/7/11
"People overthink this life shit."
--Louis C.K.: Live at the Comedy Store
Sign up here for our daily Thrillist email, and get your fix of the best in food/drink/fun.
Joe Oliveto is a writer for Thrillist. He frequently overthinks this life shit on Twitter.