Clint Eastwood's '15:17 to Paris' Stars Real Military Heroes... Who Go to Waste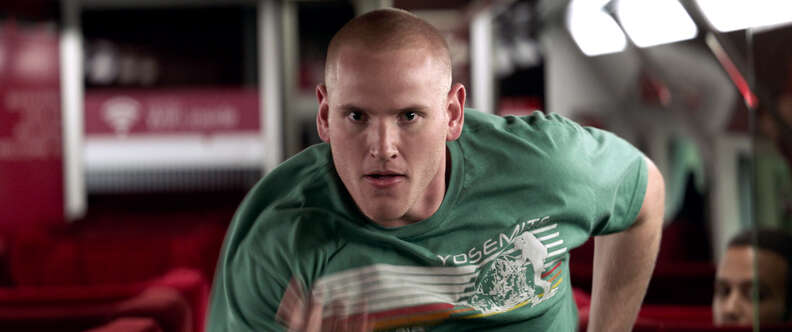 It's not every day that people trained for crisis situations happen to be at the scenes of crises the moment they occur. It's also not every day that their stories make national headlines, much less international headlines, then become autobiographies, and then major Hollywood films directed by major Hollywood filmmakers. Nothing about The 15:17 to Paris, Clint Eastwood's screen adaptation of Jeffrey E. Stern's book The 15:17 to Paris: The True Story of a Terrorist, a Train, and Three American Soldiers, is everyday, and that's before taking into account Eastwood's decision to cast those three soldiers as themselves in an unexpected stroke of neorealist daring. On paper, the film is extraordinary. In theaters, it's prosaic.
Soldiers and lifelong friends Alek Skarlatos and Spencer Stone, along with their pal Anthony Sadler, were on vacation when they boarded Thalys train 9364 from Amsterdam to Paris on August 21, 2015. Ayoub El-Khazzani was also aboard, along with a personal arsenal including an AKM assault rifle, a pistol, a bottle of petrol, and a jaw-dropping amount of ammunition. When El-Khazzani moved to enact violence against the unsuspecting passengers, the trio sprang into action and prevented a tragedy. For their bravery, France's then-president François Hollande decorated them with his country's highest order of merit for military and civilians alike, the Legion of Honour.
The story ends there. So does Eastwood's film, and perhaps with it any chance of future military movies gambling on the acting abilities of actual soldiers to play actual soldiers. That's a multi-layered shame, even acknowledging that The 15:17 to Paris is close to disastrous by the metrics of any movie, not just war or war-adjacent movies.
Films like The 15:17 to Paris tend to come in slick, glossy, and often prestigious packaging, orchestrated by directors known for either commercial success (Peter Berg, Michael Bay) or awards season success (Eastwood, Kathryn Bigelow). Aside from 2012's surprise hit Act of Valor, they're very rarely allowed to be fronted by non-actors, especially when the emphasis isn't on military operation. But the best bits of The 15:17 to Paris hinge on Sadler, Skarlatos, and especially Stone, who is accorded the most screen time. Tthe story of Thalys train 9364 really revolves chiefly around him: Stone bull rushed a man holding a lethal weapon, and he survived when the weapon jammed (and because Khazzani, per Skarlatos' own account, apparently lacked the training to know how to clear it). Even then, he sustained injuries to his head, neck, and hand when Khazzani switched to plan B and started slashing him with a box cutter. He damn near lost his thumb in the fracas.
It's easy to grasp why a screenwriter (being newcomer Dorothy Blyskal) might emphasize his involvement in this scenario above his pals'. Stone bled on the behalf of others. That's heroism distilled into its most basic components. He's also compelling as a screen presence, unpolished as non-actors often are but convincing nonetheless, imposing to watch but obviously the kind of person who befriends people without trying. You can quite literally see yourself buying a beer with him. When he, Sadler, and Skarlatos go partying in Amsterdam, you sorely wish you could tag along. That's their unspoken chemistry, unspoken because the folks charged with erecting a film around their lives in celebration of their courage have no idea what to do with it. Not everyone can be Sean Baker (The Florida Project), or Andrea Arnold (American Honey), or Benh Zeitlin (Beasts of the Southern Wild). Working with non-professional actors requires a touch Eastwood doesn't have, and he doesn't get brownie points for just for trying to pull it off, either.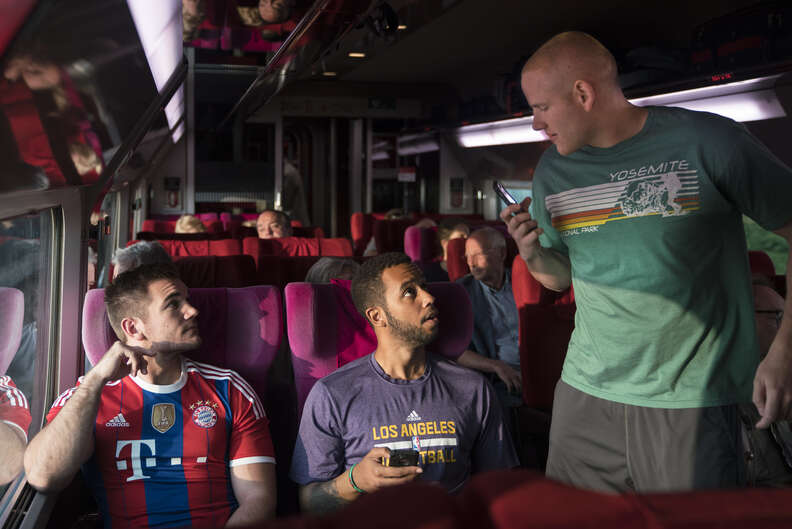 A film starring three friends as themselves shouldn't have to work especially hard to persuade us of their friendship, but if you didn't know better you'd swear these guys are strangers to one another. It's only in hushed moments, or in the film's reenactment of the attack itself, that the film validates our advance belief in their honest camaraderie. Reportedly, Eastwood originally landed on Kyle Gallner, Jeremie Harris, and Alexander Ludwig to play Skarlatos, Sadler, and Stone, respectively. If The 15:17 to Paris began germinating in his mind as a more traditional "salute the troops" style film, rather than an experiment in neorealism, he should've just stuck with his gut instead of wandering into unfamiliar territory.
But there's precedent for this kind of thing in movie history. In Jesse Hibbs' 1955 hit To Hell and Back, imminently decorated combat soldier Audie Murphy plays out his experiences growing up poor in Texas and then his experiences fighting as an infantryman in World War II. In Little Dieter Needs to Fly, Werner Herzog and Dieter Dengler, a German-American Navy pilot and Vietnam vet, take a leisurely trip to Laos and Thailand to revisit Dengler's time as a prisoner of both the Pathet Lao and the Army of North Vietnam. And in Close-Up, director Abbas Kiarostami invites every single person who had a part in the real-life trial of Hossain Sabzian to play themselves in a recreation of the trial and the events leading up to it. (Admittedly, this last one has nothing to do with war, but its influence in this sub-niche of cinema can't be overstated even pertaining to The 15:17 to Paris.)
The difference between these films and Eastwood's is that Hibbs, Herzog, and Kiarostami each do their subjects a service through their art. Eastwood turns a genuinely inspiring story into an overextended morning news fluff piece. Stone, Skarlatos, and Sadler deserve better; heroes deserve the chance to tell their own stories. If there's a lesson to The 15:17 to Paris, it isn't that movie studios should avoid greenlighting projects like it in the future. It's that they should find the right authors to make those projects work.
Sign up here for our daily Thrillist email and subscribe here for our YouTube channel to get your fix of the best in food/drink/fun.
Andy Crump is a contributor for Paste magazine, The Playlist, WBUR's The ARTery, Slant Magazine, The Hollywood Reporter, and Birth. Movies. Death., and is a member of the Online Film Critics Society and the Boston Online Film Critics Association. He is composed of roughly 65% craft beer. Follow him on Twitter @agracru.