Once you pass 30, your social circle all of a sudden has a giant, dramatic rift: those of you who've opted to get married and start families, and those of you who've decided to live happily ever after.
 
We're kidding, of course. Plenty of people couple up in their 30s and enjoy happy, fulfilling lives, but those of us who remain single still find ourselves having conversations on an almost daily basis that, quite frankly, we're getting sick of having. Whether it's with those married pals, our families, other singles, or our newfound younger friends, here are 17 talks we'd rather just avoid.
When you are having children
Oh, about the same time the novelty of complete freedom and world travel gets old. I'll let you know.
 
If you are seeing anyone
Define "seeing." Does "trading emojis on an Internet app" count? Then yes, plenty of people -- keep a lookout for that "Save the Date."
 
Which of their friends' kids you should date
They are never hot.
Anything, literally, ANYTHING involving their kids
Unless we ask... We. Don't. Want. To. Hear. About. Your. Kid.  But seriously, if you've got nothing better to talk about, you were probably pretty boring to begin with.
 
Who you hooked up with Saturday night (AKA, vicarious thrill-seeking)
The pressure you're putting on me by perpetually expecting a Penthouse letter every time you ask about my weekend is exhausting. Sorry to disappoint, but I enjoy a Saturday night of Netflix as much as you do -- I just enjoy it solo.
 
Why you still eat like a teenager
Just because YOU can't still down a bag of chalupas at 3am and wake up 2lbs lighter doesn't mean I can't. It's amazing how being single frees up time for the gym. And in case you missed it, dad bod is real.
 
How you still look so "young"
This is implying that I'm somehow "old." I don't look young, I look only slightly more aged than I did when we were in our 20s. And this is because I either spend a large amount of my money on exfoliant or... wait for it... I DON'T HAVE KIDS.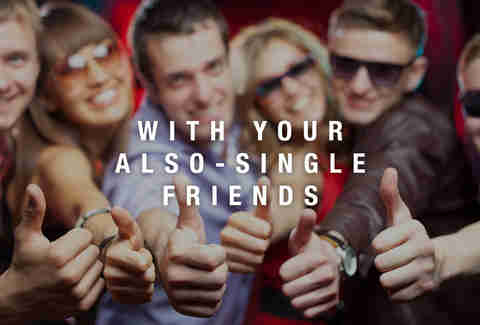 How 30 is the new 20
You mean that age where you were too old for high school parties but too young for bars? SIGN ME UP. But if you wanna use this cute little catchphrase to justify making bad decisions and acting like a college kid, then carry on.
 
How you can't ______ like you used to
Eat, party, exercise, screw, whatever it is, revisionist history has you thinking of yourself as a rockstar at 23. No, you slept 'til noon and felt like shit after a hard night out, just like you do now. Go spend a weekend with a bunch of twentysomethings and see who's getting up at 9am without a hangover. Hint: it's you.
  
How you can't keep throwing money away on rent
It's fantastic that you're trying to assume some kind of "responsibility," but the price of your condo might be the one thing that trumps children on the list of topics that are a solid substitute for Ambien.
The latest workout fads
After a youth spent lifting hard/running 15 miles on concrete, your joints have all of a sudden decided to say, "screw you, pal!" and hurt when you just LOOK at a bench press. Now you spend entire evenings debating the merits of Thai kickboxing vs. P90X.
 
How many years it's been since Appetite for Destruction came out
Twenty-eight. And 24 since "Smells Like Teens Spirit." You're welcome.
 
How awful Millennials are
Careful about being the old man on the porch hurling PBR cans at Millennials and telling them to get off your lawn: first, because depending on what definition you use, you ARE one; and second, once everyone else your age is married with kids, guess who your new best friends are? That's right, you may as well go ahead get on Snapchat now.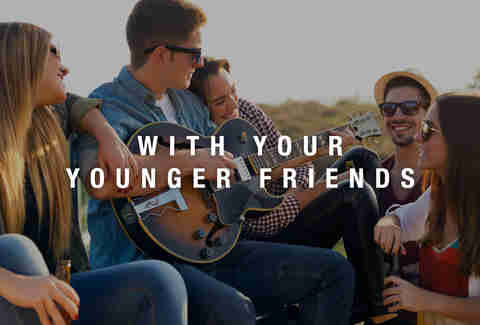 Why you're going home at 2am
Yes, "twentysomething I've befriended because you're infinitely more fun than friends my age," I am leaving. Because I've seen the other side of 2am, and it looks like a nasty case of chlamydia. Also, sleep > Molly.
  
Your date's age
When your date looks at the college diploma on your wall and says "Wow, that's the year I graduated from fifth grade!" the bags around your eyes feel just THAT much heavier.
 
How many people they hooked up with last weekend
That's cool that you still count how many people you've slept with, but at my age, locker-room stories about one-night stands all kind of run together. So do me a favor and act like you've been there before.
 
Anything involving EDM
Paul van Dyk was cool. But the minute you put on Skrillex and started rambling about how he's a "pioneer of music," I started thinking about how maybe having kids doesn't seem so bad.
Sign up here for our daily Thrillist email, and get your fix of the best in food/drink/fun.