Why '1917' Is an Oscar Frontrunner
Universal Pictures
Universal Pictures
It would have been fair to expect that Best Motion Picture, Drama at the Golden Globes would go to one of the films that has been dominating cultural conversation for months now. Nominees like The Irishman, Marriage Story, and Joker have been debated, memed, praised, and trashed all in the course of the lead up to Sunday's ceremony, with the expectation that they would dominate awards season. But instead, all those titles were passed over for a newcomer to the race: 1917. The WWI drama, directed by American Beauty's Sam Mendes, opened in limited release over Christmas and has amassed a sturdy box office haul, but certainly wasn't the most chattered about release in that time period. (Little Women and Uncut Gems had much more buzz.) Still, if you've been paying attention to the Oscar race, 1917 was always one to keep an eye on. Here's everything you need to know about the film that is just now emerging as one of the strongest competitors in the race.
What is it about?
1917 actually has a very simple, linear storyline. Two soldiers (George MacKay and Dean-Charles Chapman) stationed in a trench during WWI are called upon to receive a mission from their general (Colin Firth). Their task is to deliver a message across enemy to another British unit to stop an attack that is ultimately a trap. If they don't succeed, many lives will likely be lost. For one of the young men -- Chapman's Lance Corporal Blake -- the job is personal: His brother is stationed with the troops in jeopardy. So they set out on this treacherous journey, encountering roadblocks and other movie stars (Benedict Cumberbatch, Mark Strong) along the way. Films in which characters must get from point a to point b are nothing new. (See, for instance, Max Max: Fury Road.) Here, Mendes adds another hook: Like Rope and Birdman before it, 1917 is shot by cinematographer Roger Deakins as if it is in one take. The final product evokes not just its cinematic forebearers, but also a whole swath of video games. It often feels like you could play 1917 if someone just handed you the controllers.
So, is it actually all in one take?
No, it's actually not. There are cuts throughout the film, some more obvious than not. (A fade to black, for instance, is a clear sign that the director stopped the action.) Comedian Anna Drezen made the following joke on Twitter, which perfectly sums up the experience of watching 1917 with a bunch of film nerds: "Saw the director's cut of '1917' — that's where you see it at the Century City AMC and whenever there's a stitched-together shot every single dude in the theater goes 'that's a cut right there' in unison."
Mendes has said that the decision to stage the film in this manner was an "emotional" one, telling Vanity Fair: "I wanted to travel every step with these men—to breathe every breath with them. It needed to be visceral and immersive. What they are asked to do is almost impossibly difficult. The way the movie is made is designed to bring you as close as possible to that experience." But, at some points, it's impossible to ignore the artifice of the conceit. 1917 looks challenging to make, and apparently was, according to two lead cast members, who spoke to Thrillist at the end of last year. The crew rehearsed for six months prior to shooting, quite literally mapping out the action so sets could be built around the timing of a scene. Still, despite Mendes' intention some viewers may find themselves getting sucked into the questions of just how it was all accomplished rather than the narrative.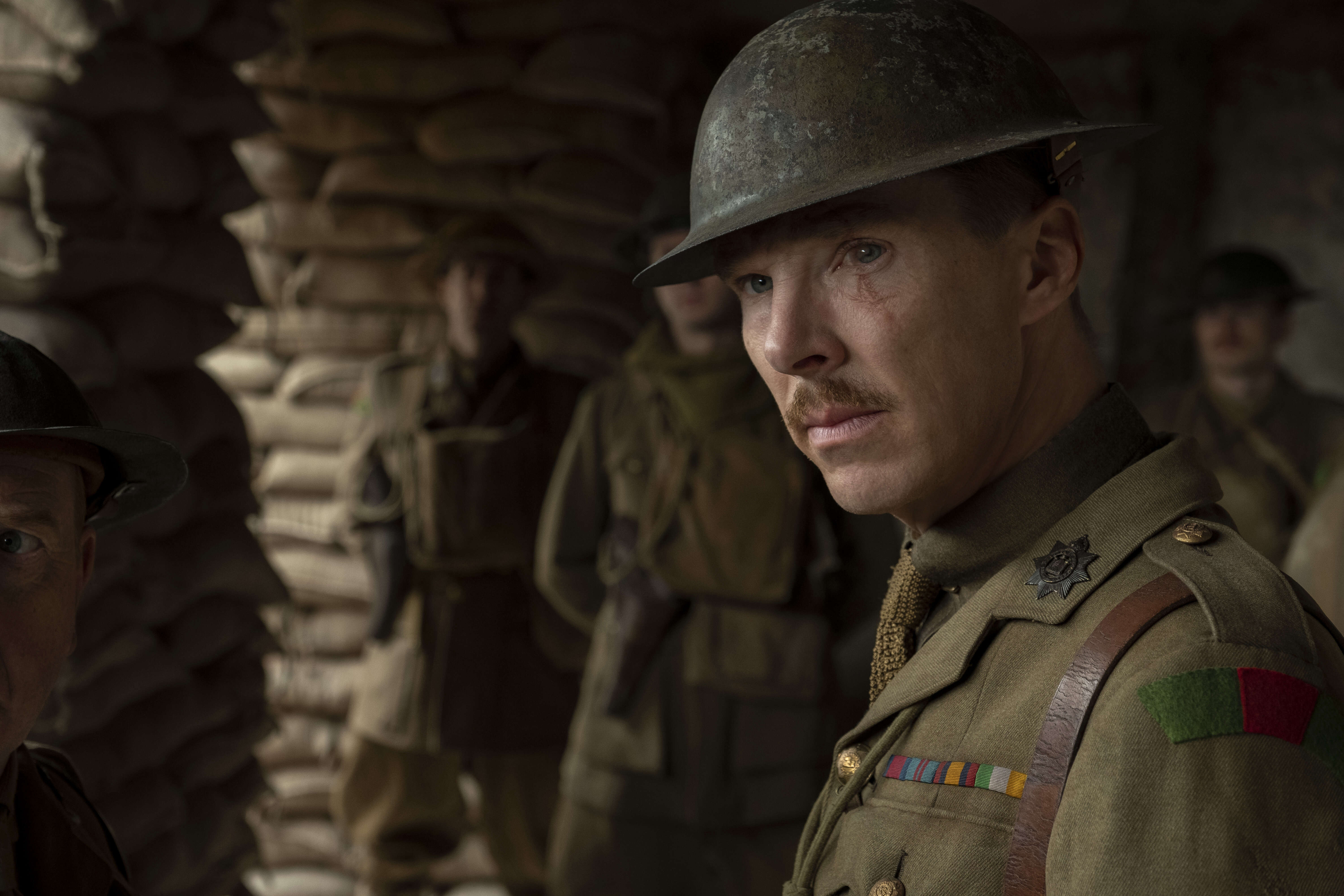 Is 1917 based on a specific true story?
Mendes dedicates the film to his grandfather, Alfred, with a title card that appears after the film is over. But this is not, directly, his grandfather's story. While the seed of the idea for what would eventually become 1917 began with hearing his ancestor's stories from his time in the war, according to the New York Times, Mendes decided to not actually rely on that personal narrative, instead inventing Blake and Schofield with writer Krysty Wilson-Cairns.
So just how many Oscar nominations did 1917 get?
Fresh off a win at the national box office -- beating out Star Wars: The Rise of Skywalker in its expansion -- 1917 amassed a whopping 10 nominations from the Academy. Among them: Best Picture, Director, Original Screenplay, Production Design, Cinematography, Sound Editing, Sound Mixing, Score, Visual Effects, and Makeup and Hairstyling. Meanwhile, it's already amassed other crucial awards season nominations, including recognition from the cinematographers and writers guilds. It's hard to deny that Mendes' achievement is a big one, but it also represents a certain kind of directing that the Academy often rewards to a frustrating degree, favoring flashy technical skill over more subtle work.
Need help finding something to watch? Sign up here for our weekly Streamail newsletter to get streaming recommendations delivered straight to your inbox.