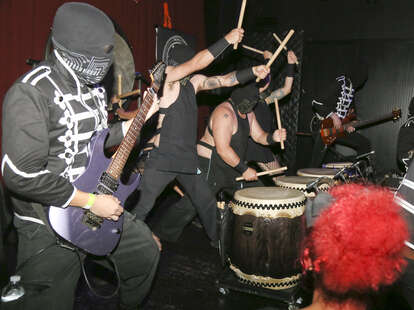 Jack Plunkett
Jack Plunkett
Aliens, Mosh Pits, and Satanic Rituals: 72 Hours at America's Wildest Film Festival
There was enough slack in the chain cuffing me to the karaoke-room wall that, if I stretched my hand just so, I could pick up the autopsied brain to my left. That was about it. Ten minutes into the "Satanic Panic Room," I was stuck. It was up to my fellow Dark Lord disciples to free themselves from similar binds and throw me a key. I'd say more, but the mustachioed cult leader overseeing our ritual forced me to sign an NDA. No one spills the devil's escape-room secrets and lives.
Surviving a Satanic Panic Room is a routine Thursday morning at Austin's Fantastic Fest, the film festival that started as a genre-movie experiment 12 years ago and has grown into a cavalcade of cinema-adjacent experience, driven to redefine the abstract sensation of "holy shit." Contained within the Alamo Drafthouse, a mecca for movie fans, and devised by Drafthouse CEO Tim League, Fantastic Fest is a rowdy, rebellious, ridiculous response to the pop-culture mainstream, even while courting major names and blockbuster titles. If Sundance is where the movie industry goes to discover new talent, Cannes is a hotbed for high art, and Toronto's annual film fest is the unofficial kickoff to Oscar season, then Fantastic Fest is the place where Hollywood cracks open a beer and blows off some steam. League and his team of programmers push to outdo themselves year after year, scouring the planet for the perfect movies and tricking out each night of the seven-day festival with memories that'll break through any hangover.
Having never experienced it myself, I flew down to Austin from New York with 72 hours to kill. Fantastic Fest was happy to provide the lethal blows.
OK, I lied. Before donning a cloak and submitting myself to the Satanic Panic Room, I drank two Bloody Marys in the Alamo Drafthouse lobby, examined a sliced-open female cadaver in the theater hallway (viral marketing -- not as weird as it sounds), and strapped on a headset to undergo the first-ever "virtual-reality cremation." From the VR production company Dark Corner, Mule put me behind the eyes of a dying drug smuggler who -- this is where it gets existential -- witnesses the aftermath of his own demise. Viewers have the choice of burial or cremation. Dark Corner sat me inside a coffin to watch the 360-degree video, but I opted for the fiery conclusion. Fantastic Fest.
The proceedings officially kicked off with Arrival, the new alien-"invasion" movie from Prisoners and Sicario director Denis Villeneuve and an immediate counter to everything I expected from Fantastic Fest -- even if the premiere opened with a laser light show and astronaut chorus line. Villeneuve's tidal film follows a grieving linguist (Amy Adams) shaken back to life when the government tasks her with cracking an alien language. It's a head trip and a tearjerker, breathtaking at times and finely tuned to a universal earthly experience. Fantastic Fest knew what it was doing. My defenses were down, and the crazy was about to start.
The next 24 hours were a Tilt-A-Whirl of moviegoing experiences. There was Boyka: Undisputed, a crime thriller starring Jean-Claude Van Damme disciple Scott Adkins as an MMA fighter driven to kick every Russian goon in the face (and he does). There was Colossal, a run-of-the-mill relationship dramedy that takes on a whole new meaning when it's revealed that the recovering alcoholic making a new life in her childhood town (Anne Hathaway) is psychically tethered to a Godzilla-like monster destroying Seoul, South Korea. There was The Red Turtle, a survival tale from the animation studio behind Spirited Away, where the lone occupant of a desert island gets the hots for a turtle (it's a little more elegant than that, but, you know). There was The Autopsy of Jane Doe, a kooky, creepy, comic-booky horror movie about father-son morticians who take in the most temperamental dead body of their careers -- a surprise at every turn. And then there was A Dark Song, a 180-degree turn: one woman's attempt to shatter her soul for a chance at crossing, even momentarily, to the other side. It's steeped in oppressive darkness, shocking displays of self-harm, and a zealous streak of pagan magic. Or, to be blunt, A Dark Song is really fucking scary.
When the sun sets and the moon rises, Fantastic Fest transforms into a physical manifestation of its cinematic self, giving attendees a chance to live the oddities. On my first night, it was the "Fantastic Debates," where two feuding contestants enter a ring to ask burning movie questions ("Is Rocky IV the greatest boxing movie of all time?" "Are superhero movies ruining Hollywood?" "Is Zack Snyder the most inappropriately maligned director of our time?") and answer them with their fists. Yes, there's gentlemanly debate -- for a few minutes. When the buzzer sounds, the debaters strap on gloves and settle their argument with right hooks and slap-happy jabs. I never thought I'd see Rocky IV star Dolph Lundgren cheer on a scrawny 30-something taking repeated punches to the face in the name of a franchise running out of gas, but dammit, I'm glad I did.
After my final stretch of Fantastic Festing, which included viewings of The Dwarves Must Be Crazy, an adventure movie about a village of Thai little people whose only defense against butt-munching, floating-head demons is their never-ending Three Stooges routine; and Jungle Trap, a schlocky, The Room-like horror movie shot on video in the '90s, recovered and restored by impassioned VHS hounds, and shown for the first time at the festival; I wandered into the Alamo Drafthouse's Highball bar for the most Fantastic Fest-sounding concert ever: Itchy-O, the punk-rock drumline.
Itchy-O describes itself as "a Denver-based percussion-centered electronic performance band," but from the center of a raging mosh pit, it's what Dr. Moreau would splice together from Daft Punk, a Day of the Dead parade, Black Flag, and your college marching band. The 32-piece band consists of taiko drums, theremins, synthesizers, and custom machines that blast steady streams of sonic static into the atmosphere. By the second song, the band's masked players are stirring through the crowd, pushing patrons out of their way, and stoking the chaos. I don't think I hallucinated a Chinese lion emerging through a cloud of sequin fog. Then again, by the time the final mallet dropped, my ears were ringing and I'd lost about 80% of my water weight in sweat. A job well done.
Seventy-two hours just provided a taste of Fantastic Fest. Heading home early, I missed the cannibal movie that made people throw up, J.J. Abrams' restored cut of Phantasm, the documentary about rats, the eating contest designed to make contestants vomit, the Polish mermaid musical, the Indian karaoke night, and the premiere of a new Godzilla movie. The good news: I made it out of the Satanic Panic Room alive and can go back next year, soul intact.
Sign up here for our daily Thrillist email, and get your fix of the best in food/drink/fun.
Matt Patches is a senior editor at Thrillist. He previously wrote for Grantland, Esquire.com, and Vulture. Find him on Twitter @misterpatches.