20 Movies We're Excited to See in 2016
<strong>Midnight Special |</strong> Warner Bros. Pictures
Like the proverbial time and tide, Hollywood's fully stocked release schedule waits for no one. With 2015 behind us, it's time to look ahead: here are the 2016 movies you'll want to circle on your calendars.
13 Hours: The Secret Soldiers of Benghazi
Release date: January 15th
Cast: John Krasinksi, James Badge Dale, Max Martini
Director: Michael Bay
Reason to be excited: The Benghazi attack jumps from your heated holiday dinner discussion to the big screen, courtesy of the guy who brought us four Transformers movies. This should fuel 24-hour news for weeks.
Hail, Caesar!
Release date: February 5th
Cast: George Clooney, Scarlett Johansson, Channing Tatum, Josh Brolin
Director: Joel and Ethan Coen
Reason to be excited: The Coen brothers return to comedy mode for a farcical mystery set in the golden age of Hollywood. This looks like Big Lebowski or Burn After Reading with togas.
The Witch
Release date: February 26th
Cast: Anya Taylor-Joy, Ralph Ineson
Director: Robert Eggers
Reason to be excited: Set in Puritanical New England, this slow burn horror movie scared the bejesus out of everyone at Sundance last year. (Full disclosure: I was one of those scaredy-cats. I have yet to recover.)
Midnight Special
Release date: March 18th
Cast: Michael Shannon, Adam Driver, Joel Edgerton, Kirsten Dunst
Director: Jeff Nichols
Reason to be excited: Nichols' Take Shelter gave the apocalyptic disaster movie a personal twist. Looks like he might do the same for the feds-pursue-extraordinary-boy genre, with the E.T.-like Midnight Special.
Batman v Superman: Dawn of Justice
Release date: March 25th
Cast: Henry Cavill, Ben Affleck, Gal Gadot, Jesse Eisenberg
Director: Zack Snyder
Reason to be excited: Maybe not excited as much as hopeful -- this Man of Steel sequel sets up nine more years of DC Comics blockbusters. Pray for mojo.
Green Room
Release date: April 1st
Cast: Patrick Stewart, Anton Yelchin, Imogen Poots
Director: Jeremy Saulnier
Reason to be excited: Saulnier's previous movie -- the taut, violent, and cheeky thriller Blue Ruin -- is reason enough to be interested in his follow-up. But Green Room's premise, a confrontation between a punk rock band and a white supremacist group, sounds bonkers in its own right. Keep the colors coming.
Barbershop: The Next Cut
Release date: April 15th
Cast: Ice Cube, Cedric the Entertainer, Regina Hall, Common, Nicki Minaj
Director: Malcolm D. Lee
Reason to be excited: The joy of the first two Barbershop movies was their mellow, lived-in, smack-talking vibe. As he did with his Best Man series, Lee approaches Barbershop: The Next Cut as more of a catch-up-with-old-friends -- and a confrontation of the current race tension in America -- than simply rehashing of reliable material. Hell, even Nicki Minaj looks funny.
Everybody Wants Some
Release date: April 15th
Cast: Ryan Guzman, Zoey Deutch, Glen Powell
Director: Richard Linklater
Reason to be excited: Positioned as a "spiritual sequel" to Dazed and Confused, Linklater's Boyhood follow-up brings the sex, drugs, and rock 'n' roll to college. A thoughtful writer-director making a low-brow comedy sounds like an antidote to direct-to-DVD American Pie cash-ins.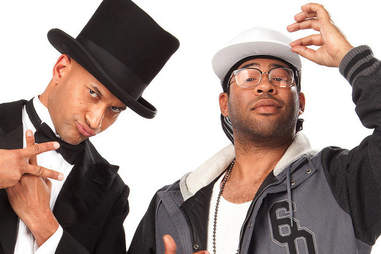 Comedy Central
Keanu
Release date: April 22nd
Cast: Keegan-Michael Key, Jordan Peele, Will Forte, Gabrielle Union
Director: Peter Atencio
Reason to be excited: Anyone mourning the end of Key & Peele should find reason to live with the duo's comedy vehicle. The movie follows two friends who "decide to act like gangster drug-dealers in order to retrieve a stolen kitten." We're imagining Pineapple Express meets Inside Llewyn Davis, and laughing already.
STX Entertainment
The Free State of Jones
Release date: May 13
Cast: Matthew McConaughey, Gugu Mbatha-Raw, Keri Russell
Director: Gary Ross
Reason to be excited: We're not sure how this Civil War–set drama will play into Second Amendment activism, but McConaughey warding off Confederate soldiers sounds like a perfect action-movie alternative.
The Nice Guys
Release date: May 20
Cast: Russell Crowe, Ryan Gosling, Kim Basinger, Matt Bomer
Director: Shane Black
Reason to be excited: If you stumbled upon and adored Kiss Kiss Bang Bang, wondered how Lethal Weapon, Last Action Hero, and The Last Boy Scout managed to squeeze so much quirk into the blockbuster proceedings, and/or tolerated Iron Man 3 for its random Christmas setting, prepare yourself for Black's return to the modestly scaled neo-noir. The pool gag in the trailer should already win awards.
Sony Pictures Classics
Maggie's Plan
Release date: May 20th
Cast: Greta Gerwig, Bill Hader, Ethan Hawke, Julianne Moore
Director: Rebecca Miller 
Reason to be excited: Yes, you need to save your money to see the eighth X-Men movie in May, but you also need see the offbeat love story set in New York City. May Gerwig continue her reign as empress of our "feels."
Finding Dory
Release date: June 17th
Cast: Ellen DeGeneres, Albert Brooks, Diane Keaton, Eugene Levy
Director: Andrew Stanton
Reason to be excited: We flipped over Inside Out, Pixar's first original movie in two years. The Good Dinosaur? Meh. For its lone 2016 release, the company returns to reliable wells, which would be disappointing if Finding Nemo wasn't such a gosh-darned adorable little movie.
The BFG
Release date: July 1st
Cast: Ruby Barnhill, Mark Rylance, Rebecca Hall, Jemaine Clement
Director: Steven Spielberg
Reason to be excited: Spielberg fulfills a life-long dream of directing a Roald Dahl movie, courtesy of the late screenwriter Melissa Mathison (E.T.). We'll wait patiently.
Sony Pictures
Ghostbusters
Release date: July 15th
Cast: Melissa McCarthy, Kristen Wiig, Leslie Jones, Kate McKinnon
Director: Paul Feig
Reason to be excited: 25 years of Ghostbusters threequel talk is finally put to rest with a reboot starring four of the funniest women working today. With Spy, Feig proved he could shoot action as well as he does comedy, though if Ghostbusters is just the four leads sitting around a room talking about ectoplasm, we'll die and go to the nearest containment unit.
Universal Pictures/Frank Marshall
Bourne 5
Release date: July 29th
Cast: Matt Damon, Alicia Vikander, Vincent Cassel, Tommy Lee Jones
Director: Paul Greengrass
Reason to be excited: The Bourne franchise lost its footing when Jeremy Renner replaced Damon in Legacy. The movie we're calling New Old Bourne until they settle on a real title, should course correct, with Supremacy director Greengrass back in the director's chair and a hook -- apparently this installment is very "Edward Snowden aware" -- that freshens it up for 2016.
Kubo and the Two Strings
Release date: August 19th
Cast: Art Parkinson, Charlize Theron, Matthew McConaughey, George Takei
Director: Travis Knight
Reason to be excited: This is the latest from Laika, the stop-motion studio behind ParaNorman and The Boxtrolls. Influenced by images and mythology of the East, the animated film looks like nothing else in the vicinity. Always a plus.
Penguin Publishing Group (Edited)
The Girl on the Train
Release date: October 7th
Cast: Emily Blunt, Rebecca Ferguson, Justin Theroux, Edgar Ramirez
Director: Tate Taylor
Reason to be excited: The best-selling psychological thriller, quickly compared to Gone Girl when it hit shelves last year, is now a Major Motion Picture. We won't spoil the plot details, but Blunt and Ferguson starred in two of the most adrenaline-pumping movies of 2015 (Sicario and Mission: Impossible, respectively). Submit to them.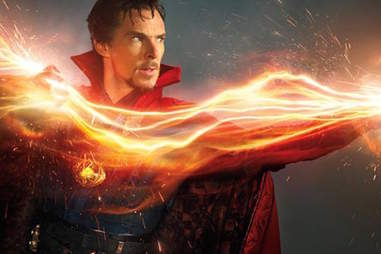 Walt Disney Pictures/Entertainment Weekly
Doctor Strange
Release date: November 4th
Cast: Benedict Cumberbatch, Rachel McAdams, Tilda Swinton, Chiwetel Ejiofor
Director: Scott Derrickson
Reason to be excited: May's Captain America: Civil War looks like a chaotic blob of Avengers cut scenes. It'll serve what it needs to serve. Doctor Strange, on the other hand, should follow Ant-Man by leaping to new bounds of comic-book-movie weirdness. There's magic, there's mystery, there's creepy facial hair -- everything you want out of a Marvel movie.
Walt Disney Pictures/LucasFilm
Rogue One: A Star Wars Story
Release date: December 16th
Cast: Felicity Jones, Ben Mendelsohn, Forest Whitaker, Donnie Yen
Director: Gareth Edwards
Reason to be excited: We went a decade without new Star Wars and suddenly we have our second in under a year. Rogue One will introduce the one-off logic that Disney and LucasFilm hopes will keep the franchise pumping until you die (and beyond -- sorry). Tracking the team that stole the Death Star plans immediately prior to the events depicted in Star Wars '77, Rogue One comes courtesy of Gareth Edwards, who reinvented Godzilla for the modern blockbuster generation.
Sign up here for our daily Thrillist email, and get your fix of the best in food/drink/fun.
Matt Patches is Thrillist's Entertainment Editor. He previously wrote for Grantland, Esquire.com, Vulture, The Hollywood Reporter, and The Guardian. Find him on Twitter @misterpatches.