These Are The 10 Writers You Should Be Reading This Year
Last Thursday, the New York City bookstore Housing Works hosted a reading that included: a fable about a book that comes into being as it's read, an essay about Fiona Apple and obsession, a monologue about the nature of truth and theater and a howling wolf, scenes from a novella about natal charts and witchcraft, and a true story of breakfast in a psychiatric ward. The readers were this year's class of Whiting Award winners, 10 exciting, adventurous writers of fiction, nonfiction, poetry, and drama that earn a cash prize ($50,000 across two years). The wide world may not know the writers' work yet, but these writers know themselves.
"Emerging" can be a vague and fraught label for a writer, even for ones with a strong voice and clear vision. "Emerging is a strange word -- like emerging from what? Emerging from a cocoon? Emerging from a cave? I don't know," said fiction winner Patty Yumi Cottrell, whose first book, Sorry to Disrupt the Peace, came out last year. "I definitely feel like I'm beginning."
"What we really want to do is help someone before they've been largely rewarded by the culture because we see this as a moment of opportunity for writers but also some danger," said Courtney Hodell, Director of Literary Programs for the Whiting Foundation, which has been giving out its literary award since 1985. That's where the cash comes in, which gives the writers a unique kind of freedom, more often associated with awards for established leaders in their fields, like the MacArthur "Genius Grant." "We want to give people room to experiment and to be bold and to continue with their work without having to be so crushed by the expectations of daily life," Hodell said.
The Whiting Foundation solicits one nomination apiece from about 150 industry professionals each year -- editors, teachers, writers, dramaturgs, artistic directors, and booksellers, people who know their field and have a passion for new work. The nominees are whittled down to the winners by a panel of six judges, who are always anonymous -- to each other and to the winners.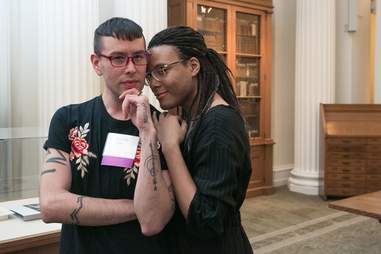 Tommy Pico & Ricky Laurentiis

| Beowulf Sheehan
The judges also write a commendation for each winner. The cash prize has a clear value, and of course a huge impact on a writer's life, but the selection committee's words about each writer's work and promise is another gift, like an anonymous benediction in lyrical prose. Here's a taste:
"Patty Yumi Cottrell's Sorry to Disrupt the Peace is a giddy, furious wallop of a novel. ... Cottrell engages deeply with repulsion, disgust, antipathy, and grief; she refuses entirely to resort to false transcendence. The bravery of this is astounding."
"Tommy Pico's book-length poems are contemporary epics. ... Pico writes poetry of rare brilliance, assured in form and forceful in its interrogation of myth and cultural expectations and self. His ability to move among those spaces gives the work the feeling of an opened ceiling."
"Esmé Weijun Wang sends out revelatory dispatches from an under-mapped land, shot like arrows in all directions from a taut bow of a mind. ... Her work changes the way we think about illness -- which is to say that it changes us."
Wang, who won for nonfiction, told me that winning in that genre was a huge part of what the award meant for her. She won the Graywolf Press Nonfiction Prize in 2016 for her book The Collected Schizophrenias, which earned her the Whiting as well, but the book won't be out for another year. Wang told me, "I never really intended to become an essayist or nonfiction writer or so when I won the Graywolf Nonfiction Prize, it almost felt like a fluke. Once this happened, I kind of had to reckon with myself."
For an emerging writer, especially the bold and experimental voices the award tends to honor, recognition itself is hugely powerful. And the Whitings are positioned to make the most impact possible. There are plenty of awards that are announced dramatically at a ceremony, Oscars-style. There are plenty of awards where the winners know they've won in advance and the ceremony is, well, ceremonial. But rarely do the two coincide. Whiting Award winners are notified months in advance, and then they have to keep one of the biggest secrets of their lives. The secret and the surprise build the award's cachet, which is all part of the boost the foundation wants to give these writers: money to work and name recognition.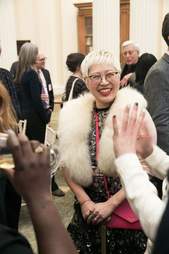 Esme Weijun Wang

| Beowulf Sheehan
"There's something really magnificently celebratory about revealing this cohort all at once," Hodell said. "[It] feels really joyous." Poet Tommy Pico, one of this year's winners, told me, "I'm so bad at keeping secrets. Any time I was in conversation with somebody and they were like, 'So what are you up to?' I just wanted to be like 'I won a Whiting, aaaaaah!' It really did not give a fuck about my inability to keep secrets or hold on to gossip. Like, it just really hit me where I live."
At Housing Works, the day after the awards were given and the secret was out, Pico stood onstage in a sleeveless gray hoodie and salmon-colored jeans rolled up above black boots. He read from what he called a breakup poem in couplets, soaring and winding, full of surprises and humor and pain. But what struck me most, what I wrote in my notes for the evening, was, "Tommy Pico is a fucking star."
All of the Whiting Award winners are, or have the promise to be. (A browse of past winners includes Lydia Davis, Mary Karr, Victor LaValle, Colson Whitehead, David Foster Wallace, and our current poet laureate, Tracy K. Smith.) Maybe it won't be a mainstream-fame, J.K. Rowling kind of stardom, but that's not what the Whiting Awards are about. What matters is that 10 intrepid artists have gotten a bit more (okay, a lot of) space and support for their writing.
Here are the ten 2018 winners, with some of their published work:
Anne Boyer, poetry and nonfiction (A Handbook of Disappointed Fate, Garments Against Women)
Patty Yumi Cottrell, fiction (Sorry to Disrupt the Peace)
Nathan Alan Davis, drama (The Wind and the Breeze, Nat Turner in Jerusalem)
Hansol Jung, drama (Wild Goose Dreams, Cardboard Piano)
Ricky Laurentiis, poetry (Boy With Thorn)
Antoinette Nwandu, drama (BREACH: a manifesto on race in america through the eyes of a black girl recovering from self-hate, Pass Over)
Tommy Pico, poetry (Nature Poem, IRL)
Brontez Purnell, fiction (Since I Laid My Burden Down, Johnny Would You Love Me If My Dick Were Bigger)
Esmé Weijun Wang, nonfiction (The Collected Schizophrenias)
Weike Wang, fiction (Chemistry)
Sign up here for our daily Thrillist email and subscribe here for our YouTube channel to get your fix of the best in food/drink/fun.
Jaime Green's writing has appeared in BuzzFeed, Slate, The Cut, and elsewhere. She is a contributing editor at Catapult and the series editor for
The Best American Science and Nature Writing
. Follow her on Twitter @jaimealyse.