The Ultimate Guide to 2019 Music Festivals
Another year, another slew of major music festivals spread across the country. With so many options, and with travel and ticket costs so great, you can't possibly attend them all. So which one(s) will you choose? Here's a handy guide to just about every American music festival on tap for 2019, with details on what to expect at each of them. We'll be updating this as lineups and additional details are announced, so keep checking back.
Where: Milwaukee, WI
When: June 26-30 and July 2-July 7
Why you should go: Summerfest holds the title as the biggest music festival in the world, and it takes this very seriously. They may run things a little differently -- don't expect a weekend of running from stage to stage -- there are over 12 stages with sporadic, individual concerts featuring dynamic lineups to score tickets to, amalgamating into a total of 800 acts from major stars to local groups in just about every scene imaginable.
Headliners: The biggest shows are headlined by Bon Ever, Jason Aldean, Jennifer Lopez, The Killers, Lil Wayne with Snoop Dogg and Schoolboy Q, Lionel Richie, Ozzy Osbourne, Thomas Rhett, and Zac Brown Band
Other acts to check out: TBD
Where: Chicago, IL
When: July 19-21
Why you should go: A live experience from the digital music publication Pitchfork, the music festival is like an off-shoot of their coverage, featuring some of the most interesting, on trend names in new music, among legends. The actually affordable festival packs three days of new music into Chicago's Union Park, and abandons most of the frills of major fests to create an ambiance centered around the artists' performances more than anything, tailor made for their devoted, music-obsessed readers.
Headliners: HAIM, The Isley Brothers, Robyn, with popular, big names like Belle & Sebastian, Charli XCX, and Pusha-T.
Other names to check out:Lala Lala, the indie rock act from Lillie West, packs a gut-wrenching punch into seemingly easy-breezy guitar numbers that sharply address her struggles with addiction head on; singer-songwriter Tasha will also knock the wind out of you with her voice resonant of the old-age soul singers and poetic compositions.
Where: Detroit, Michigan
When: July 27-28
Why you should go: Right on the Detroit River in West Riverfront Park, this boutique-y festival is like an homage to the underrated cultural center that is Detroit, highlighting its passion for music and local artisan businesses. While Mo Pop may have a slimmer lineup than more mainstream events, the trendiest names in music fills out the bill, even pulling some of the most in-demand headliners. (If you're looking to see one of Vampire Weekend's select American festival sets, this is sure to be their most intimate festival performance.)
Headliners: Tame Impala and Vampire Weekend, and Ella Mai, Kali Uchis, and Lizzo also fill out the stellar lineup
Other acts to check out: While traveling across the Pacific Northwest in his camper converted into a home, Griff Washburn records psychedelic bedroom pop as Goth Babe with sounds that are so naturalistic and sunny, they're meant to be played at an outdoor festival. And if you need to be in your feelings, the young indie rock outfit Snail Mail always puts on raw shows with frontwoman Lindsey Jordan's lyrics forever cathartic and piercing.
Where: Chicago, IL
When: August 1-4
Why you should go: Possibly one of the main festivals still committed to curating the best of the best on its immense lineup, Lollapalooza is Chicago's classic summertime bash. Now spanning four days, Lolla never has a dull moment with longtime favorites lighting up Grant Park at night while popular mainstream and buzz-worthy indie artists provide non-stop music throughout the sunny afternoon.
Headliners: Ariana Grande, Childish Gambino, Twenty One Pilots, The Strokes, with additional draws like H.E.R., Meek Mill, Tame Impala, and 21 Savage
Other acts to check out:Beach Bunny is a native Chicago band led by Lili Trifilio that treads between emo and alt-pop, while consistently personifying 21st century internet sad girls and feminine woes through song; and coming from across the globe is Boy Pablo, a Norwegian band hailed by a Norway-by-Chile transplant Nicolás Pablo Rivera Muñoz, who creates sheer joyful, jangle pop.
Where: San Francisco, CA
When: August 9-11
Why you should go: San Francisco's main music event is one that's golden. Of all festivals, Outside Lands often features the most interesting roster of artists that stands apart from other fests, giving everyone just what they're looking for, from indie fans looking for a new favorite unknown group and electronic die hards more than enough DJs to dance to. And with its picturesque San Fran setting, it's an experience unlike any other major city festival.
Headliners: Paul Simon, Childish Gambino, and Twenty One Pilot, but some of the more interesting draws include Anderson .Paak, Better Oblivion Community Center, Flume, and Hozier
Other acts to check out: For an especially hot set, be sure to check out CupCaKke, a Chicago rapper whose reclaiming the raunch in rap with humorous and explicit tracks from a queer, female perspective; and then to chill out a bit, MorMor is an indie-pop multi-instrumentalist from Toronto who makes songs that are sure to soothe as if they're atmospheric, poppy lullabies.
Where: Chicago, Illinois
When: September 13-15
Why you should go: If you're a fan of emo, alt rock, and pop punk music, Riot Fest is the festival to go to. The event continues to steadily grow from its humble origins as a series of showcases in venues around Chicago to a major event in Douglas Park, meaning its lineup keeps getting more exciting to include the best bands just on the cutting edge of breaking out. Where most fests stray away from underground emo groups, Riot Fest revels in their tunes.
Headliners: Blink-182, Slayer, Bikini Kill, The Raconteurs, and Rise Against, and if that wasn't great enough, other big names include Patti Smith, Ween, Violent Femmes, and many, many, more
Other acts to check out: Ultra Q, the Oakland band formerly known as Mt. Eddy and fronted by Billie Joe Armstrong's son Jakob Danger Armstrong, is a young, ecstatic group that makes weird, new wave-ish rock you might not expect from Gen-Zers, but they do, and do it so, so well. You also best see White Reaper whose rip roaring garage punk is as self-indulgent as '80s arena rock and all in good fun to get you dancing.
Where: Las Vegas, Nevada
When: September 20-22
Why you should go: Events are going on nonstop in Vegas, but Life Is Beautiful is the ultimate weekend that encapsulates exactly what's so great about the over-the-top epicenter. The festival takes over the Downtown area, transforming the streets into venues for major musicians, while also hosting artistic and culinary events. It's like getting a taste of all of Vegas' glitz concentrated into three packed days... all while seeing your favorite pop acts.
Headliners: Chance the Rapper, The Black Keys, Post Malone, Billie Eilish, Vampire Weekend, as well as Zedd, Louis the Child, and Portugal. The Man
Other acts to check out: LA's MUNA makes the kind of sensual synth-pop you imagine crying to in the club -- and they already got the co-sign from Harry Styles by opening for him on the first leg of his stadium tour, so these ladies are more than worth checking out. Then, if you're in need of a good mosh pit, The Regrettes make feminist punk that's unabashedly girlish and fun, injected with nostalgic, witty '50s girl group vibes.
Where: Asbury Park, NJ
When: September 21-22
Why you should go: Set right on the Asbury Park Waterfront, this beachy fest is a celebration of both art and the ocean. In only its second year, the exciting new event not only touts a unique lineup of rock artists, but features surfing sessions with pro-surfers across the two days and highlights initiatives on sea sustainability. So it's safe to say if you're a beach bum and can't be bothered to spend your summer weekends anywhere but the sand and boardwalk, this is the fest for you.
Headliners: Dave Matthews Band and The Lumineers, plus draws like Rainbow Kitten Surprise and a handful of legacy acts including Joan Jett and the B-52s
Other acts to check out: If you have a penchant for alt-rock, LA's The Wrecks make contemporary, radio-friendly alternative that's jacked up with a hint of noise to turn their gigs into lively pop-punk sets. And to tone things down a bit, British songwriter Jade Bird alternates between power ballads and outlaw-ish rock fueled by her twangy, vigorous voice.
Where: Austin, TX
When: October 4-6 and October 11-13
Why you should go: Music never stops in Austin -- even well into the fall when festivals around the country die down. In fact, in autumn they hold the largest festival of the season. A destination for headlining classics, as well as the best of the best across emerging talent in all genres, the massive festival running two consecutive weekends is representative of what the Austin scene and its love for music has to offer year after year.
Headliners: Guns N' Roses, Mumford & Sons, Childish Gambino, The Cure, Cardi B, Billie Eilish, Tame Impala, and Robyn, with additional highlights like Lizzo, Lil Uzi Vert, and Kali Uchis
Other acts to check out: Atlanta singer-songwriter Faye Webster's folk is somewhat woozy, informed by her varied backgrounds dipping into an alt-country Southern upbringing and hometown hip-hop scene, altogether creating something romantically Americana for 2019. Megan Thee Stallion is another killer Southern artist -- a rapper rising triumphantly in the Houston scene who spews sexually charged raps in a quick style drawn from the cypher scene she came up in.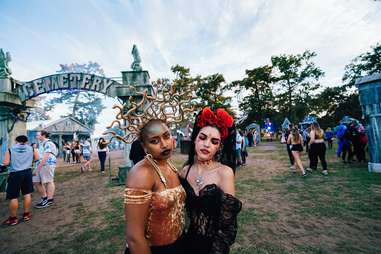 Where: New Orleans, LA
When: October 25-27
Why you should go: Spending Halloween in the traditionally festive and always-down-to-party New Orleans is unlike anywhere else -- but Halloween at a large-scale music festival in NOLA? That is an otherworldly amount of energy to enjoy on the spooky holiday. With so many electrifying acts invited down to the bayou and most attendees arriving in costume, Voodoo Fest is definitely one of the remaining music festivals with the most personality, paying homage to the art, spirituality, and culture of its Southern home.
Headliners: Guns N' Roses, Post Malone, and Beck, as well as draws like The National, Interpol, and Brandi Carlile
Other acts to check out: Njomza is a rising R&B singer bringing soul closer to pop and was championed by the late Mac Miller, who signed her to his label several years ago, so be sure to watch her set to discover what the rapper saw in her. Voodoo itself also does a solid job seeing the value in new acts, like Hello Yello, an Oakland-based group expanding what rock can sound like, combining grunge and noise with alt-R&B sounds to develop a new kind of Cali vibe.
Sadie Bell is the entertainment editorial assistant at Thrillist and she really, really loves music festivals. She often tweets about good music at @mssadiebell.