Another year, another slew of major music festivals spread across the country. With so many options, and with travel and ticket costs so great, you can't possibly attend them all. So which one(s) will you choose? Here's a handy guide to just about every American music festival on tap for 2019, with details on what to expect at each of them. We'll be updating this as lineups and additional details are announced, so keep checking back.
Recommended Video
Here's Everything You Missed in the 'Deadpool 2' Trailer
Where: Austin, TX
When: March 11-17
Why you should go: Along with overlapping festivals for film, interactive, and comedy, SXSW has been a big draw for Austin for decades. The music portion, with countless showcases of emerging and established talent happening all over town at just about every hour, is arguably the most thrilling part of the annual event. Chances are good you'll find a favorite new act before everyone discovers them a year from now.
Headliners: SXSW doesn't have headliners, per se, but will have Atlanta indie stalwarts Deerhunter, alt-rock legends Swervedriver and Versus, and, for some reason, Wyclef Jean.
Other acts to check out: The orchestral contemporary folk music of New York City's Oliver Kalb, aka Bellows, which adorns its sound with electronic elements and eclectic production; and the surf-indie-rock of T-Rextasy, a Brooklyn four-piece boasting liberal-arts-kid lyrics that run like a smart girlish rap about entitled boys and women's issues.
Where: Boise, ID
When: March 20-24
Why you should go: Despite its sprawling greenery and vast mountains, Idaho's a largely overlooked state, and its music scene is even more overlooked. To bring attention and more crowds to the great potato state, Treefort Fest came into existence in 2012 and has only grown in size and popularity since. Unlike many larger, corporate festivals, Treefort features a vast, eclectic lineup of primarily indie artists to make for a unique experience in the woodsy Northwest.
Headliners: Treefort doesn't officially name headliners, but the big draws this year are Toro y Moi, Liz Phair, Angelique Kidjo, Vince Staples, and Built to Spill.
Other acts to check out: Anemone, an expansive, live synth pop collective led by songwriter Chloé Soldevila that will remind you about the romantic beauty of being on the dance floor; the Minneapolis-based indie-pop group Bad Bad Hats, best characterized by its front-woman Kerry Alexander's pristine vocals and sweet, witty songwriting; and Naked Giants, a guitar-wielding power-pop trio from Seattle armed with loud, ridiculous rock songs that will get you on your feet.
Where: Miami, FL
When: March 29-31
Why you should go: Miami is synonymous with the electronic scene, meaning Ultra is the seminal music event of the year in the lively Florida city. Major EDM stars spin tracks into the early hours on the beach, while new acts show off their beat-making skills on smaller stages. So if you've got to have that classic drop, Ultra is where you need to be.
Headliners: Ultra books approximately 100 headliners, so we won't list them all here, but on the DJ side they include Martin Garrix, The Chainsmokers, and Marshmello, and on the live music side they include deadmau5 and Odesza.
Other acts to check out: TBA
Where: Indio, CA
When: April 12-14 and April 19-21
Why you should go: At this point, Coachella has become less about the music and more of a social gathering to be seen at. But nevertheless, it's a huge deal that turns the typically barren desert outside of Los Angeles into the hottest event of the spring. Coachella packs its expansive lineups (and its exclusive party lounges) with the biggest names in music and will be all over your 'gram whether you want it to or not.
Headliners: Childish Gambino, Tame Impala, and Ariana Grande, with the 1975, Weezer, Kid Cudi, Janelle Monáe, and DJ Idris Elba thrown in for free.
Other acts to check out: The eight-piece indie-pop band Superorganism, which pieces together buzzing and glittery elements out of their London; and the mystical neo-soul of Josiah Wise's serpentwithfeet, whose angelic voice elevates the beauty of the queer romances he writes about to be something of a higher power.
Where: Atlanta, GA
When: May 3-5
Why you should go: While most major music festivals begin to move into entirely pop territory, Shaky Knees holds its own as a rock festival with a lineup featuring primarily indie rock greats and up-and-coming guitar-based bands.
Headliners: Tame Impala, Beck, Cage the Elephant, and Incubus lead a packed lineup.
Other acts to check out: Singer-songwriter Lucy Dacus, who tells confessional stories via expansive rock tracks as heard on one of the best albums of 2018; and Peach Pit, a band that combines summertime surf sounds with poignant, angsty lyrics.
Where: Gulf Shores, AL
When: May 16-19
Why you should go: Hailing directly from the Gulf Shore, this pop festival plays right on the beach to make for the perfect introduction to summer. Hangout draws the hottest names across music, especially what's prevailing in the mainstream so you can kick off the season by dancing under the sun and in the sand to today's hits.
Headliners: Travis Scott, The Lumineers, Khalid, Vampire Weekend, Cardi B, and Kygo, with The 1975, Hozier and Diplo also on the bill. 
Other acts to check out: Label mates and prodigies of the 1975, Manchester's Pale Waves channel '80s new wave, while tapping into contemporary production and writing soulful lyrics straight out of your favorite movie that doesn't exist; and Shame, a gritty, London-based garage-core band which amps up the guitars and the punk attitude.
Boston Calling
Where: Boston, MA
When: May 24-26
Why you should go: The past several seasons, Boston's largest festival has maintained its stake as one of the most interesting music events, straying away from the same names featured on every other lineup to include more unique, emerging talent. With large and niche acts across hip-hop and rock, the fest dedicated to music and its art events is one for those devoted to actually seeing some stellar sets.
Headliners: Twenty One Pilots, Travis Scott, Tame Impala, as well as sets from Janelle Monae and Anderson.Paak
Other acts to check out: Singer-songwriter Sidney Gish writes with a free flowing wit that will inevitably make you both laugh and cry even at a festival set, and to make up for those tears, you best see White Reaper whose rip roaring garage punk is as self-indulgent as '80s arena rock all in good fun to get you dancing.  
Where: Napa, CA
When: May 24-26
Why you should go: BottleRock takes the food, drink, and music fest, and combines them into a one-stop weekend. BottleRock offers the best bites and drinks from trendy food trucks and restaurateurs -- and with their lineup of the greatest bands in the indie scene, they appropriately tap into your ears' taste buds, too, to great the ideal Cali summer experience.
Headliners: Imagine Dragons, Neil Young, and Mumford & Sons, plus Pharrell Williams, Santana, Tash Sultana and many more boldface band names on the ticket.
Other acts to check out: Adrian Galvin may have the rustic vocals of a folk singer, but he takes his sincere lull and songwriting to a pop space as its intertwined with crystalline production in his indie pop project Yoke Lore; after his departure from Paramore, drummer Zac Farro went on to form his own solo project, HalfNoise, in which lo-fi partners psychedelics as if they were always a sweet, obvious pairing.
Where: Cincinnati, OH
When: May 31-June 2
Why you should go: Festivals may be heavy along the East and West Coast, but that doesn't mean the Midwest doesn't have its fair share of great events. Ohio's Bunbury, for example, typically gathers a roster of solid, major rock headliners to claim stake as an excellent alternative festival. On top of that, they also host a handful of must-see hip-hop up-and-comers to really celebrate the music in this early summer event hailing from downtown Cincinnati.
Headliners: TBA
Other acts to check out: TBA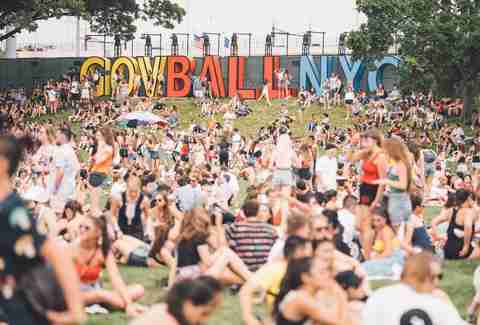 Where: New York, NY
When: May 31-June 2
Why you should go: There's an unwritten consensus in New York that summer doesn't officially kick off until Governors Ball commences in the city on Randall's Island. Reflective of its hometown, Gov Ball always has a diverse lineup across all genres, run with a fun-loving attitude, and although in the past several years its lineup has moved into a more pop-focused space with younger audiences in mind, it remains an unapologetically New York experience.
Headliners: Tyler, the Creator; Florence + the Machine; The Strokes; plus the potent sounds of Mitski, Lil Wayne, Nas and SZA make this one hard to top.
Other acts to check out: The nostalgic rock sounds of Sunflower Bean, and you might as well gander at Stranger Things star Finn Wolfhard's four-piece Calpurnia, which offers wistful alt-country and sincere musicianship.
Where: Manchester, TN
When: June 13-16
Why you should go: Even as camping festivals become more of a luxury experience, or remove that rough element entirely, the 'roo lives on and prevails because of it. With its all-night dance parties, extremely extensive lineup, and embrace of anything goes camping culture, Bonnaroo is a sort of mecca of major fest heads, and the place to be if you're down for just about anything. It's basically the quintessential festival experience.
Headliners: Grand Ole Opry radio show with TBA lineup, two sets from Phish, Childish Gambino, Post Malone, and performances by the great Kacey Musgraves and Solange
Other acts to check out: Making minimalistic beats out of her bedroom, recording artist Clairo has become the purveyor of what the future of pop is set to sound like with her music fit for the lonely girl internet age; fronted by Clementine Creevy, whose airy soprano provides the perfect dichotomy for the groups in-your-face, sticky, sweet indie rock. 
Where: Dover, DE
When: June 26-30 and July 2-7
Why you should go: Just outside of the tristate area, Firefly draws in crowds from all around to the otherwise unsuspecting Delaware woods. Firefly is largely based in pop music, though frequently features it artists from a variety of genres as its headliners, turning upstate into a youthful haven throughout June, as fans are ready to camp it out in the rustic setting in trade for afternoon to late night parties.
Headliners: Death Cab for Cutie, Courtney Barnett, Panic! at the Disco, Post Malone
Other acts to check out: New Jersey-originated rapper 070 Shake, aka Danielle Balbuena, blends danceable house-inspired beats with minimal, singsong vocal cadence; Rubblebucket, purveyors of wild indie pop; Emo Nite, a popular party-throwing crew that'll be laying down tracks from the popular '00s MySpace bands.
Where: Milwaukee, WI
When: June 26-30 and July 2-July 7
Why you should go: Summerfest holds the title as the biggest music festival in the world, and it takes this very seriously. They may run things a little differently -- don't expect a weekend of running from stage to stage -- there are over 12 stages with sporadic, individual concerts featuring dynamic lineups to score tickets to, amalgamating into a total of 800 acts from major stars to local groups in just about every scene imaginable.
Headliners: Bon Iver, Lord Huron, Julien Baker are the bigs, with other shows by Jason Aldean, Ozzy Osbourne and Megadeth
Other acts to check out: TBD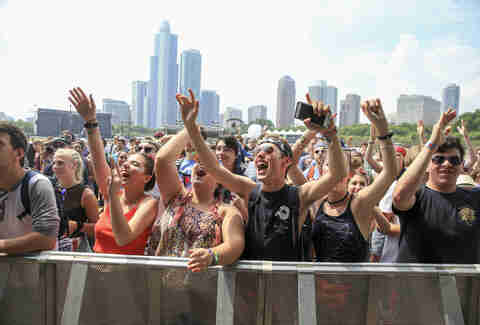 Where: Chicago, IL
When: August 1-4
Why you should go: Possibly one of the main festivals still committed to curating the best of the best on its immense lineup, Lollapalooza is Chicago's classic summertime bash. Now spanning four days, Lolla never has a dull moment with longtime favorites lighting up Grant Park at night while popular mainstream and buzz-worthy indie artists provide non-stop music throughout the sunny afternoon.
Headliners: TBA
Other acts to check out: TBA
Where: San Francisco, CA
When: August 10-12
Why you should go: San Francisco's main music event is one that's golden. Of all festivals, Outside Lands often features the most interesting roster of artists that stands apart from other fests, giving everyone just what they're looking for, from indie fans looking for a new favorite unknown group and electronic die hards more than enough DJs to dance to. And with its picturesque San Fran setting, it's an experience unlike any other major city festival.
Headliners: TBA
Other acts to check out: TBA
Where: Austin, TX
When: October 4-6 and October 11-13
Why you should go: Music never stops in Austin -- even well into the fall when festivals around the country die down. In fact, in autumn they hold the largest festival of the season. A destination for headlining classics, as well as the best of the best across emerging talent in all genres, the massive, two-consecutive-weekend-long festival is representative of what the Austin scene and its love for music has to offer.
Headliners: TBA
Other acts to check out: TBA