The Best Albums and Live Music Heading Your Way This Fall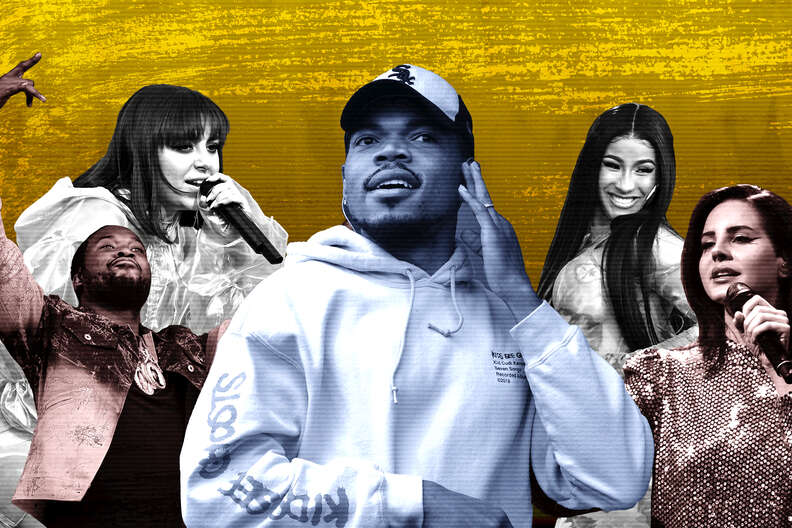 Frannie Jiranek/Thrillist
We've already been treated to some killer albums and songs this year, but many more are on the way. Here's a curated rundown of all the best music, tours and festivals to look out for the rest of 2019.
To find even more stuff to entertain you this fall, read our guides to upcoming movies, TV shows, and books.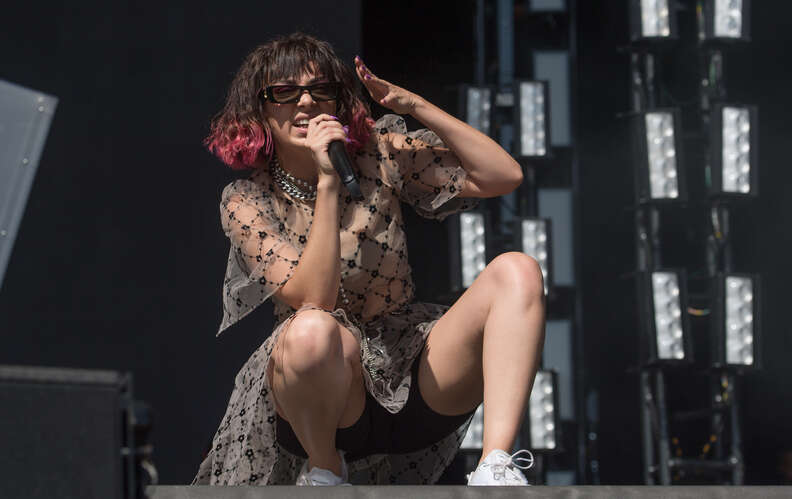 9 Albums to Look Out For
Charli XCX, Charli
Release date: September 13
British singer-songwriter Charli XCX has been declared the "the future of pop music" by critics since she debuted her weirdo dance party hits in the early 2010s. Well, the future has arrived, baby, because the pop experimentalist's third official full-length and self-titled record Charli is here to (hopefully) unleash her talents upon the mainstream. Her frenetic take on pop feels designed to win over cynics, charming listeners with shiny, brazen hooks and clever, whip-smart lyrics. With names like Lizzo, Troye Sivan, Haim, and Clairo contributing to it, Charli, which includes the killer single "Gone" featuring Christine and the Queens, could be one of the best albums of the year. -- Sadie Bell
Vivian Girls, Memory
Release date: September 20
After announcing their break-up in 2014, Brooklyn's Vivian Girls all traveled West to Los Angeles, where the trio has reconnected to record their follow-up to 2011's Share the Joy. Judging from the raucous energy of early tracks like "Sick" and "Something to Do," the change in location hasn't hindered the garage rock band's deft ability to discover jubilant, infectious hooks in squalls of feedback-filled noise. There's a balance to the songwriting, a focus on structure and craft, that distinguishes the band from their more ramshackle indie rock peers. In the last few years, members Katy Goodman, Cassie Ramone, and Ali Koehler have pursued solo projects and recorded with other bands, but it's refreshing to hear the three get back to their fuzz-rock roots. If you find yourself pining for the DIY basement shows of the late '00s, Memory should do the trick. -- Dan Jackson
Sturgill Simpson, Sound & Fury
Release date: September 27
Though he won't be popping up on the big screen this fall in the now cancelled Blumhouse thriller The Hunt, where he reportedly had a role playing a character named "Kid Rock," Sturgill Simpson remains unafraid of walking a stranger path than many country songwriters. For his follow-up to 2016's Grammy-winning A Sailor's Guide To Earth, the Kentucky-born singer has recorded what he calls his "heaviest" and "most psychedelic" album yet. But, to be honest, that's not really super surprising: Simpson has often shown a fondness for loud, cosmic-minded jams. What's surprising is that he'll also be releasing a companion anime movie on Netflix that goes with the record, which has an appropriately explosion-filled trailer. Pretty wild. -- DJ
DIIV, Deceiver
Release date: October 4
Two years ago DIIV frontman Zachary Cole Smith told himself and his fans that he needed to stop kidding himself. After struggling with drug addiction for much of his young adult life in the spotlight, he moved towards recovery and wrote an incredible album, Is the Is Are, about the experience. And then he relapsed, suffering in private before announcing he was checking himself into rehab. Now, he's back with the release of his shoegaze band's third album, which the group recorded in Los Angeles with producer Sonny Diperri. With a more hardened sense of reality, their hazy guitars sound heavier than ever on the first single "Skin Game," as if bearing the weight of Smith's self-reflection. Expect another solid, sobering effort from the group. -- SB
Angel Olsen, All Mirrors
Release date: October 4
"At least at times it knew me," sings Angel Olsen on the title track to her upcoming album All Mirrors, the follow-up to 2016's synth-speckled My Woman. In the context of the song, she's singing about the perils and pleasures of staring at a reflective surface, gazing back at a version of yourself that doesn't always match up with your self-perception or your memory. But she could also be talking about the way her music has changed in the last decade: The dark symphonic menace of All Mirrors, which she recorded with a 14-piece orchestra, will likely be a far cry from the haunting, stripped-down folk whispers of her early records. Whatever musical persona Olsen chooses to embrace here, we're ready for it. -- DJ
Guided by Voices, Sweating the Plague
Release date: October 25
Sometimes it's wise to check in on a band that might have fallen off your radar for a bit. Guided by Voices, the maniacally prolific indie rock outfit fronted by Robert Pollard, is a group that's rightfully celebrated by fans and critics for their spectacular run of lo-fi and power-pop albums from the early '90s to the beginning of the '00s. While the new record -- the band's third (!) this year already -- might not measure up to masterpieces Bee Thousand or Alien Lanes in your personal GBV canon, Pollard remains a gifted, nimble songwriter capable of dropping an earworm at any moment, which you can tell from the album's first single, "Heavy Like the World." Plus, at a relatively punchy 12 songs, Sweating the Plague is the most streamlined of the three 2019 albums. -- DJ
Sky Ferreira, Masochism
Release date: TBA
It's been a long road to the release of Sky Ferreira's sophomore album Masochism, the follow-up to her 2013 full-length debut Night Time, My Time. Although Ferreira has been busy starring in fashion campaigns and delving into acting, with roles in Baby Driver, Twin Peaks: The Return, and Lords of Chaos, her new record has been on hold due to more than just creative endeavors. While hints about the album have trickled out in the five years since Night Time, she shared a statement in summer 2018 clarifying that she is, in fact, busy with Masochism and that its release has been held back for reasons beyond her control. Luckily, 2019 will likely be the year we get to hear what she's been working on, and it should be out within the last quarter. If the rest of the record's like her lead single, "Downhill Lullaby," it should be a beautifully dark, rock-infused collection powered by the songwriter's personal growth over the last few years. -- SB
Somos, Prison on a Hill
Release date: out now (digital); TBA (other formats)
Boston's pop punks saviors Somos went on hiatus in 2016. The cult band was determined to spend time on social activism, but their break was a lot shorter than originally planned and they wrote enough political anthems to make this new record. While the group's reunion was met with excitement by fans, the album's release was struck with tragedy in August when founding member and guitarist Phil Haggerty died at age 28. His passing prompted the band to release the new album early via Bandcamp and their label to release it on streaming services, although it's officially due out in other physical formats sometime this fall. The powerful, resonant record sounds like the group spent a lot of time listening to the genre-warping rock of today, a la The 1975, and transformed their brand of post-hardcore to a more synth-y aesthetic. It's impossible not to feel their reverberating, exhilarating aspirations for a better world. -- SB
SZA, TBA
Release date: TBA
According to SZA, her album is coming out "soon as fuck." That exact date may not be confirmed yet, but it's been over two years since the R&B singer's album Ctrl dropped, garnering her a Best New Artist nomination at the 2018 Grammys and making the TDE label signee a household name. It's hard to say where her sound is going, but more collaborations might be in the works. Ctrl featured appearances from frequent collaborator Kendrick Lamar and Travis Scott, and videos recently surfaced of SZA in the studio with the likes of Lizzo and Megan Thee Stallion -- so we could be transitioning from Megan's "Hot Girl Summer" to a characteristically somber Sad Girl Autumn led by SZA. -- SB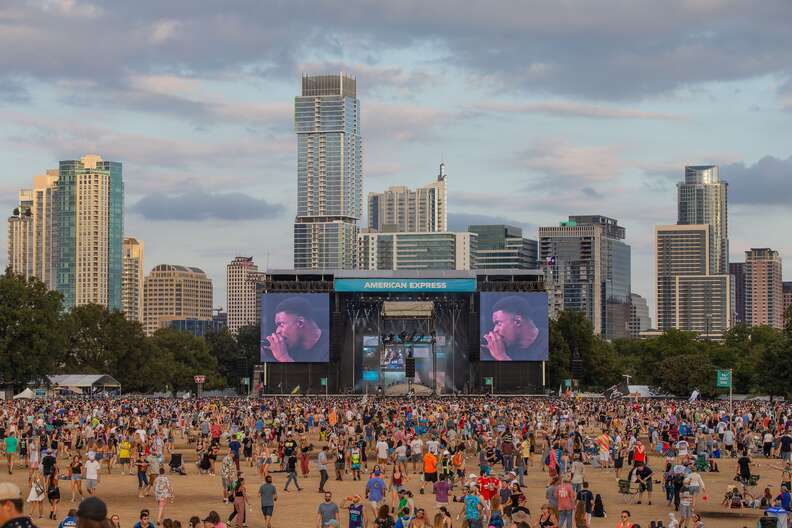 3 Fall Music Festivals to Consider
Riot Fest
Where: Chicago, IL
When: September 13-15
Why you should go: For 15 years, Riot Fest has been drawing crust punks and emo fans alike to Chicago for a festival that really gives a shit about the music. It may have started as an initiative featuring a series of concerts thrown at venues throughout Chicago, but it's grown every year since, and for their anniversary, they've upped the ante even more. For alt fans, the lineup is absolutely insane with legends like Bikini Kill, Blink-182, Wu Tang Clan, and Patti Smith leading the charge, and there's no shortage of thrilling, rising rock acts, too. Plus, unlike most fests, shameless pop punk fans are given the opportunity to thoroughly geek out with Riot Fest's lineup of front-to-back album performances by artists like Wen, Dashboard Confessional, and more. Rock on, baby! -- SB
Austin City Limits
Where: Austin, TX
When: October 406 and October 11-13
Why you should go: Austin City Limits is literally the largest music festival of the fall. It's two weekends long and features over 125 acts, some of which are the most popular, innovative names in music past and present. It also happens to be set in one of the coolest music cities in the nation, adding to the appeal. Cardi B's been busy playing the festival circuit this year, and she'll be bringing her stand-out set down to ACL, along with the other recent phenom Billie Eilish and legacy acts like Guns N' Roses and The Cure. With the diverse emerging acts filling out the lineup, too, there's more than a little something for everyone at the Live Music Capital's main fest. -- SB
Voodoo Music + Arts Experience
Where: New Orleans, LA
When: October 25-27
Why you should go: If part of the music festival draw for you is the experience itself, there's no other experience quite like Voodoo Fest. It's intentionally held around Halloween, and set in the always festive NOLA, so the weekend is just as much as a celebration as it is a music fest. Meaning, yes, you can jam out to headliners like Post Malone and Beck, or any of the unique, emerging names from just about every genre on the lineup while in costume. One of the best parts of fall is the fact that it's Spooky Season, so why not combine that with your love for music? -- SB
As for just about every other major music festival, be sure to check out our comprehensive guide to 2019 fests to see which events are worth attending.
5 Tours You Should Check Out
Chance the Rapper, The Big Day Tour
The Big Day, the long-awaited debut studio album from Chance the Rapper, has a celebratory vibe. The Chicago artist can still get introspective when he wants to, channeling his darker moods and describing the anxieties of adulthood, but we expect this tour, which begins on September 13 in San Francisco and finishes on November 10 at Miami Beach Pop Fest, to be a joyous occasion. Imagine lots of hands waving, hips shaking, and feet stomping as Chance's ace backing band brings all the hits from his catalog to vibrant, horn-filled life. The guy knows how to throw a party. -- DJ
Meek Mill and Future, Legendary Nights Tour
Giving your tour a name like "Legendary Nights" sets a high bar, but we think the duo of Philadelphia street-rapper Meek Mill and Atlanta hip-hop innovator Future will deliver on what they promise. It should help that this tour, which kicks off in St. Louis on August 28 and ends in Las Vegas on October 5, will also feature YG, Mustard, and Houston's 2019 break-out Megan Thee Stallion as openers. -- DJ
Lana Del Rey, The Norman Fucking Rockwell Tour
Lana Del Rey doesn't tour often. She's toured a few of her records across the US, but largely trots across the globe with foreign dates, and has gained a reputation as the queen of festival appearances. But to promote her latest release, Norman Fucking Rockwell, the singer-songwriter is setting out on a short stint along her beloved West Coast, plus one show on Long Island in New York to kick things off on September 21. She's built up an impressive discography now, and hearing her Old Hollywood voice accompanied by all of the Lana-core, nostalgic excesses on stage should be a cinematic experience. "The culture is lit and if this is it, I had a ball," she sings on her new album track "The Greatest," so if that's any indication of what to expect, the tour should be "lit" at the very least. -- SB
Lizzo, Cuz I Love You Too Tour
Few artists dominated 2019 like Lizzo. The hip-hop artist's major label debut Cuz I Love You shot her to fame and treated the world to more than a handful of confident, infectious bangers and a much-needed injection of unabashed self-love. She'll be on the road much of September and October, with the first show in New Orleans on September 7 before she hits 22 additional major cities. If you have yet to see Lizzo, just know she's going to bring the energy. And, yes, there will be flute playing like you've never seen before. -- SB
Madonna, Madame X Tour
Madonna may have pushed back the start of her Madame X tour by a few days because of "highly specialized production elements being delayed," but we're not worried. She must be ironing out all the details for this set of shows, which begins with multiple nights at the BAM Howard Gilman Opera House in Brooklyn. Instead of a giant arena blow-out, the pop icon is doing intimate shows at smaller theaters in cities like Chicago, Los Angeles, Las Vegas, Philadelphia, Boston, and Miami. -- DJ