Queen and Adam Lambert Rocked the Beginning of the Hostless Oscars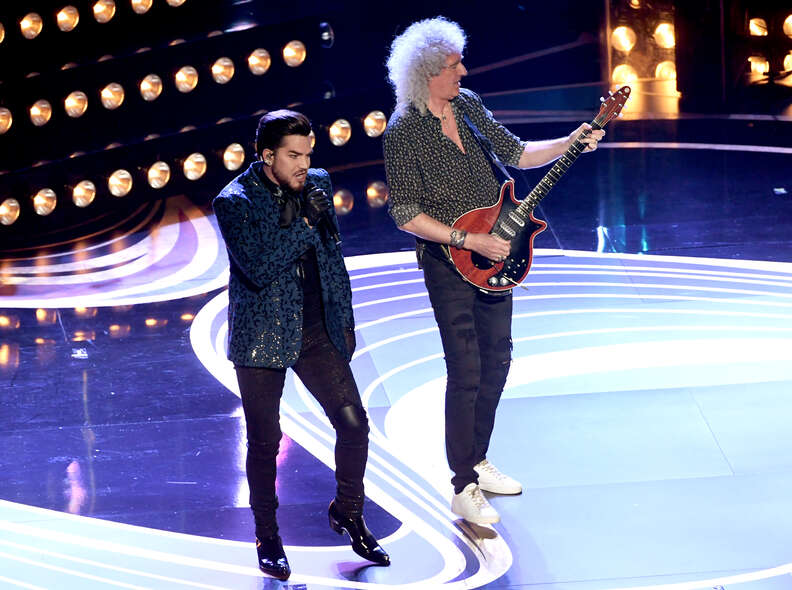 Kevin Winter/Getty Images
This year the Oscars were in a pickle: How do you open a show without a host? What do you do when you don't have anyone to lob jokes at the audience? Or sing a musical medley in tribute to the nominees? Well, you book Queen (and Adam Lambert). Every sporting event across America features "We Will Rock You," why not the Academy Awards?
Queen, of course, is relevant to this year's ceremony with the controversial Freddie Mercury biopic Bohemian Rhapsody up for a number of prizes, including Best Picture and Best Actor, with Rami Malek the presumed winner. Lambert, who has a cameo in the movie, has recently assumed the role of frontman for the band in the absence of the deceased Mercury.
Guitarist Brian May and Lambert emerged on a smoke-filled stage and opened, naturally, with "We Will Rock" you, inspiring stars ranging from Javier Bardem to Glenn Close to sing along.
The band then segued into "We Are The Champions," which culminated with fire effects and a visual tribute to Mercury. It was all short, too the point, and a tad underwhelming as a cold open to the show.
The ceremony then moved quickly along -- after all, they want to get this done in three hours -- with Maya Rudolph, Tina Fey, and Amy Poehler coming out to present Best Supporting Actress to Regina King. But before they did that they did something of a mini monologue, zipping through jokes they might have hit if they were the hosts. They goofed on Sam Elliott's mustache, Gaga's "Shallow" riff, and Netflix's presence at the awards show this year. As Fey said: "Roma's on Netflix: What's next, my microwave makes a movie?" They also told everyone to look under their seats for a Fyre Festival cheese sandwich.