Everything You Need to Know About the 2022 Oscars
The ceremony is coming back to the Dolby Theatre with three hosts and a bunch of broadcast changes.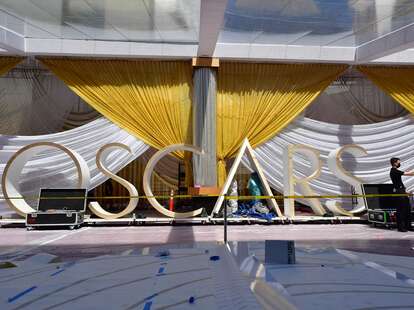 Frederic J. BROWN/AFP/Getty Images
We've made it out of 2021, but we still have yet to celebrate the movies of 2021 with the 94th annual Academy Awards. To make way for the Winter Olympics, it's another late year for the Oscars, which means the campaigns will keep chugging along into the spring. Now that the 2022 Oscar nominations have been announced, let's break down everything else we know about this year's big night for Hollywood.
When are the 2022 Oscars?
Sunday, March 27 at 8 pm ET.
How can I watch the Oscars?
ABC, per usual. The network has had the right to the ceremony since 1976. If you don't have a local ABC station hookup or cable, you can stream it with live TV add-ons through Hulu, YouTube TV, or Fubo.
Where are the 2022 Oscars taking place?
After last year's event, which scrapped the normal stage setup for a more intimate affair at LA's Union Station to make do during that height of COVID, the Oscars are planning a grand return to their usual home: The Dolby Theatre.
Who will host the 2022 Oscars?
In a surprise turn since going host-less following the Kevin Hart debacle in 2019, ABC president Craig Erwich announced at the Television Critics Association Press tour in January 2022 that there will indeed be an emcee for the 94th Oscars. Well, multiple emcees, it turns out. According to The Hollywood Reporter, the Academy is having three hosts, each of which will be responsible for one act over the three-hour ceremony. The winners? Apparently, Regina Hall, Wanda Sykes, and Amy Schumer, per Variety.
Who was in the running? Well, early on folks floated the idea of Spider-Man himself, Tom Holland. There has been constant speculation among Oscar watchers about how the ceremony will acknowledge the biggest box-office hit of the year, Spider-Man: No Way Home—not exactly your typical Oscar fare—and one option that popped up was to have Holland, a talented entertainer, take on hosting duties. According to The Hollywood Reporter, he was into the idea. Even wilder yet, Page Six reported that Pete Davidson was in talks with producers about the gig to "reset" the "normally stodgy show" and attract a younger audience. Another option they considered? The Only Murders in the Building trio of Steve Martin, Martin Short, and Selena Gomez. The show, after all, is a Hulu production, which means it's a Disney production, and so are the Oscars. Corporate synergy! But, as we said, in the end, the producers went with Regina Hall, Wanda Sykes, and Amy Schumer.
Who else is involved?
Glenn Weiss, a veteran of live awards shows and who famously proposed to his wife on the 2018 Emmys stage, is directing. Will Packer—whose credits include Girls Trip and Straight Outta Compton—is producing.
What changes are being made to the 2022 Oscars ceremony?
Some big ones! Academy President David Rubin announced on February 22 that eight categories—Editing, Makeup & Hairstyling, Original Score, Production Design, Sound, and all the shorts—will not be presented during the live broadcast. Instead, they would be given out at the ceremony before the TV cameras start rolling and then edited into the telecast. Why? "To provide more time and opportunity for audience engagement and entertainment through comedy, musical numbers, film clip packages and movie tributes," he wrote in a note. This seemingly desperate attempt to juice ratings has succeed in pissing off the Oscars' core viewership: People who actually love the Oscars, resulting in a slew of angry comments on Twitter. The controversy has only continued to grow, and we may see protests from winners on the actual day.
Speaking of Twitter, another plot to bring in new watchers includes presenting an award voted on by hashtag, which is surely more important than giving below-the-line artisans a chance to have their moment on stage.
Who are the presenters?
The Academy has started rolling out the list of presenters. So far those that will be taking the stage include: Kevin Costner, Zoë Kravitz, Lady Gaga, Rosie Perez, Chris Rock, Ruth E. Carter, Lily James, John Leguizamo, Simu Liu, Rami Malek, Uma Thurman, Mila Kunis, Lupita Nyong'o, Naomi Scott, Wesley Snipes, John Travolta, Halle Bailey, Sean "Diddy" Combs, Jamie Lee Curtis, Woody Harrelson, Samuel L. Jackson, Shawn Mendes, Tyler Perry, and Tracee Ellis Ross. Last year's winners Yuh-Jung Youn, Daniel Kaluuya, and Anthony Hopkins will also be there. When Hopkins won, he didn't show up, so this is quite a moment.
The Academy later announced its most random assortment of presenters including Tony Hawk, Shaun White, and Kelly Slater. Because when you think of the Oscars you definitely think about the X Games too. Other presenters will include Stephanie Beatriz, DJ Khaled, Jennifer Garner, H.E.R., Tiffany Haddish, Tony Hawk, Bill Murray, and Elliot Page. The final around announced includes: Josh Brolin, Jacob Elordi, Jake Gyllenhaal, Jason Momoa, Jill Scott, J.K. Simmons, Serena Williams, Venus Williams, and Rachel Zegler. Zegler's invite was the source of some handwringing since she initially said she wasn't invited.
What else is going to happen?
Despite the fact that it wasn't nominated, there will be a live performance of "We Don't Talk About Bruno" from Encanto. There's also a planned tribute to The Godfather. The Academy has announced that the Oscars will feature a band consisting of among others Sheila E. and blink-182 drummer/Kourtney Kardashian fiancée Travis Barker. Speaking of music: Beyoncé, Reba McEntire, Sebastián Yatra, and Billie Eilish and Finneas will perform the original song nominees. The only original song that won't be represented by a telecast performance is "Down to Joy" from Belfast by Van Morrison, who has spread COVID misinformation. Morrison is on tour.
How are they handling COVID?
Initially, The Hollywood Reporter revealed that the Academy would not be requiring guests to be vaccinated. That report set off a wave of speculation as to just which celebrities had not gotten their shots, spurred on by what was essentially a blind item in THR saying "at least one of last year's acting winners and prominent members of the casts of multiple Best Picture nominees, as well as nominees in other categories, could not attend if vaccination was a requirement." But, as expected, the Academy then walked that back. According to the New York Times, all invited guests, including nominees, are required to be vaccinated. That is not a requirement for presenters and performers, who will presumably not be seated in the audience. They will still have to undergo testing, however. Friday before the ceremony the Academy announced new rules to address a wave of cases that came after the BAFTAs.
What movies and actors have been nominated?
Now that they've have been announced, you can read up on the
categories.