The Weirdly Impressive Guest Stars of 'Touched by an Angel'
You'd expect a show with a whopping 211 episodes to rack up a solid list of guest stars. But Touched by an Angel, the relentlessly earnest 1994-2003 melodrama about a trio of angels sent to Earth to deliver helpful messages from God, had the best guest stars. Now, I'm not saying that Touched by an Angel was a vehicle beamed directly from the godhead designed to boost aspiring actors' careers, but please, just consider the evidence:
Bryan Cranston (1995)
As a kindly, begoggled ER doctor helping to resuscitate a teenage suicide victim, Cranston exudes the competence and fatherly warmth he'd later channel as Hal on Malcolm in the Middle. If I'm ever on my deathbed, please send for Bryan Cranston. (Pre-Heisenberg era, please.)
Brie Larson (1999)
I'm pretty sure Jacob Tremblay and tiny Brie Larson would have been best of buds.
Evan Rachel Wood (2000)
In this forward-looking episode, Wood plays a teenage girl named Sarah who discovers the internet. After discovering online porn and visiting a cyber cafe, she starts up a chat relationship with a dangerous sexual predator, which is a pretty good summary of how people thought about the internet in the year 2000. According to Wikipedia, the episode ends with one of the angels explaining, "the internet is an exciting gift from God, but like many of His gifts, it can be abused."
Neil Patrick Harris (2002)
In his autobiography, Neil Patrick Harris describes his stint playing a "neglected groom" on TBAA as follows: "You have a sweet, wholesome part in a sweet, wholesome show. That night you receive an 'in-room massage' from an anonymous gentleman you meet on AOL. Ah, the irony." Umm, NPH, did you even watch Evan Rachel Wood's episode?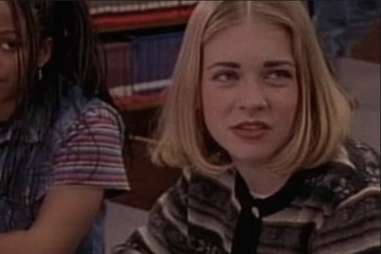 Melissa Joan Hart (1995)
Melissa was coming off Clarissa Explains It All at this point, and a year shy of Sabrina the Teenage Witch, so we're not really sure she needed the exposure that came from playing the teenage daughter of a radio DJ on TBAA. Seriously, 1995 Melissa, you are too good for this shit! You're a teen queen! You can do magic! You'll have plenty of years to shill cheesy, faith-based entertainment once you're a grown up!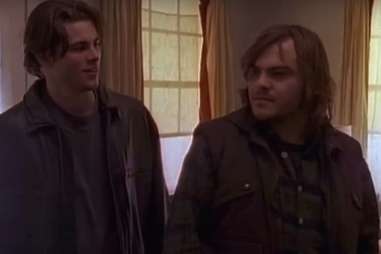 James Marsden and Jack Black (1995)
But look who else turns up in Melissa Joan Hart's episode! Long before teaming up for The D Train, Marsden and Black (allegedly doing his best menacing John Malkovich impression) played two young hooligans trying to engineer the most nefarious heist of all: stealing CDs. Hide your kids, hide your wives, hide your copies of Jagged Little Pill.
Alyson Hannigan (1994)
Can you really call yourself a professional actress if you haven't played a pregnant teen in a moralizing '90s melodrama? Hannigan did, and you bet she learned her lesson by the end of the episode.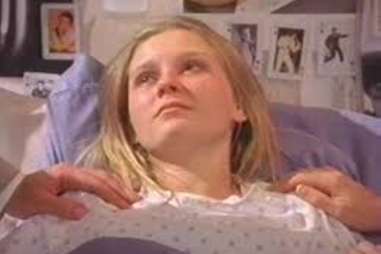 Kirsten Dunst (1996)
Ditto the above, but instead of "pregnant teen," insert "terminally ill teen who gradually comes to terms with her own rapidly encroaching demise."
Chris Noth (1997)
Before he was Mr. Big, Chris Noth played a murderous rapist ex-con with a goatee in an episode of Touched by an Angel. Point for Team Aidan!
Haley Joel Osment (1998)
Poor HJO, destined to be forever typecast a kid who hangs out with dead people. Casting directors (of the late '90s): let Haley live!
Sarah Hyland (2002)
Aw, pint-size Sarah Hyland! But is she cuter than her Modern Family sis Lilly?
Zachary Quinto (2001)
As a teen searching for the truth about his missing father, Quinto ushered us out of the age of bad '90s hair and into the age of bad '00s hair.
Shia LaBeouf (1999)
Young Shia LaBeouf played a trick-or-treating tween who talks his friends into burning down a man's house. Always such a troublemaker, that Shia!
*NSYNC (1999)
The following year they released their signature track, "Bye Bye Bye," the year's top-selling album No Strings Attached, and No. 1 single "It's Gonna Be Me." That, my friends, is the Touched by an Angel bump in a nutshell.

Also…
Sign up here for our daily Thrillist email, and get your fix of the best in food/drink/fun.
Anna Silman is a staff writer at Thrillist Entertainment. She's an atheist, but she still believes in the power of Touched by an Angel. Find her on Twitter: @annaesilman.