29 Underrated Black Movies You Need to See
<strong>Dave Chappelle's Block Party | </strong>Rogue Pictures
As we enter Black History Month, Hollywood is immersed in #OscarsSoWhite, a swell of backlash against Academy Awards voters' failure to nominate people of color for major awards at this year's Oscars. So don't you think now would be a good time to watch some movies starring black people?
Not only are there a wealth of movies made by and starring African-Americans that are just as compelling as movies starring white people, but you can watch many of them right now. Here is a special leap-year rundown of 29 little-known films starring black people to queue up on Netflix, Amazon Prime, or whatever streaming service you use.
35 Shots of Rum (2009)
I dare any father not to feel what goes down in this moving film from French director Claire Denis (Beau Travail), which follows the relationship between a working-class dad and his ever-maturing daughter. 35 Shots of Rum also includes one of my favorite scenes of the past decade: all the characters figuratively/literally dancing around their feelings, to the sounds of the Commodores' "Night Shift."

Akeelah and the Bee (2006)
You got kids? Well, they might dig this heartwarming movie about a young girl (a young Keke Palmer) who gets her whole neighborhood behind her when she enters a spelling bee. I remember this movie shortly coming out after another kid-goes-to-the-spelling-bee movie called Bee Season, starring Richard Gere, was released. I always preferred this one.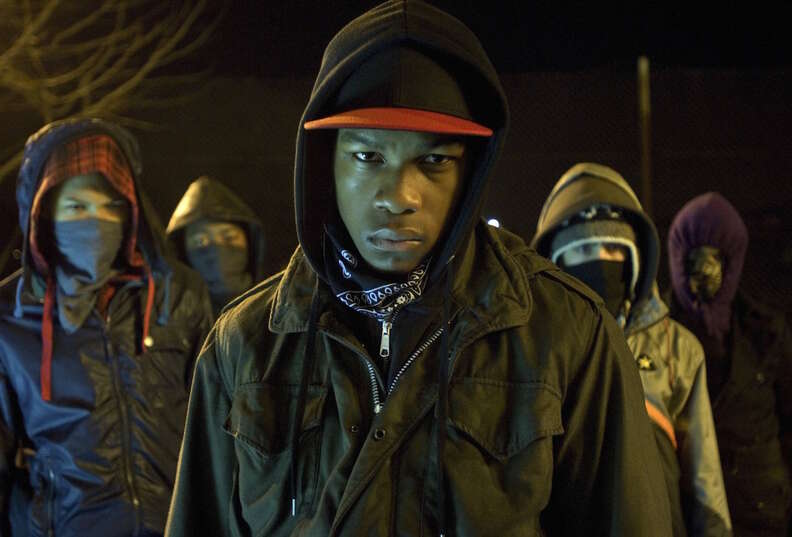 Attack the Block (2011)
Now that John Boyega is officially a movie star after fighting the dark side in Star Wars: The Force Awakens, it's time to see the other movie where he reluctantly battles a bunch of aliens. In this sci-fi actioner, Boyega plays a gang leader who is forced to defend his turf when aliens invade his South London neighborhood.

Beyond the Lights (2014)
There are many people I know, both black and white, who are fans of this love story from director Gina Prince-Bythewood (Love and Basketball) , which follows a tormented pop star (Gugu Mbatha-Raw) who starts a relationship with an ambitious police officer (Nate Parker, who recently starred and directed in the Sundance hit The Birth of a Nation).

Black Dynamite (2009)
It astounds me how this endlessly funny spoof of blaxploitation movies, with Michael Jai White as the badass title character, hasn't gotten the cult-classic status it so deserves. At least White and director Scott Sanders managed to make a cartoon-show spinoff for Adult Swim.
The Black Power Mixtape: 1967-1975 (2011)
While watching this documentary, which consists of found footage shot by Swedish filmmakers during that tumultuous period when militant black men and women were getting killed or incarcerated for standing up for their rights, you will wonder why hasn't there been biopics made about charismatic leaders Stokely Carmichael and Angela Davis by now.

Brown Sugar (2002)
If you need a romantic comedy this Valentine's Day, dip into this smart and funny love story, with Taye Diggs and Sanaa Lathan as lifelong friends resisting the obvious next step. It's also a satire of the hip-hop music business, with Diggs' A & R exec pulling a Jerry Maguire and starting a real hip-hop label, and Mos Def as his star artist.

Dave Chappelle's Block Party (2006)
Before Dave Chappelle left his successful Chappelle's Show and kind of went off the deep end for a while, he got Eternal Sunshine of the Spotless Mind director Michel Gondry to film him as he organized a joyous, 2004 block party in Brooklyn, featuring the Roots, Erykah Badu, Jill Scott, Mos Def, Common and a young, "Jesus Walks"-era Kanye West.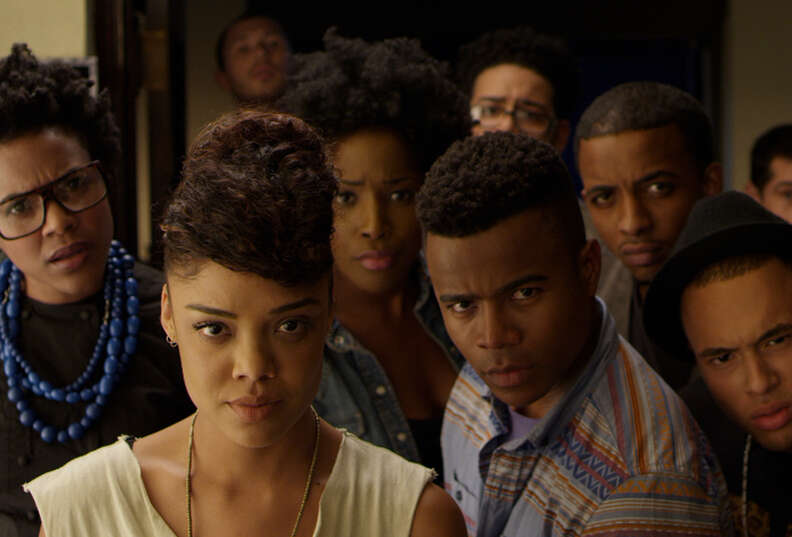 Dear White People (2014)
This divisive, hilaroius dramedy garnered a ton of buzz when it was originally screened at Sundance, eventually winning the U.S. Dramatic Special Jury Award for Breakthrough Talent. The film features several black students dealing with pressure and tension -- from white students as well as with each other -- while attending a prestigious, predominantly white college.

Devil in a Blue Dress (1995)
Perhaps the most underappreciated Denzel Washington movie ever made is this adaptation of Walter Mosley's breakthrough, 1990 detective novel. Washington played his prized protagonist Easy Rawlins, while Don Cheadle did an impressive supporting turn as Mouse, his homicidal sidekick. In a perfect world, Washington would've starred in a bunch of Easy Rawlins movies by now.
Dope (2015)
One of my favorite movies of last year is this unpredictable comedy-drama from Brown Sugar director Rick Famuyiwa, which follows an inner-city LA kid and his friends as they're stuck trying to move some serious drug weight. It's about time black people got their own Risky Business.

Gimme the Loot (2012)
New York is all but cleaned up, but, according to this down-and-dirty comedy, not a damn thing has changed if you're looking to make a quick hustle. This spirited, slice-of-life teen movie features a couple of graffiti artists pulling every scam they can in order to score some money, "bomb" a New York landmark, and win major props.
The Glass Shield (1995)
People remember when Ice Cube went all funny in 1995 when he dropped Friday. But, that same year, he also did a dramatic turn in this pulpy drama from director Charles Burnett (To Sleep with Anger), playing a murder suspect entangled in a black policeman's investigation of his racist, corrupt department.

A Good Day to Be Black and Sexy (2008)
Released in one theater in Los Angeles for one week, this sensual, stimulating film is series of vignettes focusing on sex and relationships in the black community. It ultimately shows how black folk can be just erotic/neurotic when it comes to love as white folk.
Good Hair (2009)
Chris Rock pulls a Michael Moore in this hilarious documentary. He goes everywhere from barbershops and beauty salons to an Atlanta hair show to the weave-trading streets of India to break down black folks'obsession with making sure our hair is always on-point.

Hav Plenty (1998)
This forgotten flick from the late '90s is proof that even black folk can make Whit Stillman-style, preppie comedies. Writer-director Christopher Scott Cherot stars as a struggling, smart-ass writer who spends New Year's Eve with an uptight girl he's secretly in love with, and her crew of eccentric, dysfunctional friends and relatives.
Jump Tomorrow (2001)
Looking for some Wes Anderson-ish quirkiness in your black movies? Look no further than this darling, oddball comedy, starring TV on the Radio frontman Tunde Adebimpe as a nerdy, awkward Nigerian-American whose life gets thrown for a loop when he gets the hots for a Spanish girl, mere days before he is supposed to marry another Nigerian -American woman.

Killer of Sheep (1978)
Literally one of the lost treasures of black cinema, Charles Burnett's debut feature is basically an episodic, black-and-white look at people scratching & surviving in LA's Watts district. The movie never had a wide release, due to Burnett having trouble securing rights to the film's music. Thankfully, the movie did hits DVD three decades later.
Middle of Nowhere (2012)
If you need further proof that Selma director Ava DuVernay is a filmmaker who deserves a lot more respect than she's gotten, watch her second film, an amazingly well-shot, well-acted drama about a young woman who puts her dreams on hold to support her incarcerated husband. One viewing of this film and you'll wonder why the hell isn't she directing everything.

Paid in Full (2002)
This evocative debut from director Charles Stone III (Drumline) really deserves a look, mostly because it was dumped into theaters. Loosely based on real-life, Harlem drug dealers, it follows Mekhi Phifer, The Wire's Wood Harris, and rapper Cam'ron as three friends who become major players during the 1980s Harlem drug trade.
Pariah (2011)
Before she directed Queen Latifah in the Emmy-winning HBO biopic Bessie last year, Dee Rees took her 2007 student film and expanded it into a full-length feature. It follows a young, teenage girl as she leads a double life, trying to keep her homosexuality from her family while still looking for someone to have some love and happiness with.

Paris Is Burning (1991)
Critically acclaimed upon its release, this lively, sparkling doc went deep into the Harlem drag scene of the 1980s, as gay men and trans women, mostly people of color, glammed it up during ballroom competitions. More importantly, it showed how LGBT people within the African-American community coped and survived during that time.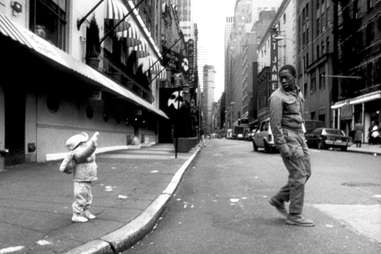 Sidewalk Stories (1989)
This debut feature from filmmaker/star Charles Lane proved that black people can make a silent movie with just as much humor and heart as Charlie Chaplin's classic work. Basically a reworking of Chaplin's The Kid, Lane stars as a man who takes care of a child after her father is murdered. Trust me -- it's not as depressing as it sounds.

The Spook Who Sat by the Door (1973)
If you're in a burn-baby-burn kind of mood, you can't go wrong with this incendiary satire. Based on Sam Greenlee's 1968 novel, the movie follows a black man who is enlisted in the CIA as a token and, then trains young, black men to be freedom fighters. It's white America's nightmare -- black people pissed off by racial injustice will love every minute of it.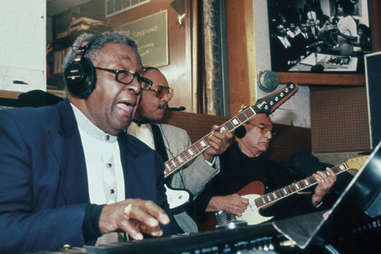 Standing in the Shadows of Motown (2002)
If you're a music junkie and you've never heard of the Funk Brothers, first off, shame on you. And, secondly, immediately track down this deliriously entertaining and revealing doc about the Motown house band who performed with Marvin, Stevie, Smokey and other artists, providing the grooves for many of the greatest pop songs of all time.

The Story of a Three-Day Pass (1968)
Years before he set off the blaxploitation genre with Sweet Sweetback's Baadassss Song, Melvin Van Peebles did his own French New Wave-style love story. Shot in black-and-white, it follows the weekend love affair between a black, U.S. Army soldier and a white, French shop clerk. Basically, it's Before Sunrise with a lot of racial stuff.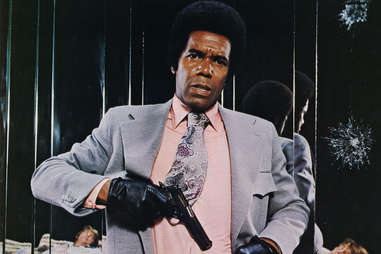 Trouble Man (1972)
Lost amidst the Shafts and Superflys of the blaxploitation era is this tough and tight detective story, directed by The Spook Who Sat By the Door director Ivan Dixon, about a badass private dick who goes by "Mr. T." (Spoiler alert: He's not played by Mr. T.) And if the story doesn't suck you in, the cucumber-cool score by Marvin Gaye will.

Wattstax (1973)
The white kids may have had Woodstock, but the brothers and sisters of Los Angeles had this funky love-in. Captured by the late Mel Stuart (Willy Wonka and the Chocolate Factory), this doc records the day Stax Records dispatched many of its best artists (including Isaac Hayes, The Bar-Kays and the Staple Singers) for a day of music. A young Richard Pryor also shows up to give "color" commentary.

Wild Style (1983)
Everyone knows that hip-hop started in New York, right? Charlie Ahearn's guerilla snapshot of the Big Apple in the '80s tells the story of one graffiti artist using his talents to get somewhere, all while the movie makes sure the elements of hip-hop -- breakdancing, rapping, DJing and, of course, graffiti-painting -- are properly represented. It's an awe-inspiring time capsule of a movie.
Sign up here for our daily Thrillist email, and get your fix of the best in food/drink/fun.
Craig D. Lindsey is a freelancer whose work has been seen in Vulture, RogerEbert.com, Nashville Scene, and The Raleigh News & Observer. He wishes February was 30 days long, so he could've thrown in Fear of a Black Hat. You can holler at him: @unclecrizzle.