Some of these things are annoying. Some of them are so annoying they can tank the entire mood of the night and make everyone start thinking maybe it's time to get married so they don't have to endure things like this anymore. If you want everyone to have a great, possibly even fantastic night, don't: Under-tip the bartender based on your totally original philosophy that bartenders don't do anything And yet you'll unquestioningly hand over 20% to any waiter who manages to deliver you a Cobb salad with the vinaigrette on the side? Now the bartender hates you and everyone you're with. Wear sandals when there's a good chance you'll end up at a place that frowns on sandals "I need to go home and change my shoes" is the dumbest thing any man has ever said. Wear sandals, ever This isn't Club Med, Julian. Screw around on your significant other in front of people who know your significant other Unless everybody hates your significant other, in which case keep groping that strange buttock. Whip out your Black Card so everybody knows you have a Black Card Black cards are totally appropriate if you're buying the entire bar. Otherwise, keep it in your Bonobos. Press your junk against your buddy's knee when it's crowded and you're squeezing past his barstool Knees are easy to avoid. Memories are difficult to erase. Announce that you're leaving the bar to get something to eat and then when your friends say "They have food here" tell them "I want a real meal" Go tell a starving kid in the part of China that still isn't richer than America that the Buffalo'dilla isn't a real meal. After you explain that a Buffalo'dilla is a Buffalo chicken quesadilla, that kid is going to be pissed. Decline a shot of whiskey, vodka, or some other hard liquor because you "had a bad experience" with it back in 2002 We're all adults. At this point, we've had a bad experience with everything. Tell the guy buying shots that you're happy to take a shot of something else Do you actually want him to have to ask the bartender, "Hey, can you make that five whiskeys and a Lemon Drop?" Force everyone to go to a bar that's playing the Georgetown-Notre Dame basketball game NOBODY CARES.
Recommended Video
This Fried Chicken Sandwich With Sushi Rice Buns Is the Best of Both Worlds
Forget to bring cash to a place that only takes cash
There aren't that many places that don't take cash. If you can remember to put on pants, you can remember what they are.

Point out that the craft beer your friend ordered isn't technically craft beer
It is technically a beer though, so shut up.

Use your friend's turn to buy a round as an opportunity to order something expensive
This is a time for silver bullets, not single malts.

Play "Black Hole Sun" on the jukebox
Way to keep things festive, ass.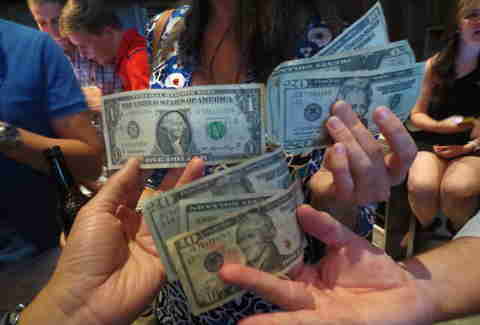 Claim you owe less than your fair share of the dinner bill because you're just drinking and didn't order any food
Clown, you just helped yourself to two and a half untouched chicken fingers, the mutilated last 1/4th of someone else's Southwestern Cheeseburger, and 400 French fries. Just because you didn't order food doesn't mean you're not full.

Claim you owe less than your fair share of the bar tab because you only had one beer
People who only have one beer don't deserve to have friends. You should throw yours an extra $20 just to thank them for not abandoning you.

Pick a bar right next to your apartment, then claim you didn't even think about that when you suggested everybody meet there
Maybe it won't dawn on them that you live eight feet away. And maybe Canada will become a global superpower.

Insist on going to another bar 25 minutes before closing time
What, you just love the way some other bartender yells "Last call!"? That is so stupid.

Volunteer to be your buddy's wingman when he doesn't want a wingman
Idiots who do this typically fly to the front of the formation and force their friend to follow them into a pitched battle their friend doesn't even want to win. It's exactly the opposite of whatever Jester from Top Gun taught us wingmen were supposed to do.

Brag about how when you strike out with nine girls, you always sleep with the tenth
If some hack mathematician had proffered that theory in A Beautiful Mind, Russell Crowe would have pointed out that the tenth girl would never sleep with a loser she just watched strike out nine times. Then Ron Howard would win Best Director even though Martin Scorsese should have won it for whatever he did that year.
Practice your Muay Thai moves in your friend's face while smiling that smug "I wouldn't really kick your ass because we're pals but you know I could totally kick your ass" smile
You are not asserting dominance. You are only guaranteeing that your friend will sleep with your girlfriend approximately two seconds after she utters the words "Sometimes I just can't handle Rick's macho bullshit. Why are you so nice?"

Beg somebody to beg the DJ to play The Outfield for you
"He kind of hates it when people make requests... Yeah, I mean, I know him a little, but he's going to play 'Josie's On A Vacation Far Away' anyway... I know you really love that song, but HE'S PLAYED IT EVERY NIGHT FOR THE PAST 15 YEARS HE'S GOING TO PLAY IT AGAIN SO JUST LAY OFF AND DON'T MAKE ME LOOK LIKE A MORON LURKING BY HIS BOOTH FOR TEN MINUTES WHILE HE TOTALLY IGNORES ME, OKAY?"

Plead that the line outside this club isn't that bad
This line clearly is that bad. So is this club.

Monopolize the karaoke mic because you think you're good at karaoke
That would be impossible. Nobody is good at karaoke.

Tap your buddy's balls
Ha ha ha BALL TAPPING IS A VERY SERIOUS PROBLEM.

Zone out to some 1970s movie playing with no sound on the bar's TV
You're bringing nothing to the table right now. You're actually stealing things off the table. You might even steal the table so you can take it home and stare at it.

Bring out the random douche you've been hooking up with so your guy-friends can see how great he is
"You'll really like him, he's totally just like you guys. Except for the part where he's a terrible person who'll very shortly be fulfilling my wildest sexual fantasies while you're home pounding burritos and watching Scrubs reruns."

Be a wee little instigator
When you talk smack to larger people, you're writing checks your body can't cash. Then your friends have to cash them for you even though they don't want to, because who uses checks anymore?

Pressure your boy to buy you another drink after you've been cut off
You're better off honing your "That time I got cut off at Hoolihan's" story while it's still fresh in your mind.

And finally, don't:

Spend all night looking at your iPhone
Unless you're reading this story. This story is way better than your friends.