The Ultimate Summer Cookout Party Playlist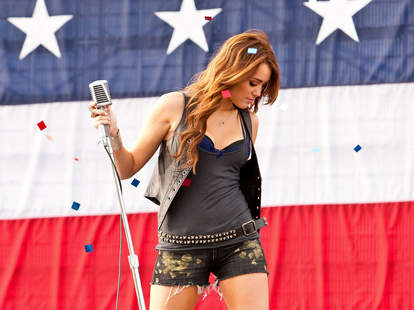 When planning a summer party, a proper playlist is essential not just for setting the tone, but for filling in the inevitable awkward pauses in conversation when you run out of ways to describe what you do for work.
But putting together a playlist takes time, and if you've made your way to this page, chances are high that you're short on it. So we've put together the ultimate summer cookout playlist, filled with American artists that will give your 4th of July party (or any other summer gathering) the kind of life and energy you desire. Most popular genres are represented, so you'll be certain to please the country, rap, '90s, and pop fans at your party.
"Doesn't Spotify already generate summer playlists, both of the generic variety and based on my listening history?" you might ask yourself. Sure, Spotify has all kinds of playlists you could throw on -- you'll be just like everyone else who does the same thing, lazily accepting the cheap collection of times some algorithm picked for you.
Do you really want to live that way? Do you want to be a serf to the algorithm, serving its needs? Or do you want hand-picked smash-hit songs, chosen by top online editors, that will make your barbecue the talk of the summer?
The choice is obvious; red pill, blue pill. Wake up, put on this playlist, start streaming, and stop worrying about what song will come next. You've already freed yourself from the algorithm's embrace.
Of course, since this list is hand-selected by the finest playlist craftsmen the internet has to offer, there may be a few occasional defects, the slight imperfections that somehow make the time and effort spent building the list more perfect in the ears of the listener. That said, if there is a killer summer jam from an American artist that, for one reason or another, failed to work its way into our ears and brains and onto this playlist, please let us know. Because the true mark of a playlist craftsperson is the unerring, passionate desire to improve with each passing second.
So this summer, soak up the sun, learn to appreciate the small favors real, live humans do for you, and with a little luck, this might just be the best summer ever.
Sign up here for our daily Thrillist email and subscribe here for our YouTube channel to get your fix of the best in food/drink/fun.
Follow the Thrillist Entertainment editors on Twitter: @ThrillistEnt.