Netflix's Action Thriller '6 Underground' Is Pure, Uncut Michael Bay Mayhem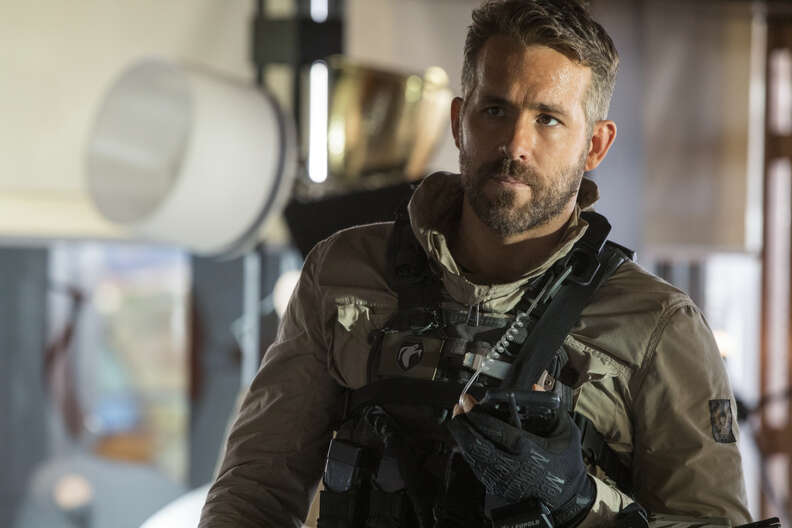 Christian Black/Netflix
Christian Black/Netflix
Back in October of 2018, the text-based choose-your-own adventure game "You Are Jeff Bezos" appeared online, offering any curious player the chance to spend the Amazon founder's roughly $150 billion fortune on a range of socially productive tasks like building 10 public libraries ($150 million) or doubling every Amazon employee's salary ($15.8 billion). Sadly, there was no option to form your own personal elite paramilitary strike force. For his latest glass-shattering, metal-twisting act of cinematic demolition, Transformers director Michael Bay uses Netflix's mountain of cash to imagine exactly such a scenario. In an era of inequality, 6 Underground begs you to root for a billionaire.
While Netflix rival Bezos goes unnamed in the 6 Underground script, which was penned by Deadpool writers Rhett Reese and Paul Wernick, Bill Gates and Elon Musk both get shouted-out in the voice-over courtesy of the mysterious "One," a smarmy big shot played by Ryan Reynolds who acquired his wealth by turning his love of magnets into a lucrative career in technology. (In a show of restraint, "Miracles" by the Insane Clown Posse goes unreferenced.) Being filthy rich and looking like Ryan Reynolds wasn't enough for One, so he decides to fake his own death and go full ghost protocol, cutting all ties with society and his company while apparently keeping easy access to his bank accounts. There has to be a deleted scene where he calls his accountant.
What's One's noble credo? Like many bored billionaires, he wants to make a difference as long as he can control and oversee every aspect of the operation. His ambitions are repeatedly stated in vaguely cynical, modestly hopeful platitudes. "Nobody is going to save the world, but we can make it a little less shitty," says One as a recruitment speech to Corey Hawkins's trigger-happy Delta Force sniper at one point. Not the most inspiring sales pitch.
As per usual with Bay, the premise is both needlessly convoluted and proudly dumb: One builds a team that includes a ruthlessly efficient CIA agent with attachment issues (Inglorious Bastards' Mélanie Laurent), a moderately repentant hitman who inexplicably loves to spout movie lines (The Magnificent Seven's Manuel Garcia-Rulfo), a doctor capable of performing intensive surgery in the backseat of a speeding sports car (Triple Frontier's Adria Arjona), and a "millennial" parkour enthusiast (Bohemian Rhapsody's Ben Hardy) who serves as the reckless Spider-Man to Reynolds's patriarchal Iron Man. Hawkins, so memorable in Straight Outta Compton but stuck in the do-gooder role here, is the newest member, joining the group after a 20 minute opening car chase through the streets of Florence leaves the squad in need of another warm body with a special set of skills. It's a pileup of gun-wielding character types and death-defying scenarios you've seen in countless Bruckheimer-produced action adventure movies -- some of them shot by Bay in the '90s -- with a hefty dose of Mission: Impossible globe-trotting, Fast and Furious pathos-wringing, and Ocean's Eleven eye-rolling thrown in. Every aspect screams franchise.
If you can get past the libertarian posturing, reflected in Reynolds's self-serious voice-over lines like "Fuck the government, I'm gonna do this myself," 6 Underground has a handful of immediately apparent redeeming qualities. First of all, Michael Bay remains committed to staging absurd action set-pieces with practical effects in glitzy locations -- like a penthouse hostage extraction involving an exploding infinity pool or a science-assisted siege of an enormous yacht holding a fleeing dictator -- and he enlists top-notch stunt performers to carry them out. After over a decade living in the more kid-friendly Transformers universe, where (some of) his cruder instincts were curtailed by the demands of the science-fiction world-building and the CGI mayhem, he's clearly happy to be comparatively off the leash here. This isn't an attempt at reality-based comedy like 2013's muscle-bound satire Pain and Gain or a self-conscious prestige play like 2016's Benghazi nail-biter 13 Hours; the guy is almost in full Bad Boys II mode, mounting his own blood-and-guts strewn version of The Irishman with Netflix's checkbook.
Problems arise when 6 Underground attempts to lighten the mood with Bay's unapologetically broad verbal and physical comedy, which can make James Cameron look like Whit Stillman. Nuns give the finger, laughing gas gets deployed, and a villain receives an unwelcome bullet to the head while examining a bulbous zit in a mirror. (For all his love fluid-based, gross-out splatter gags, Bay rarely lets his heroes sweat, preferring to film everyone like they stepped off the set of a French perfume commercial.) The constant yelling and gesticulating makes for an occasionally odd fit with Reynolds, a star with a persona rooted in smart-aleck-ey sarcasm and above-it-all meta archness. He lacks the genuine touch of hysterical madness that performers like Nicolas Cage in The Rock, Martin Lawrence in Bad Boys, or even Mark Whalberg in Pain and Gain bring to Bay land. Where are frequent Bay repertory players Ed Harris or Steve Buscemi when you need them?
From an action movie risk management perspective, 6 Underground has enough contingency plans that it doesn't need to only rely on the Ryan Reynolds charm offensive for its two-hour runtime. The too-much decadence of the major shoot-em-up sequences, executed with maximum firepower and a dollop of visual wit, keeps the movie chugging along, and the supporting cast, particularly Laurent and Garcia-Rulfo, make the most of their showcase moments. The violent carnage and wall-to-wall zingers can be an awkward fit with the amorphous talk of regime change, refugee camps, and chemical weapons attacks, but the movie is goofy enough to get away with the occasional allusion to the real world. Ultimately, Bay's creative investment strategy pays off: If you're going to burn money, you might as well blow it up.